This practical starter kit, electronics component replacement for Arduino UNO R3, adopts excellent quality material, contains different components letting users have different projects--a must-have for every electronics starter to use and each DIY lovers to add more fun.

Features: 
Basic Starter Kit--It is a very practical, easy-to-use and reliable-to-operate starter kit, which is designed for getting novices start the path of learning electronics quickly and easily, suitable for both beginners and DIY enthusiasts. 
Contain All You Need--Inside the kit, there are a large number of items, such as controller board, jumper wires, 830 holes breadboard, LED lights, stepper motors, etc., which meets users' demand for different projects/experiments.
Convenient Storage Box--The kit includes a clear plastic box that comes in a design, enables to be used to store all the parts, simultaneously helps to keep the components separated and organized.
Practical & High Quality--The components, made of premium material under high standards and strict quality control, are electronics component replacement for Arduino UNO R3, which makes them sturdy, convenient and safe to use.
A Good Gift--This kit is a good choice and nice gift for your friends, families and kids who begin interesting in electronics, programming or robotics, to help them take their first step on electronics journey.

Specifications: 
Material: ABS
Package Weight: 590g / 20.81oz
Package Size: 23*16*5.5cm / 9.05*6.29*2.16in

Note:
Starter kit only, other accessories in the picture are not included.
Due to manual measurement, there may be deviation.
Due to lighting, the picture and material object may slightly differ in color, please in kind prevail. 

Packing List: 
1 * Controller Board
1 * Stepper Motor
1 * Stepper Motor Driver Board 
1 * LCD Screen 
10 * Button
1 * USB Cable
1* Prototype Expansion
34 * Jumper Wire
1 * Dupont Wire Row
1 * Breadboard
1 * Motor
1 * Water Lever Detection Sensor Module
2 * Potentiometer
1 * Ultrasonic Sensor
1 * Joystick Module
1 * Membrance Switch Module
1 * 4 Digital Display Tube
2 * 1 Digital Display Tube
1 * White Card
1 * 5V Relay
1 * Battery Box
1 * Servo Motor
1 * 8 ×8 Dot Matrix
1 * Access Key
1 * RFID Plate
1 * 40-pin Header (straight)
1 * 40-pin Header
1 * 8-pin Header (straight)
1 * 8-pin Header
1 * LED Module
4 * White LED
10 * Red LED
10 * Yellow LED
10 * Green LED
3 * Photoresistor
1 * Thermistor
30 * Resistor
1 * Diode
1 * Audion
3 * Screw
1 * MAX7219CNG
1 * SN74HC595N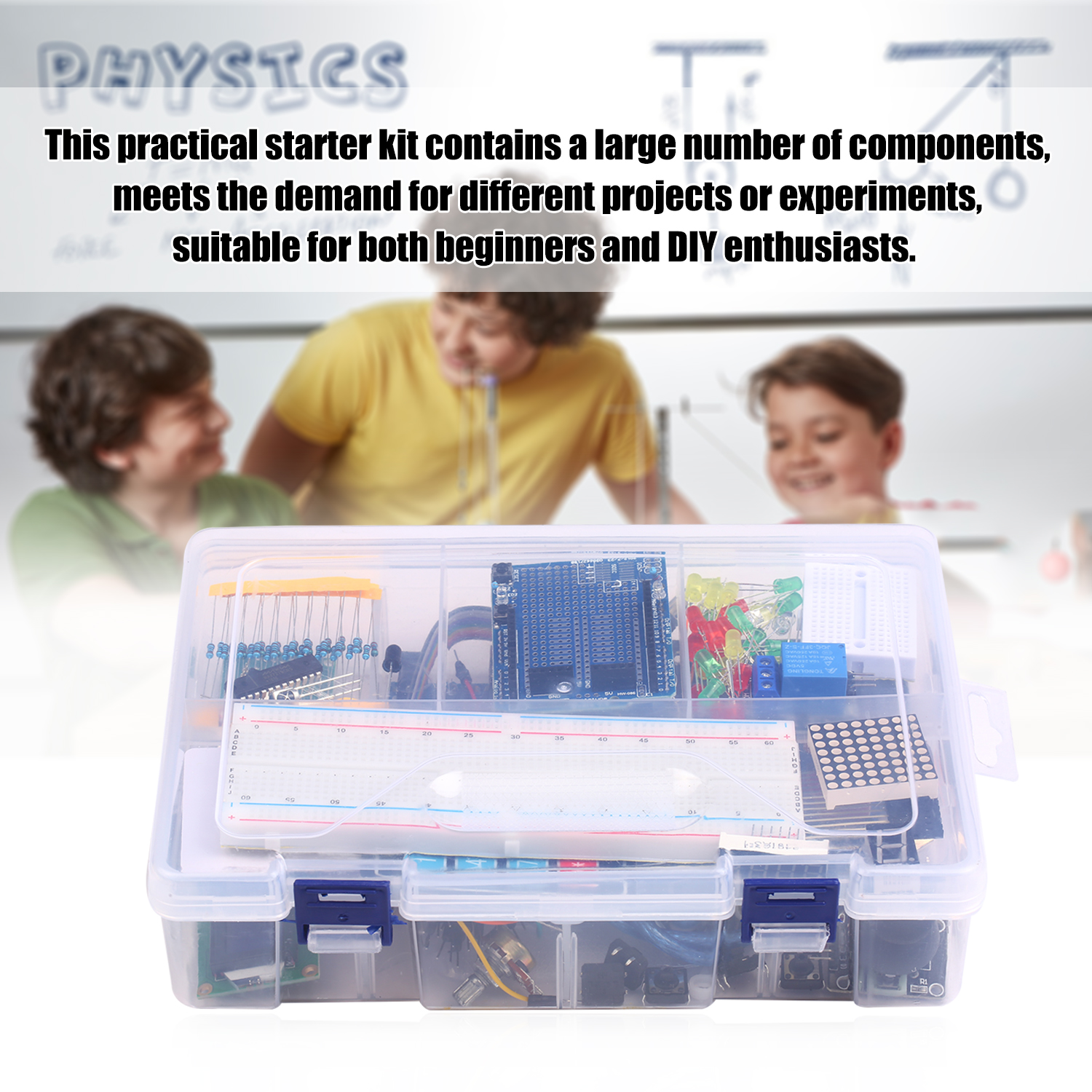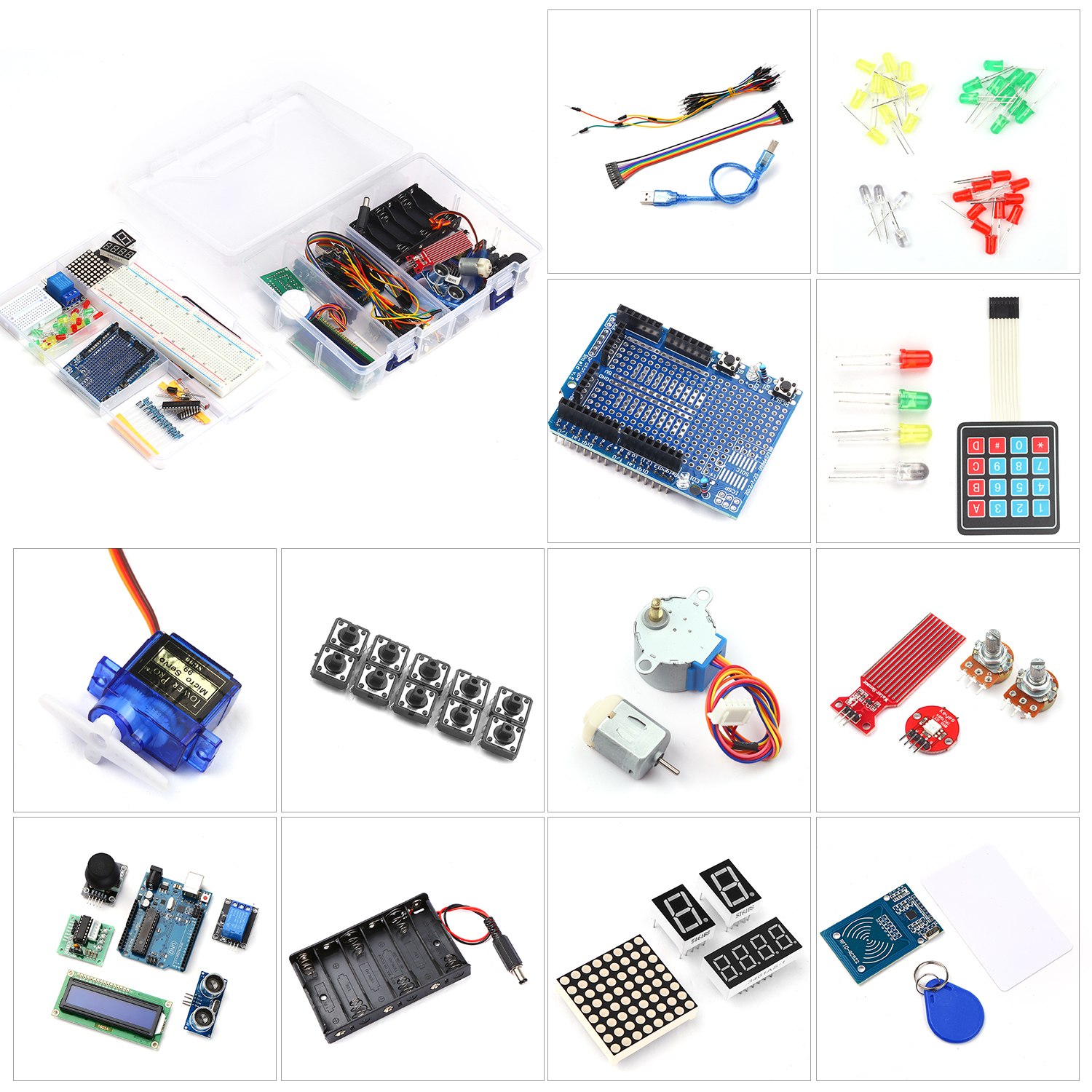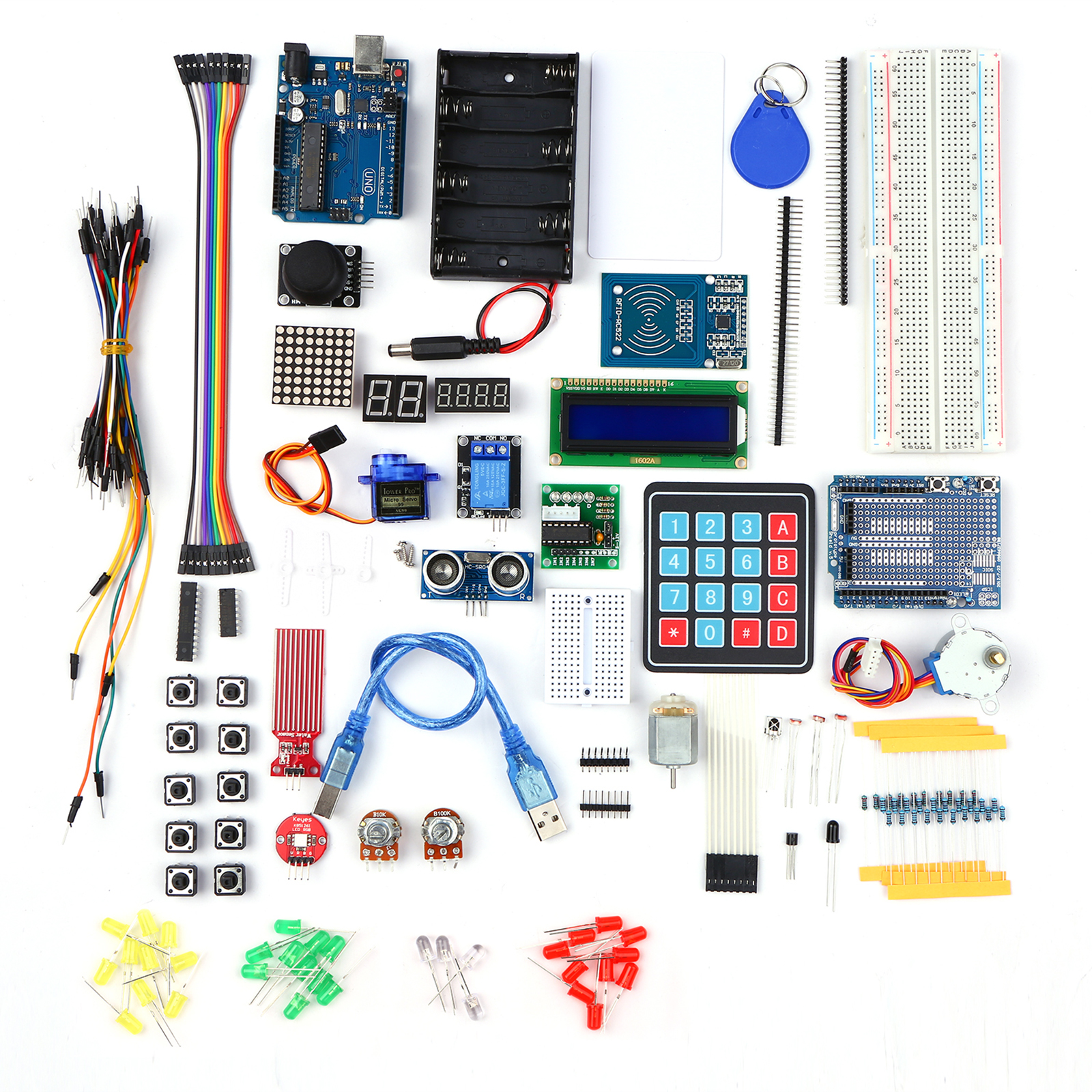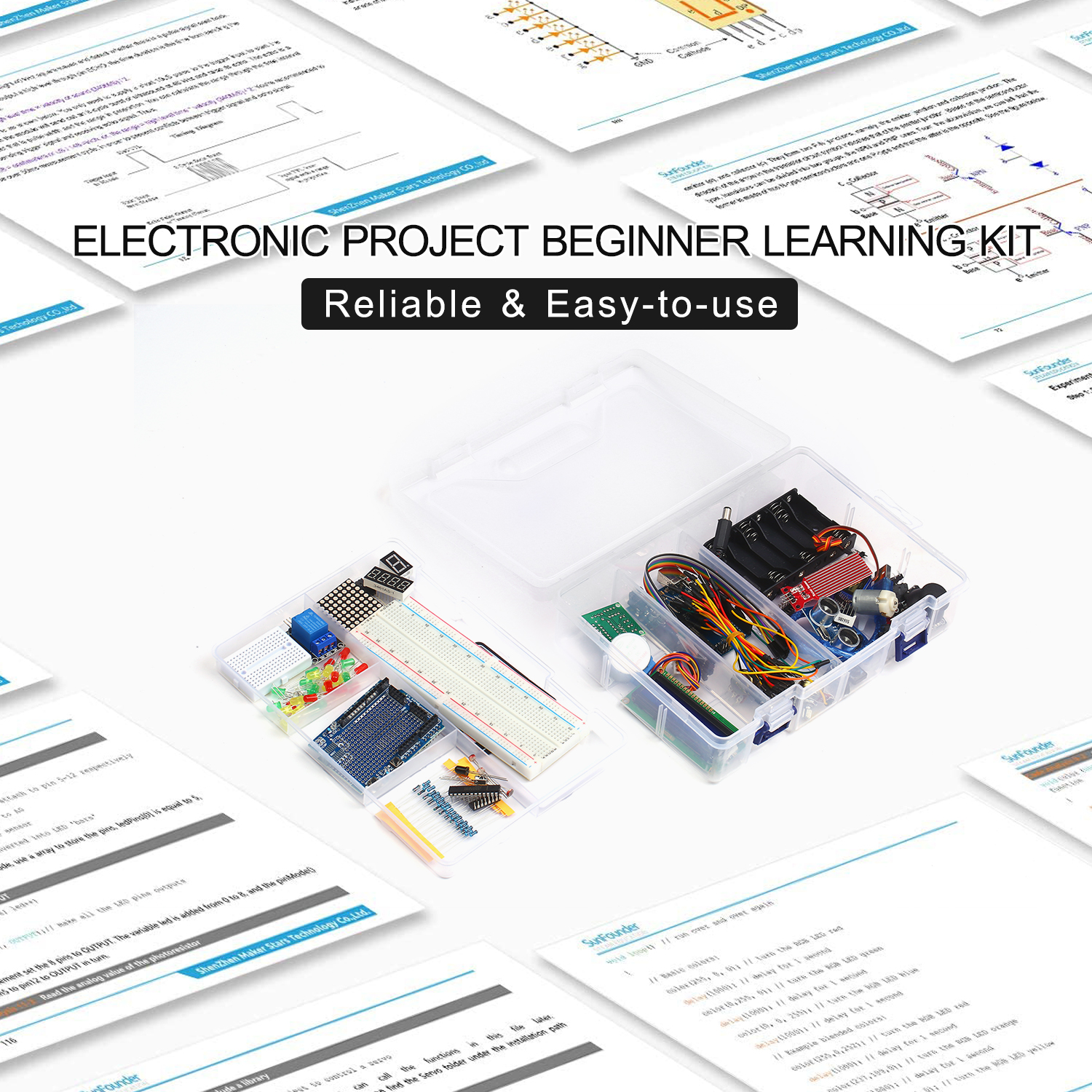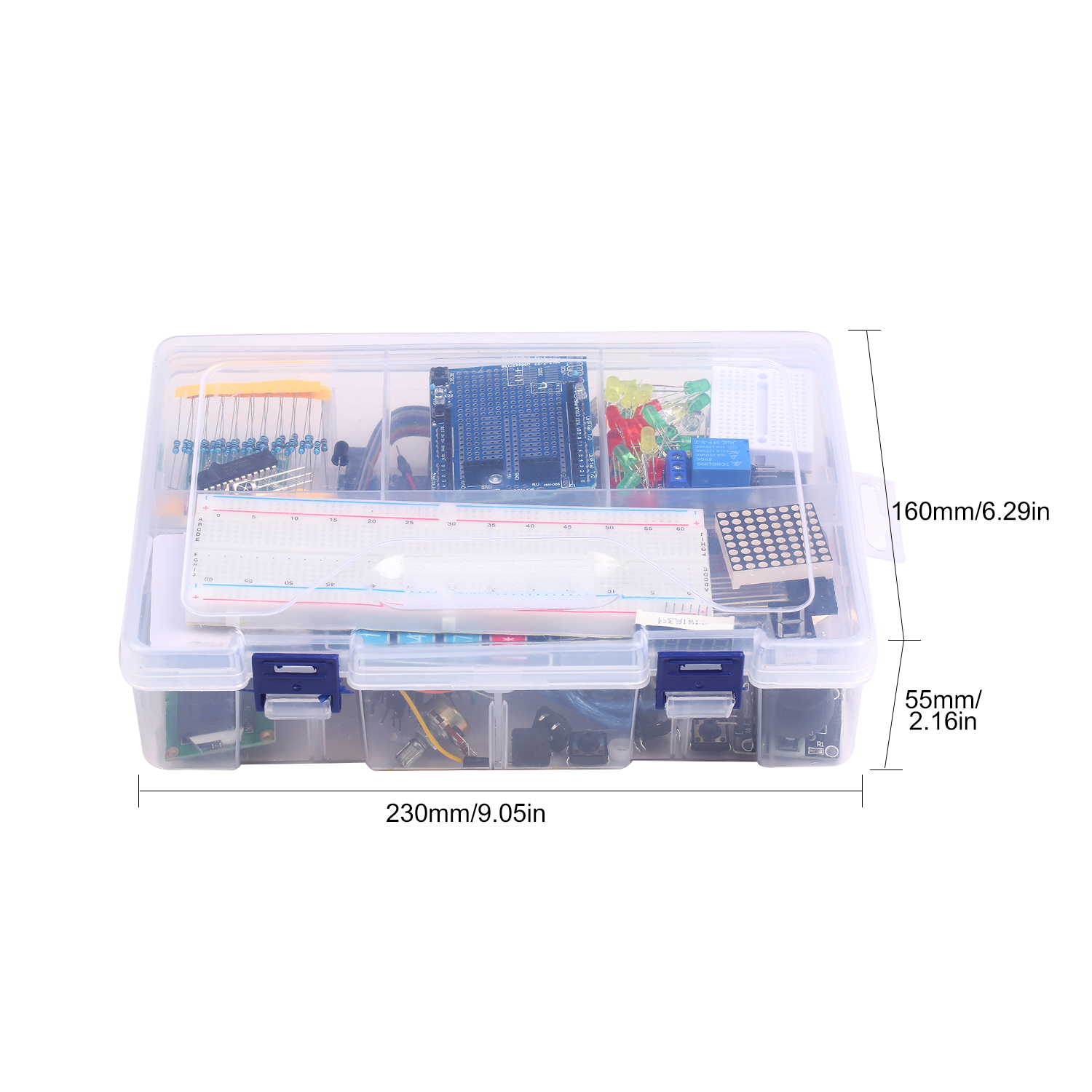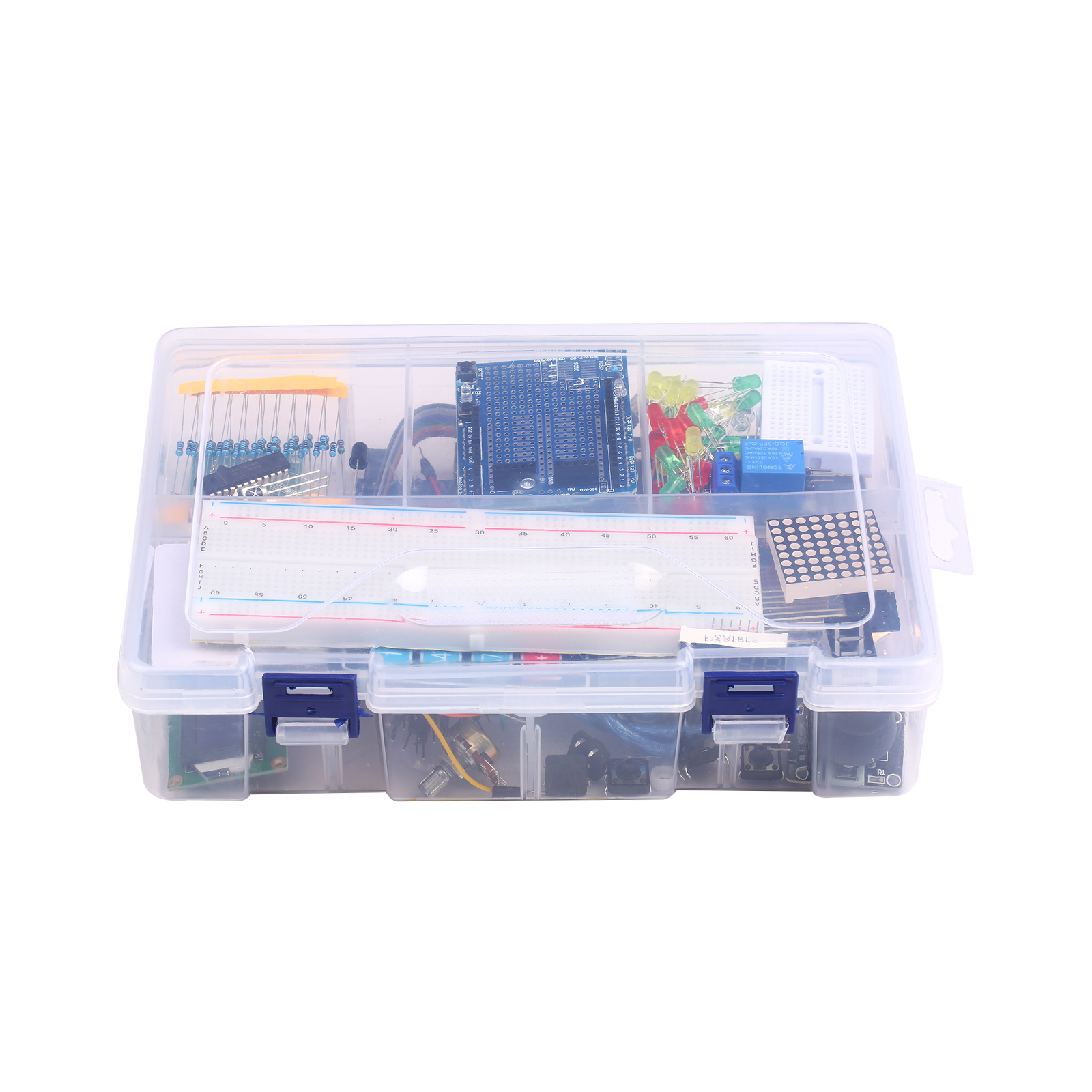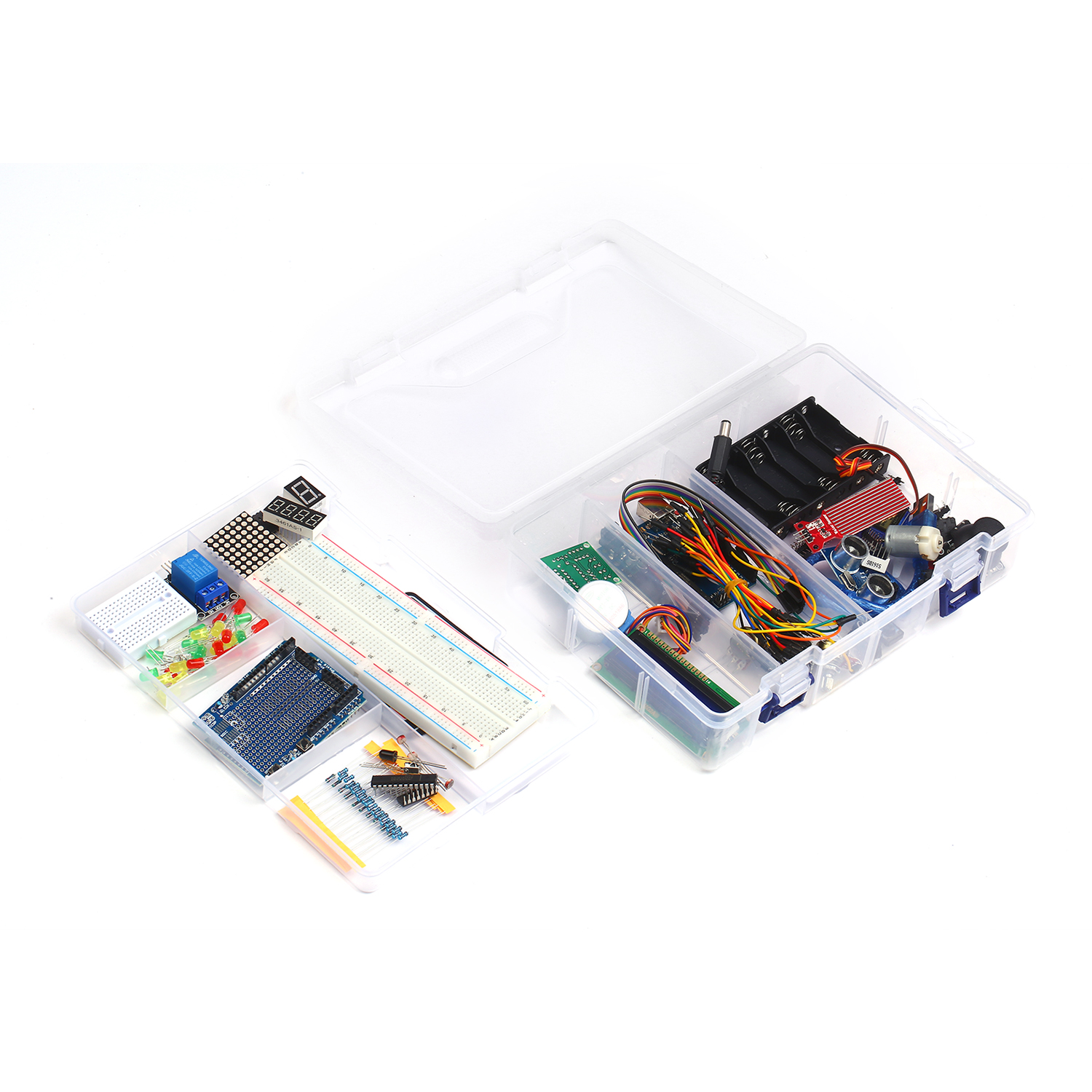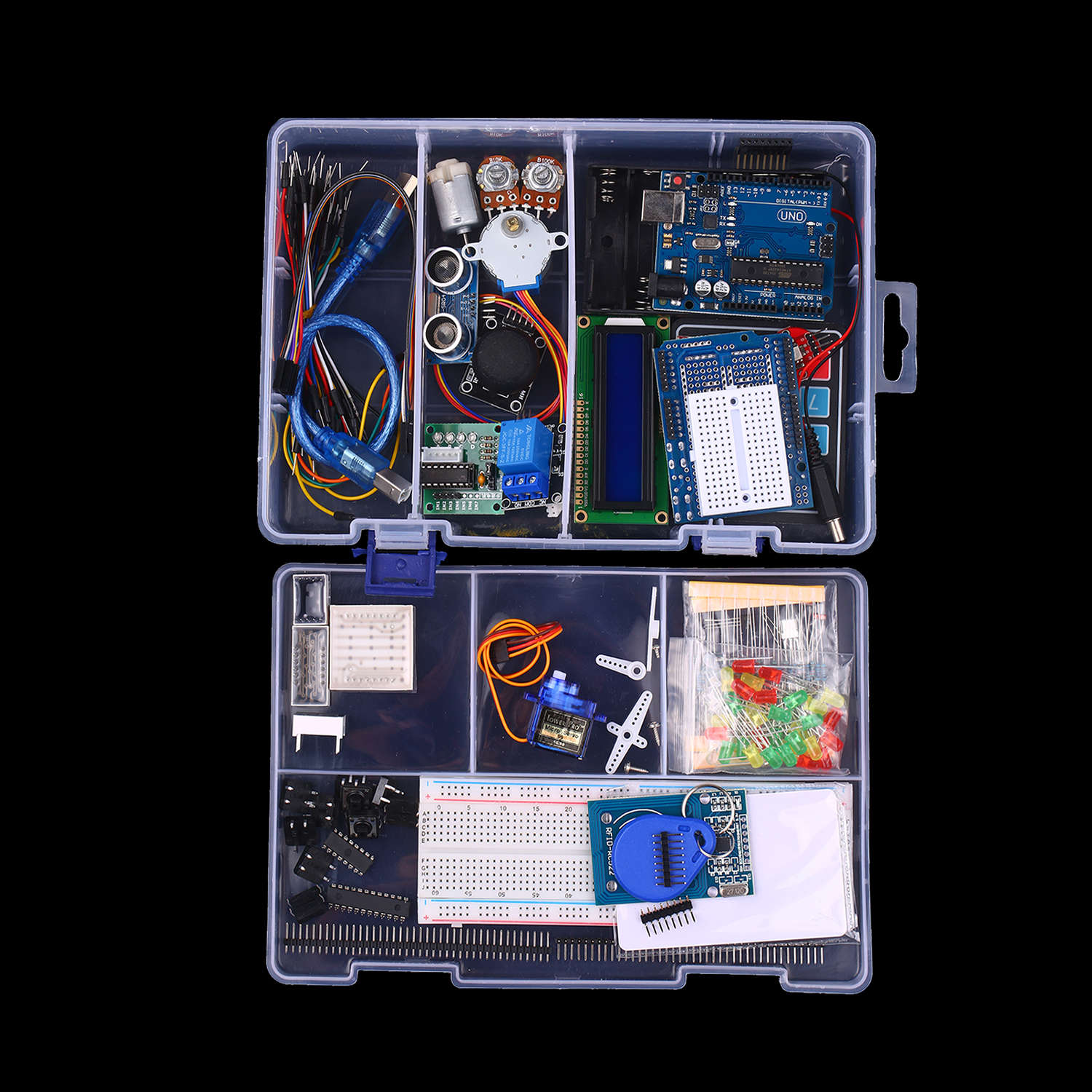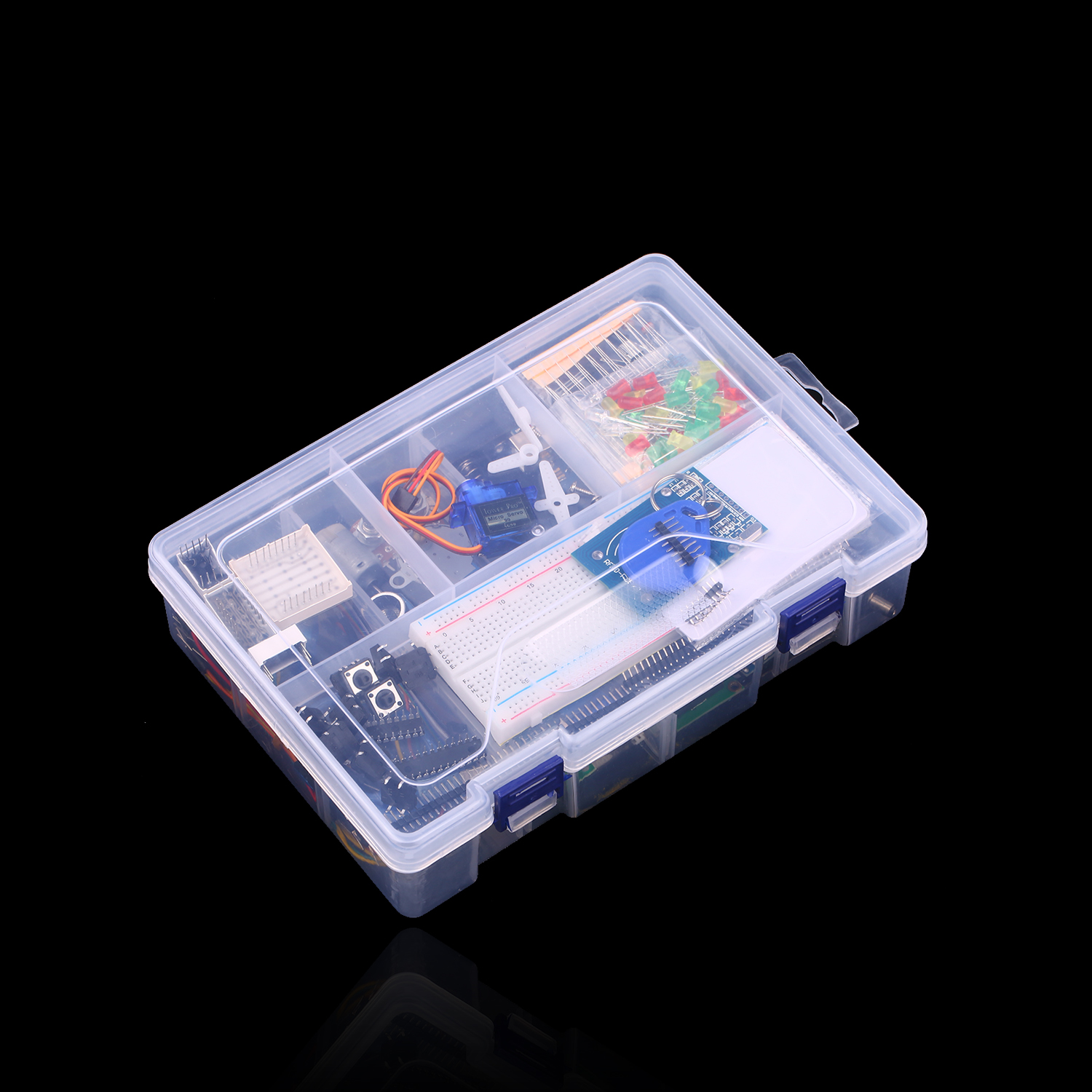 Shipping:
1.We guarantee to ship goods out within 24-72 hour after payment confirmation except holiday.
2.We ship by China post,HKpost EMS,DHL,Fedex,according to your choice when placing orders .
3.If you didn't receive the item after 45 days,please feel free to contact us.We will make all our effort to resolve the problem.
4.We are not responsible for delays causedby the customs,Import duties,taxes or other customscharges.
Warranty:
1.All items have 1 year guarantee.IF your purchase do not meet merchantable quality, fitness for purpose or match the description, We can make sure your issues are resolved .
2.For wrongly-shipped items, Please contact us in 48 hours after delivery.We will arrange to deliver the correct items or return all your payment.
3.For defective or faulty products,please take photos or videos,we would resend or refund after confirmation.