YY-400 PH/ORP/H2&TEM meter
YY-400 /YY-400N is a newly developed high-precision multifunctional water quality tester, which has the functions of measuring the PH, ORP, hydrogen ion concentration, and temperature of the water. The automatic temperature compensation (0-60℃) measurement data is updated. Accurate, easy to operate, easy to carry, drinking plenty of water rich in hydrogen ions is good for health.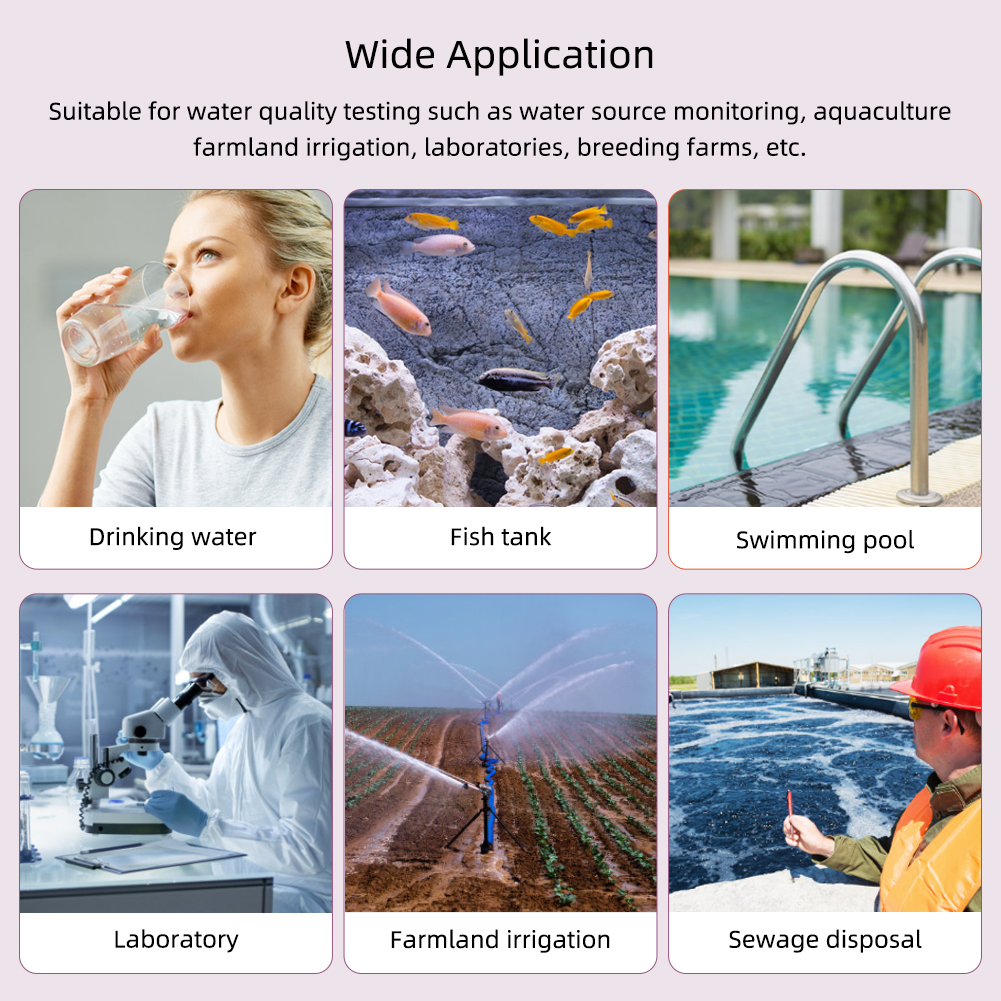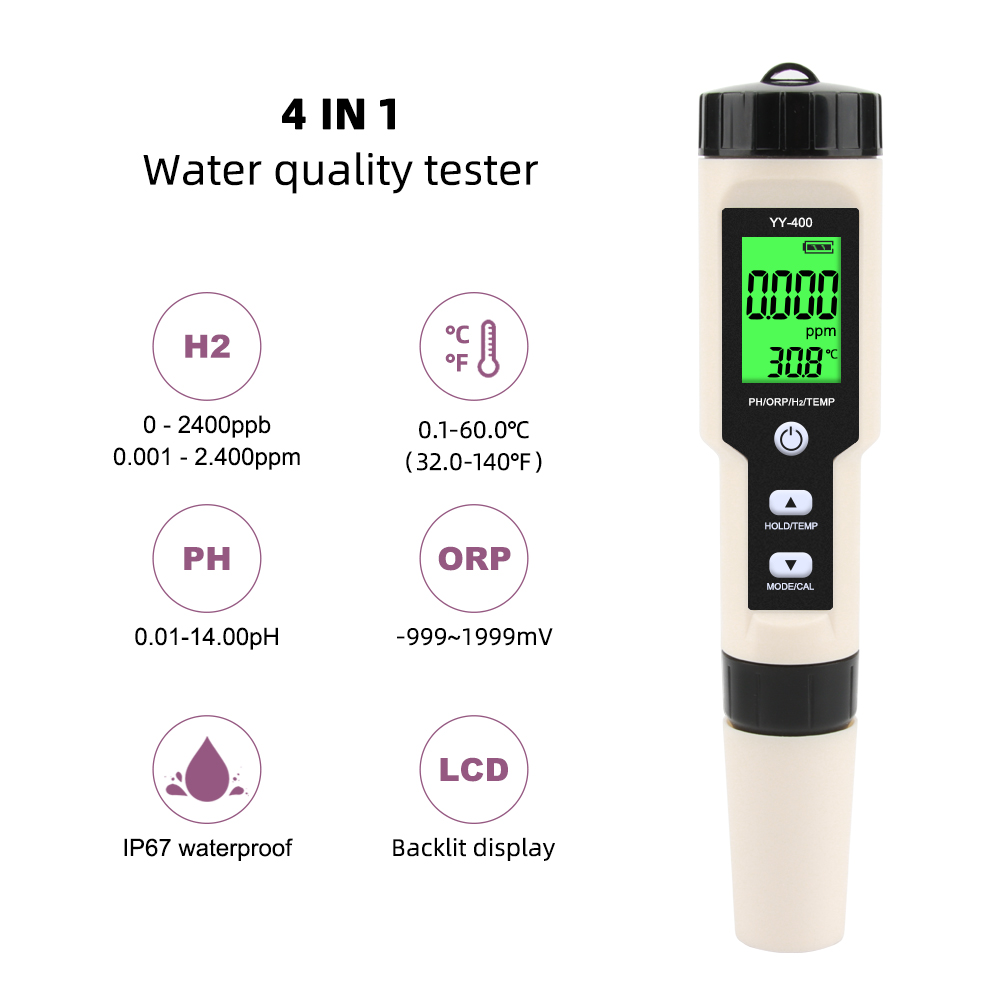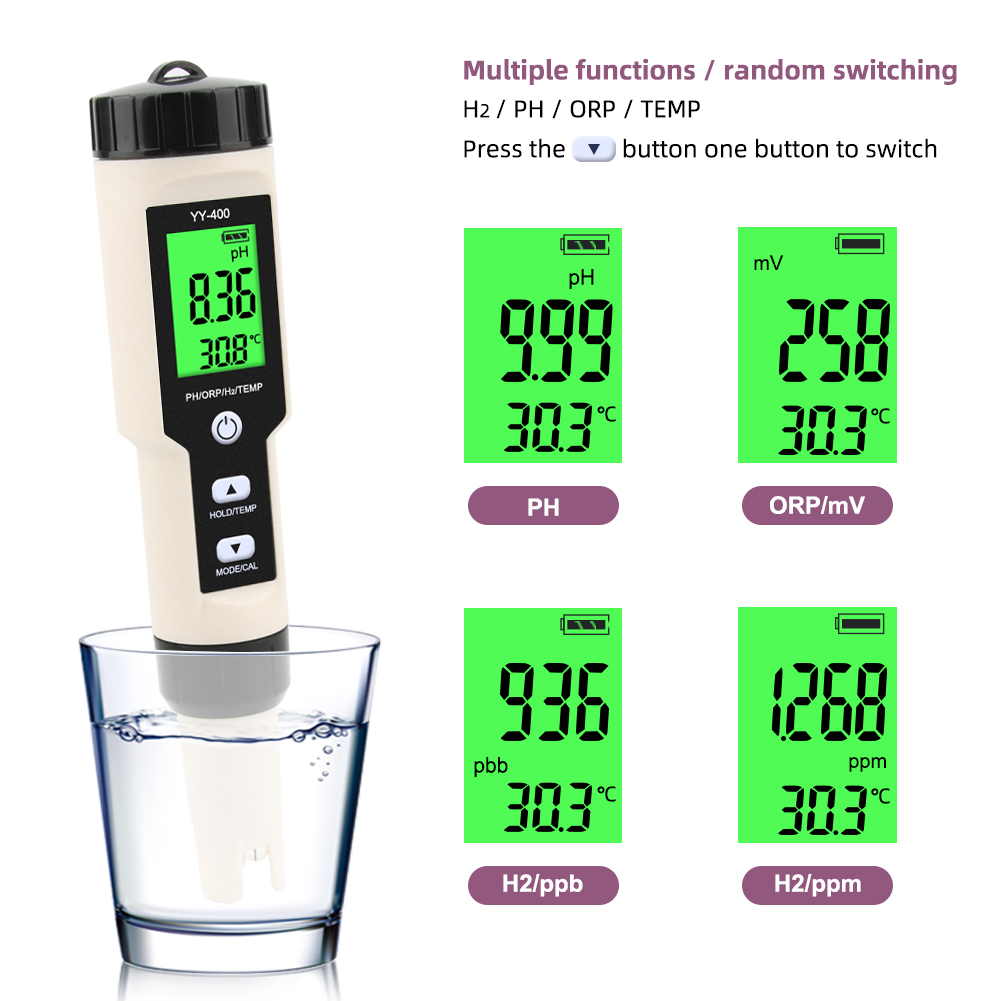 Specifications:
1.PH Range: 0.01-14.00pH Resolution: 0.01pH Accuracy: ±0.05pH 2.ORP Range: ±999mV Resolution: 1mV Accuracy: ±2mV 3.H2 Range: 0-2400ppb; 0.001-2.400 Resolution: 2ppb; 2ppm Accuracy: ±10ppb; ±10ppm 4. Temperature Range: 0.1-60.0°C 32.0-140°F Resolution: 1℃/°F Accuracy: ±0.5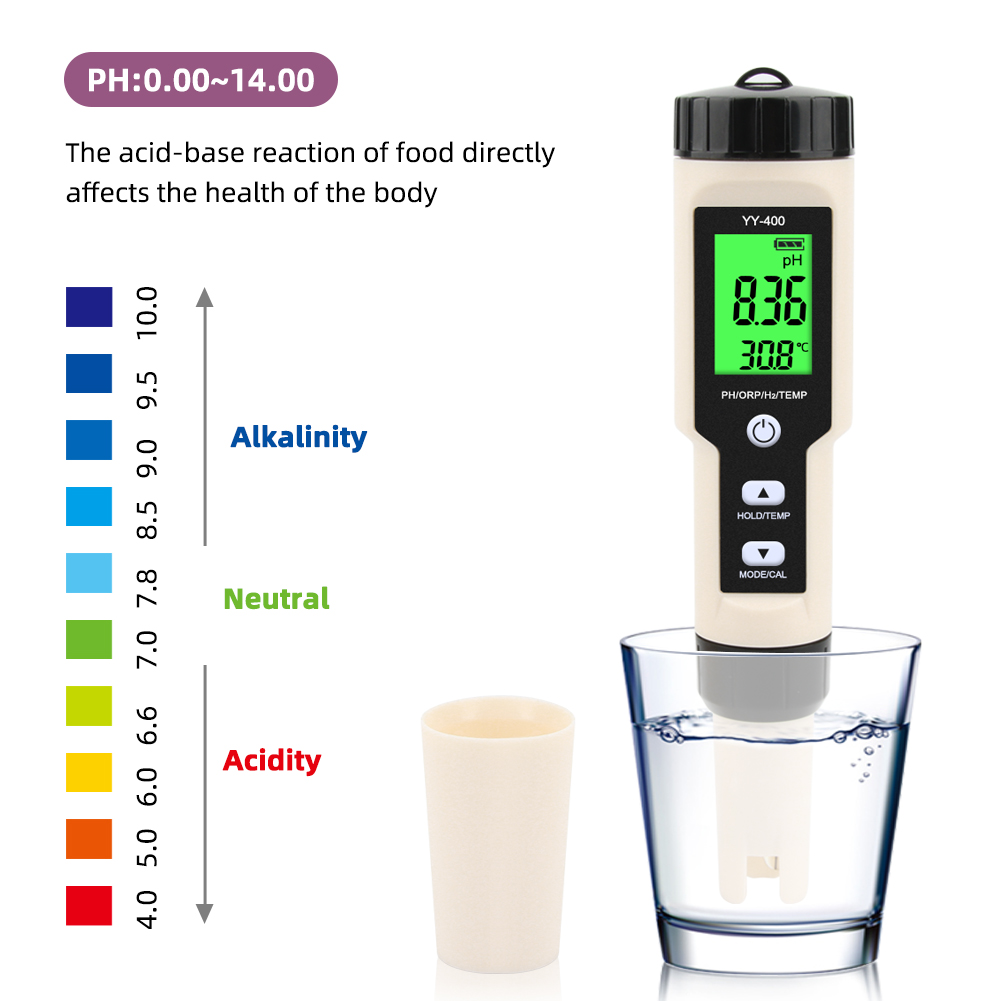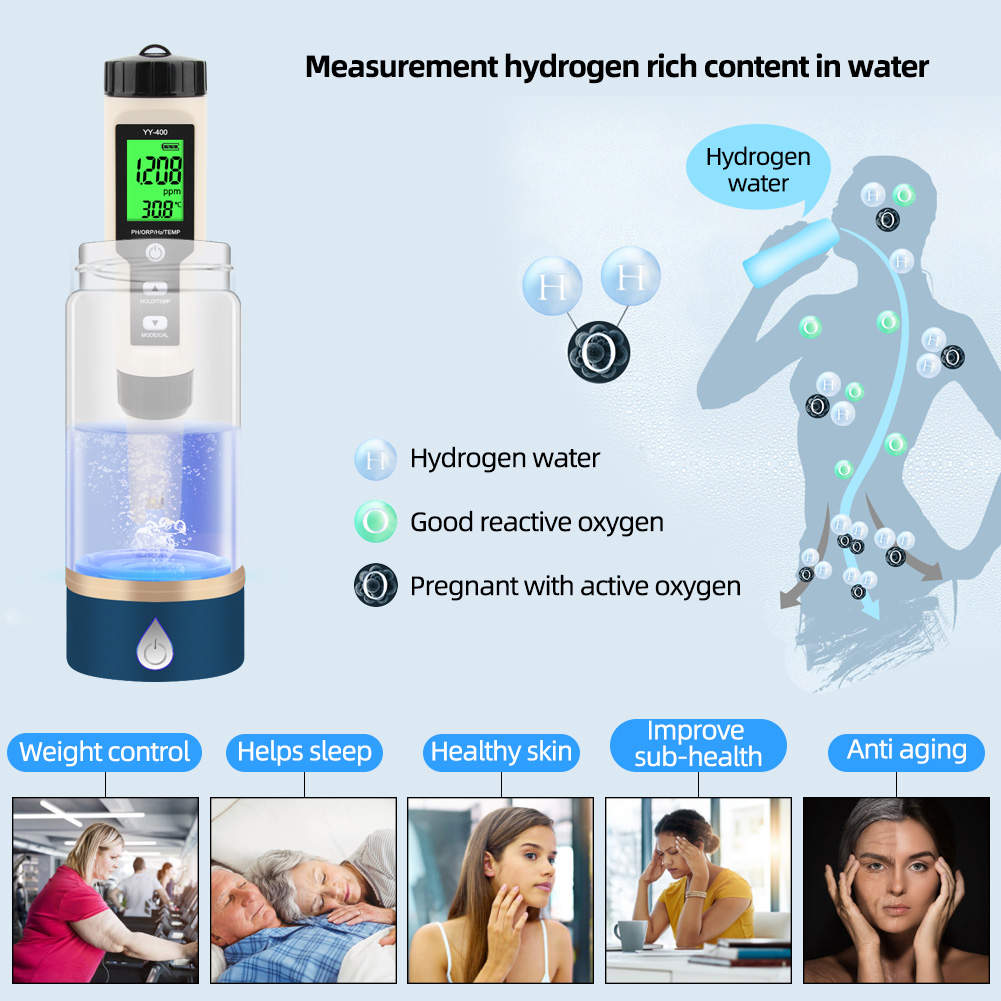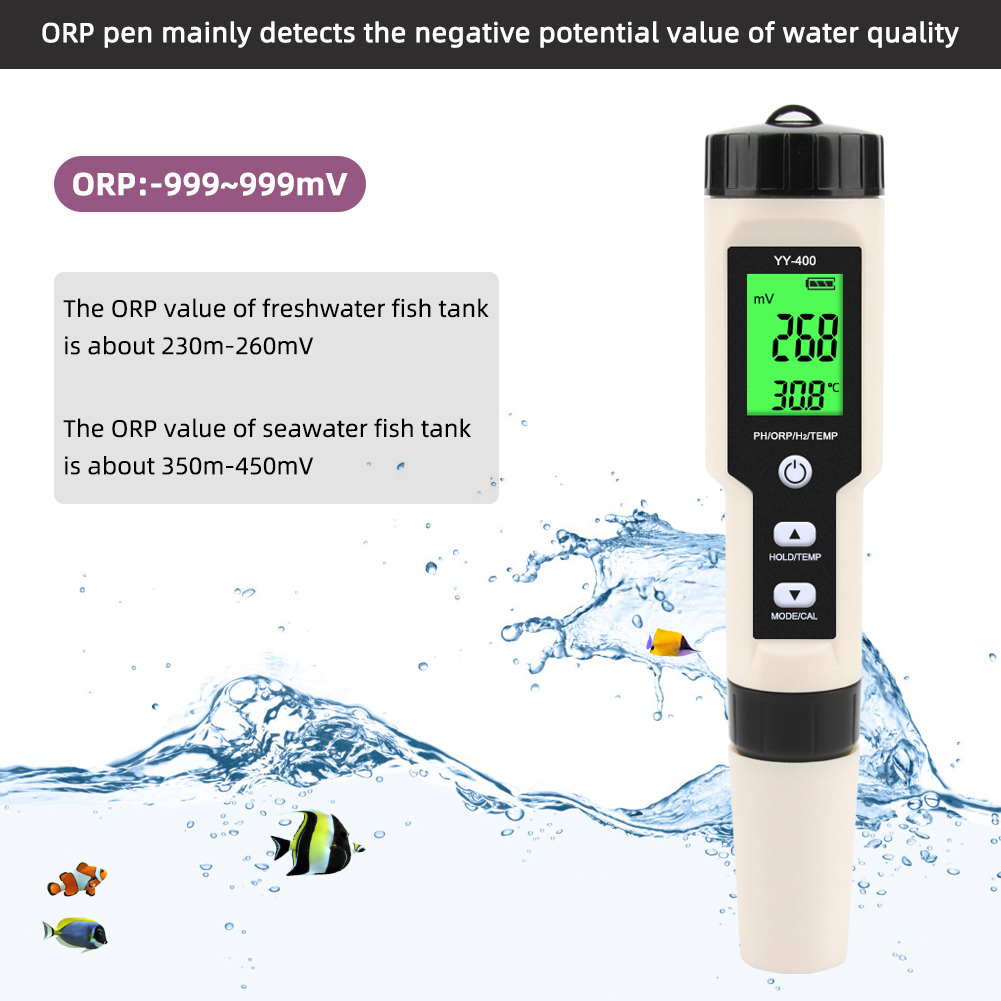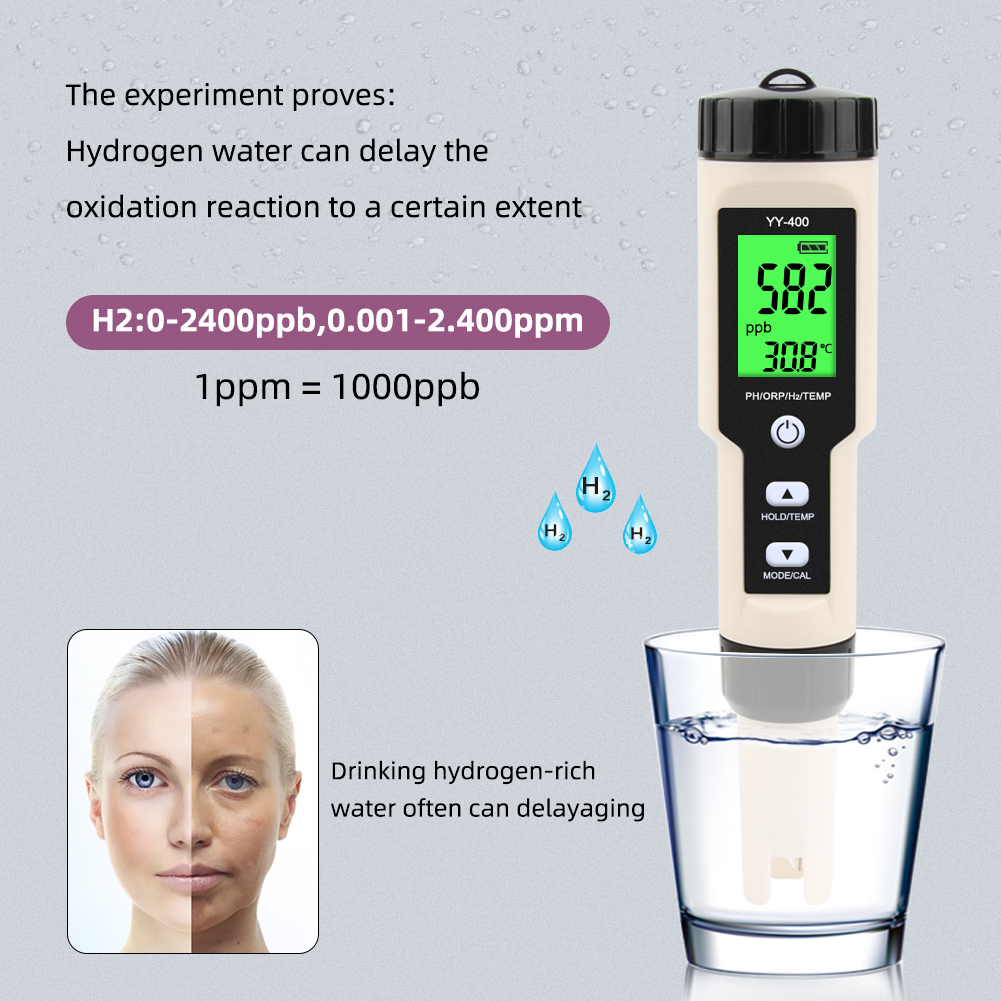 Product Details:
1. Display: LCD digital display 2. Backlight: optional backlight 3. Temperature: automatic temperature compensation 0-60℃ 4. Working environment: 0-60℃ (32.0-140°F); RH 100% 5. Waterproof: Ip67 6. Automatic shutdown: 5 minutes 7. Data retention: value retention 8. Battery: 3*1.5V (LR44) (not including battery) 9. Screen size: 33 * 24mm 10. Size: 183"37*37mm(7.2*1.5*1.5in) 11. Weight: 90g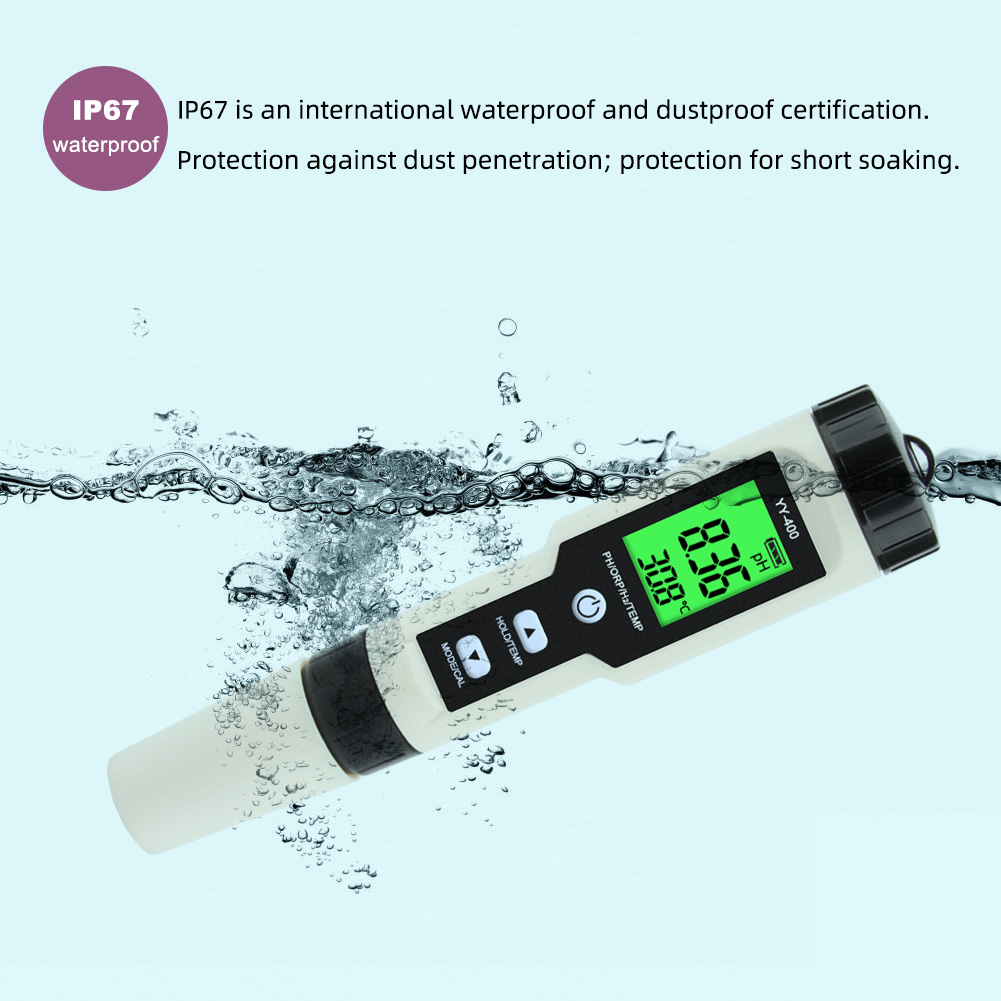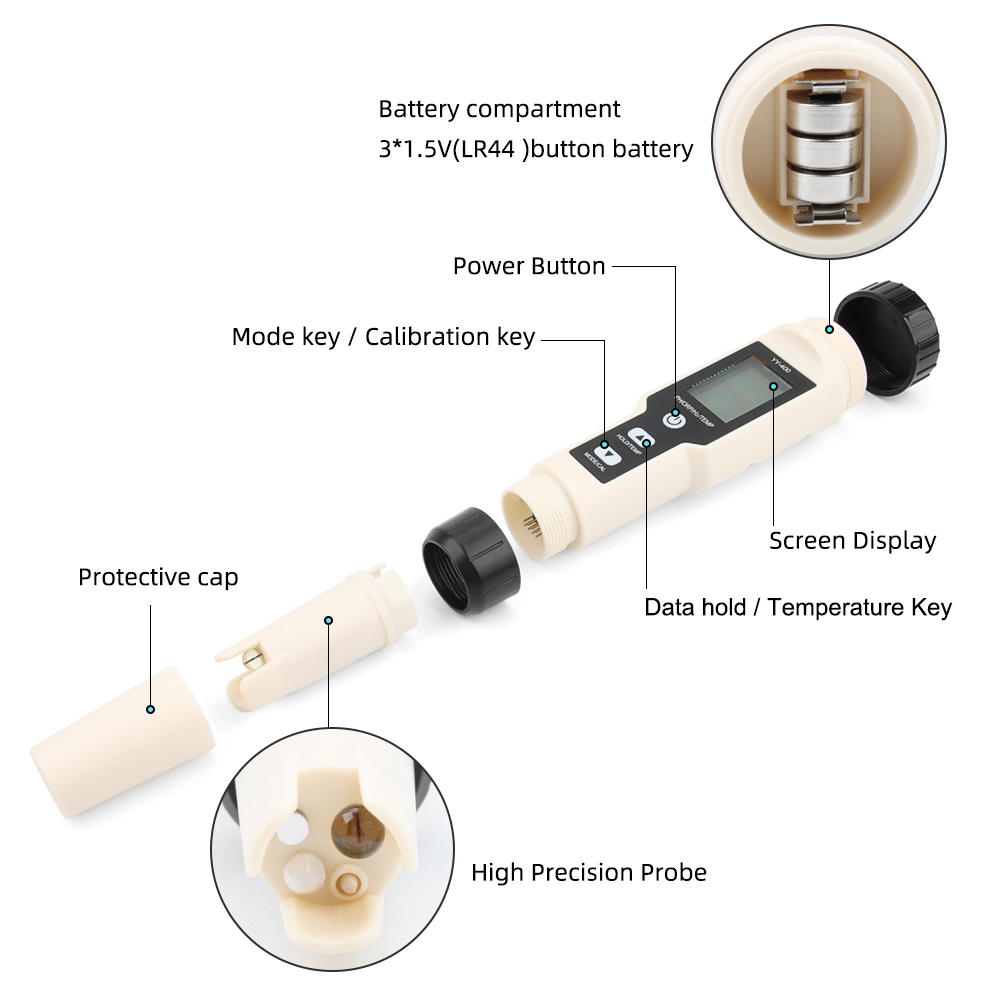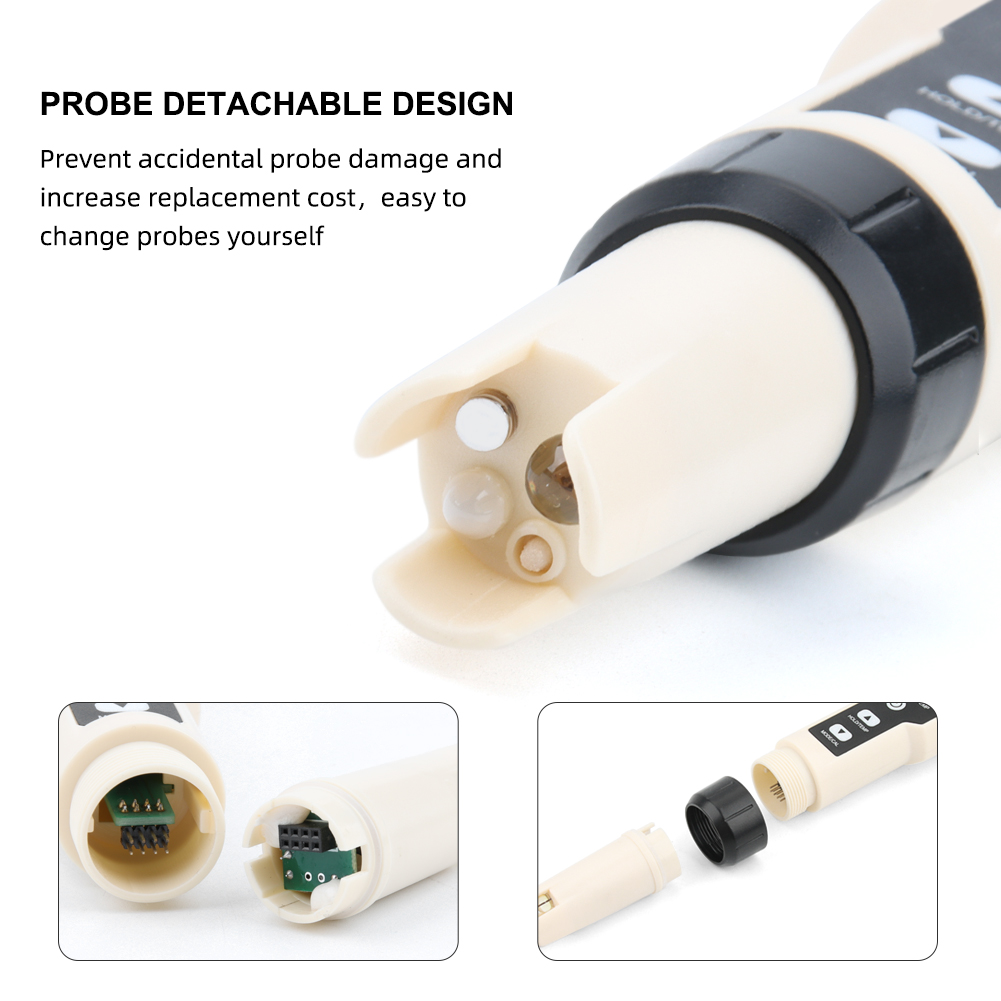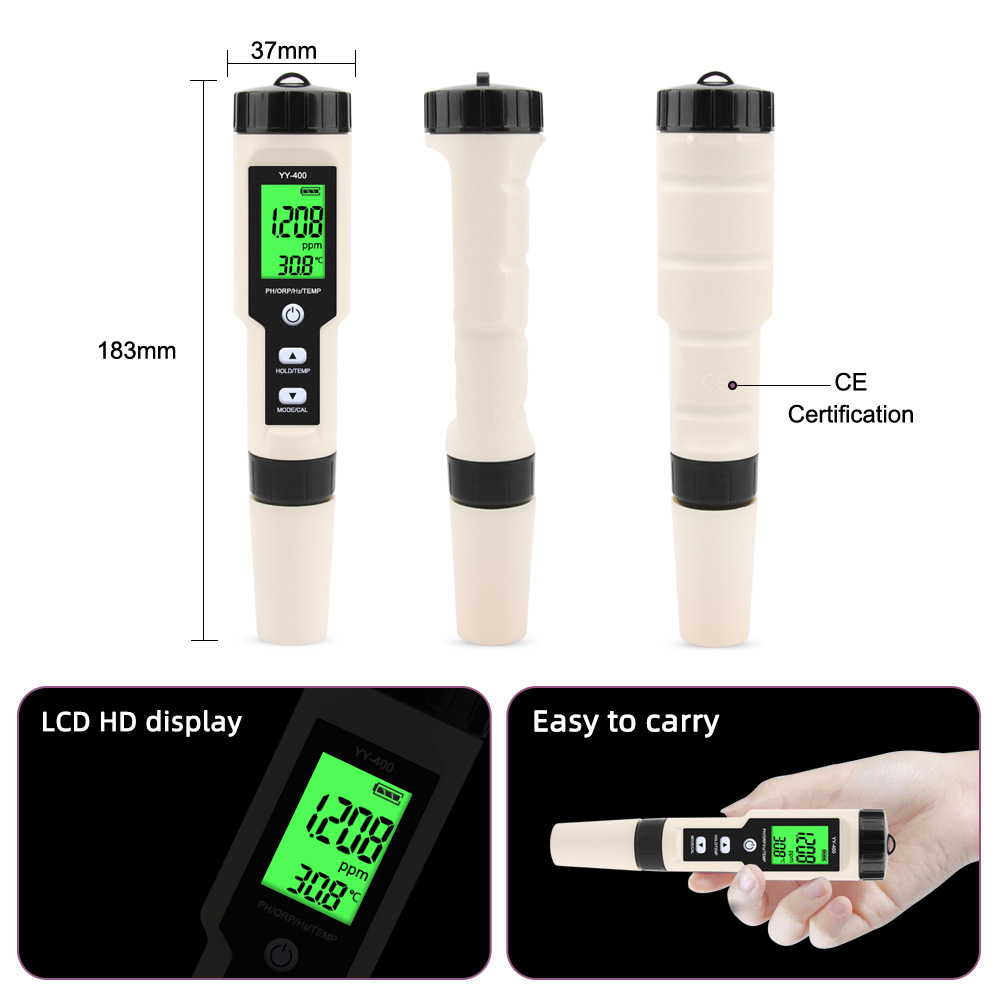 Packing list :
1 * YY-400 Waterproof Mini pH Meter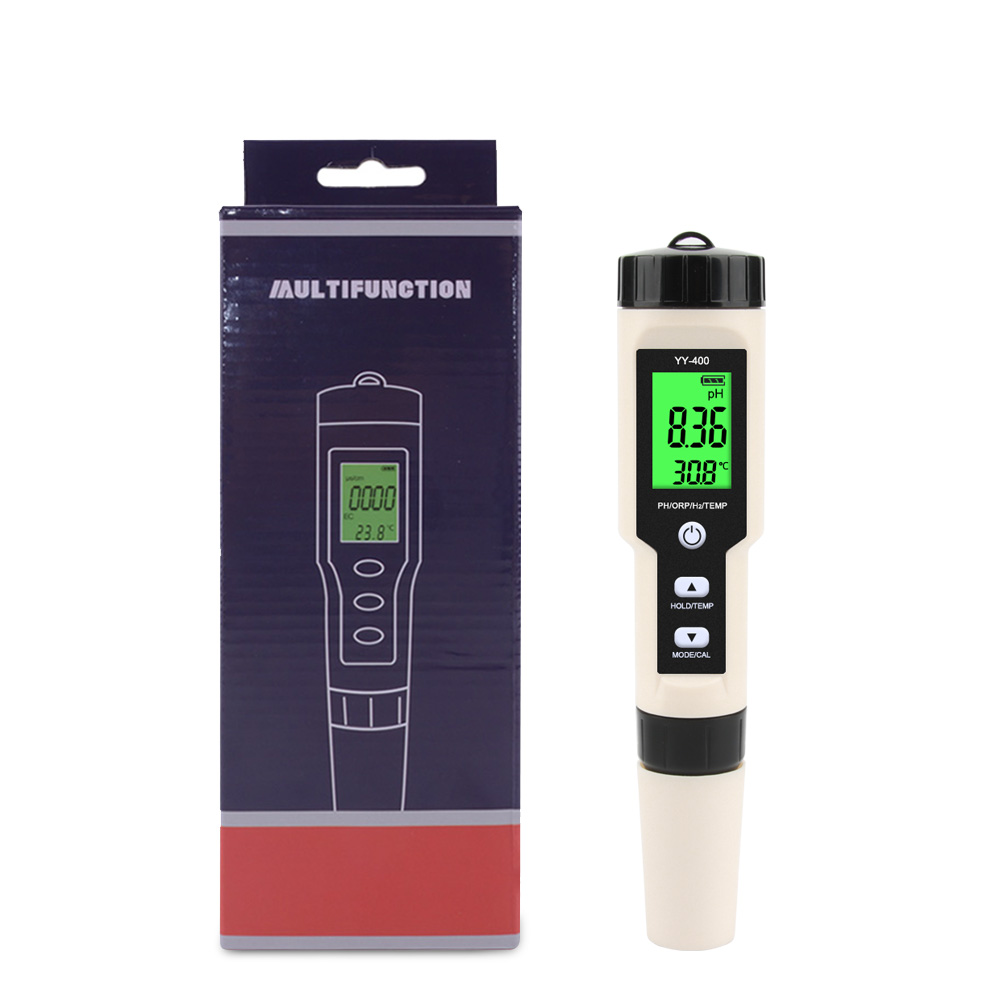 Note:
1. The electrode should be cleaned after use 2. PH calibration: 1 point or 2 points or 3 points automatically. If the meter cannot recognize the solution, please replace the electrode or contact the supplier. 3. It has been factory calibrated and can be used directly. 4. After completion, clean the electrode with pure water and keep it dry. 5. Stir gently a few times to ensure that there are no bubbles around the electrode. 6. Do not disassemble the meter without permission.
Ph reset
1. Turn off the meter, press HOLD/TEMP and MODE/CAL at the same time, don't release it. 2.Press ON/OFF, then release all buttons, the reset is complete.