Material
Thin-Vinyl(Pictorial cloth);High resolution and quality & not easy fade;It can wipe with water,easy to keep clean.
Features
The Vinyl,The picture is clear,realistic,Stereo sense is strong.Maximum seamless width of 300cm,soft,lightweight, Easy to Fold & Carry,cheaper and light than Polyester cloth,but is still tearproof, Not waterproof,Can only be used for indoor photography,So it is More suitable for one-time use.Easy to hang up straightly or naturally.
like birthday party,family photographers...
Note:Don't touch it with water,when you find the footprints on the backdrop, you can try use a slightly moist damp cloth to try wipe it.
Here are ways to remove wrinkles:
1) Roll it up tightly with a cylinder for 3-4 days,it will be ok.
2) If necessary, please iron the back surface with low temperature and It is best to lay a layer of cloth in the middle,so as not to destroy the imagethen it will be smooth again.
   So if you can not accept,please buy with caution.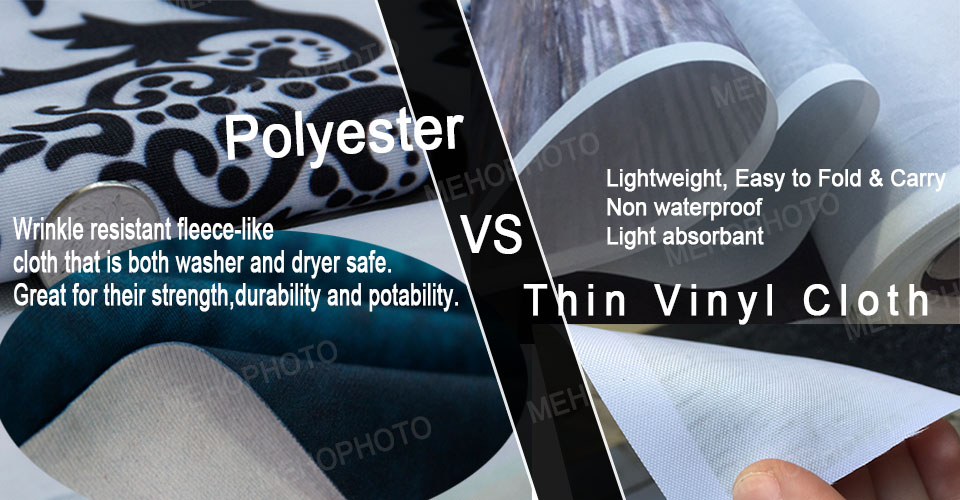 Please note
1.computer screens are different in color correction,subtle color difference is normal.
2.At the same time,because of our background material or pictorial ink in different batches,the background when printed will have very small difference.
3.In order to facilitate transport and packaging,will be folded background shipments resulting in creased.
Do not worry,do not affect to use.
Photography
Using a series of high-tech digital production equipment carefully made digital pictures ink jetpictures.The backdrops need keep distance to take pictures.Also many large format images may seem a littlepixelated.Different lighting will have different shooting effect,you can try to adjust the lights to make your photos better.

Additional services,Please contact us.
1.Add the top/bottom pocket or hole.
2.Rolled sending backdrop.
3.Can be customized to any size.
4.Backdrop can be personalized pattern, add photos, modify the color/style.
5.Drop shipping.
6.Particularly expedited, Processed order within 24-48 hours and shipped.
Feedback
If you don't satisfied with the transaction,please feel free to contact me,i will reply within 24 hours and try my best to resolve any problems.if you like it,please give me a five-star reviews.Thank you!