We are factory for can crushers for over 10years. If you want big quantity pls contact with me by email. You will see our contact information on our shop.
We may have to make new ones if our stock is not available. So it will take longer time sometimes wen we have no stock.
For DIY use good quality Kitchen tools
Large jerky gun with trigger and ratchet bar holds up to 1-pound of ground meat

Comes with 3 attachments

Save money making your own jerky

Make beef jerky, turkey jerky, or venison jerky

Easy to clean
Jerky Gun Kit, you can start making great tasting beef jerky in your home! You can make perfect jerky sticks and strips, with ease every time, using the 9-in. jerky gun! It's great for making jerky the way you like it and at a fraction of the cost. Make great tasting Beef Jerky, Turkey, or Venison Jerky at Home. It is Fun and Easy.
Make tasting jerky at home
Step1. Blend ground meat with seasoning of your preference;
Step2. To load, hold the silver tab down and pull the white knob all the way back;
Step3. Unscrew the red ring from the end of the tube.
             Place the meat mixture into the tube.
             Insert the desired tip attachment;
Step4. Push the white knob until it presses against the meat.
             Hold the jerky gun over the dehydrator tray and squeeze the silver trigger repeatedly to release the mixture onto the tray.
             Dry the jerky at the highest temperature(71 degrees) until the jerky is "leathery".
             It will take from 4-15 hours to dry.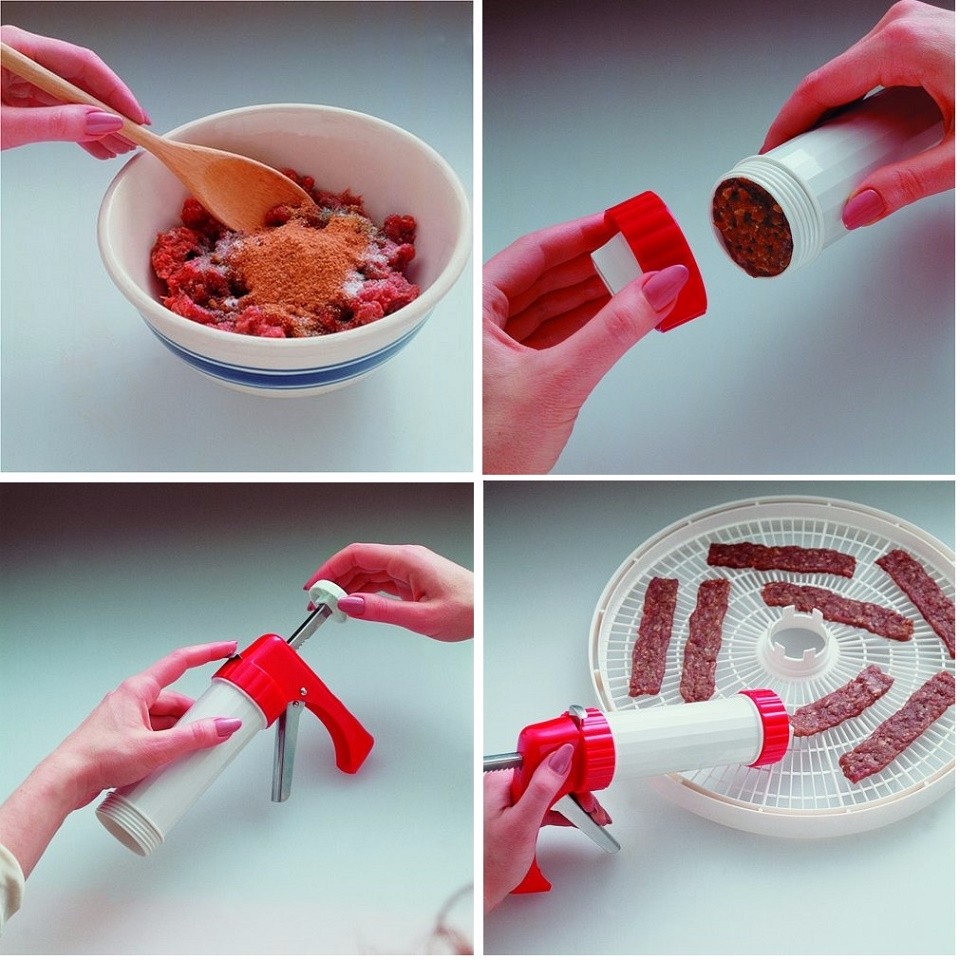 Packing:1pcs per set as the photos showing below: