About Our Product:
1.This gift set includes six 10mL bottles of aromatherapy essential oils: lemongrass, peppermint, orange, lavender, eucalyptus, and tea tree. Achieve greater mind acuity & promote & and happiness with this set.Easy to mix and match for blending or dilution purposes.
2.Set features lemongrass for calmness & clarity, peppermint for concentration & clear thinking, orange for optimism & peace, lavender for cognitive functions & alertness, eucalyptus for optimism & concentration, & tea tree for mental strength & calmness
Benefits of diffusing essential oils:
Essential oils are used for aromatherapy, Ayurveda, steam inhalations, skin care, massage, natural perfumery, baths, hair care, saunas, air freshening, compresses, vaporization, chakra balancing, or to enhance shampoos, lotions, creams, soaps & bath bombs
Package included:
6 x Bottle Lagunamoon 10ML Essential Oil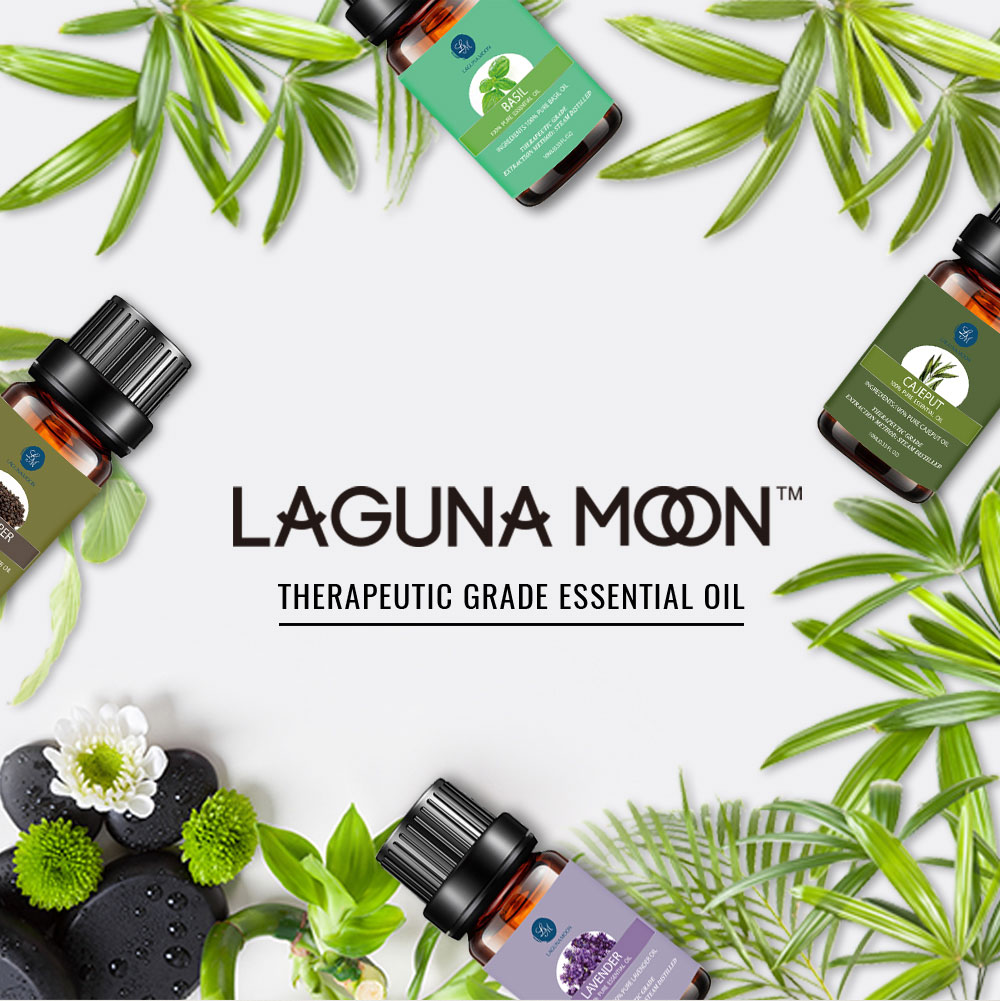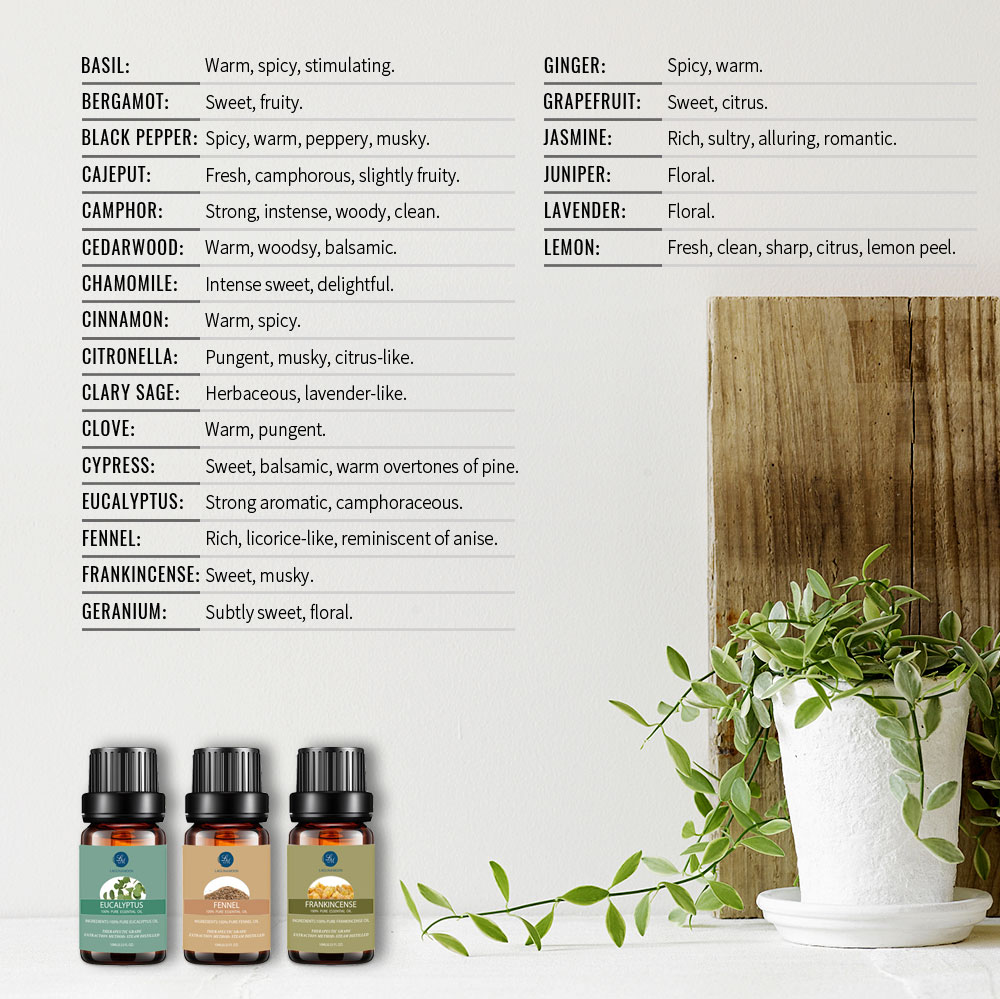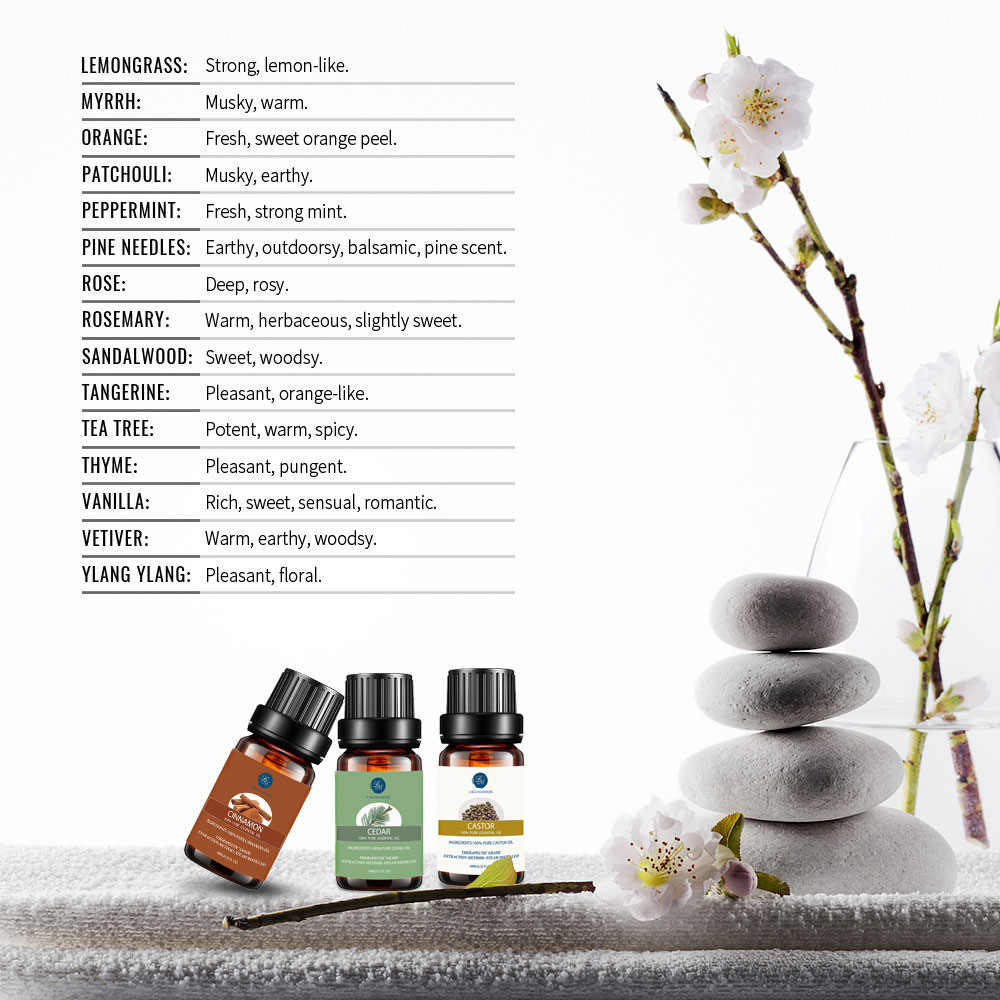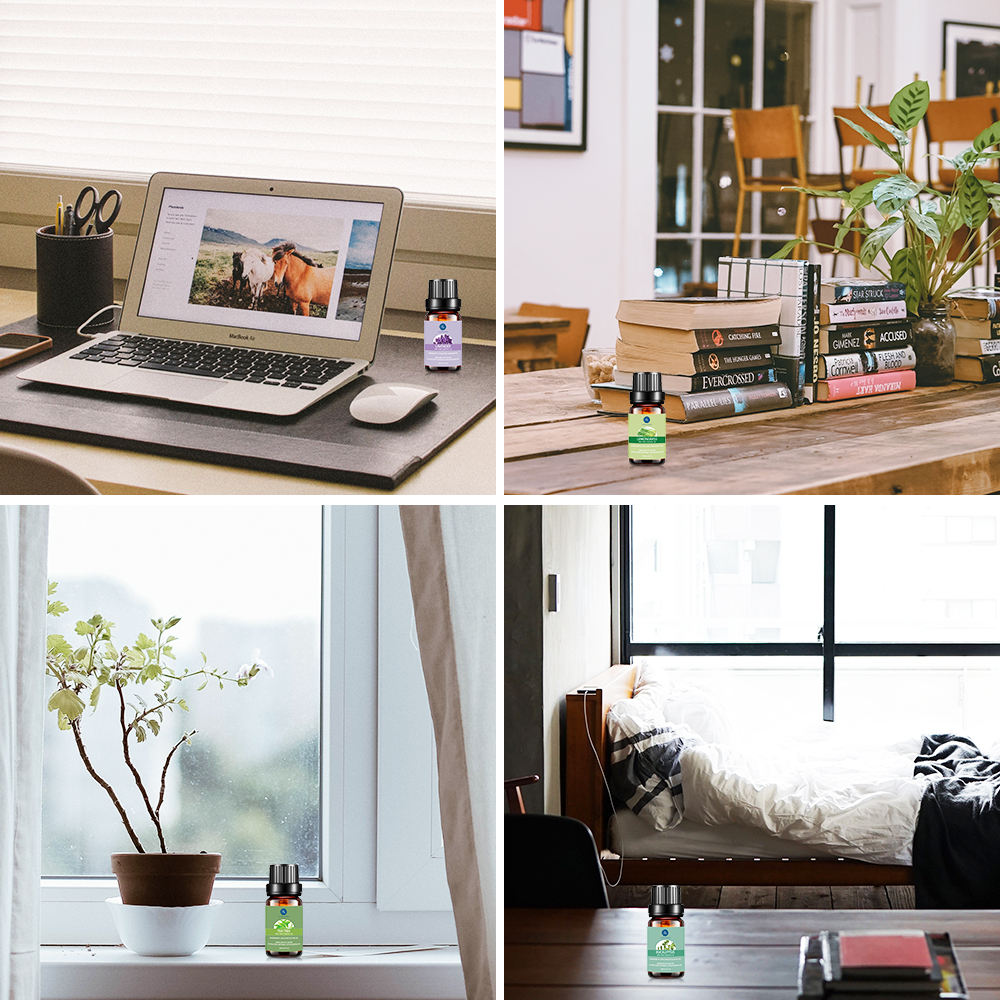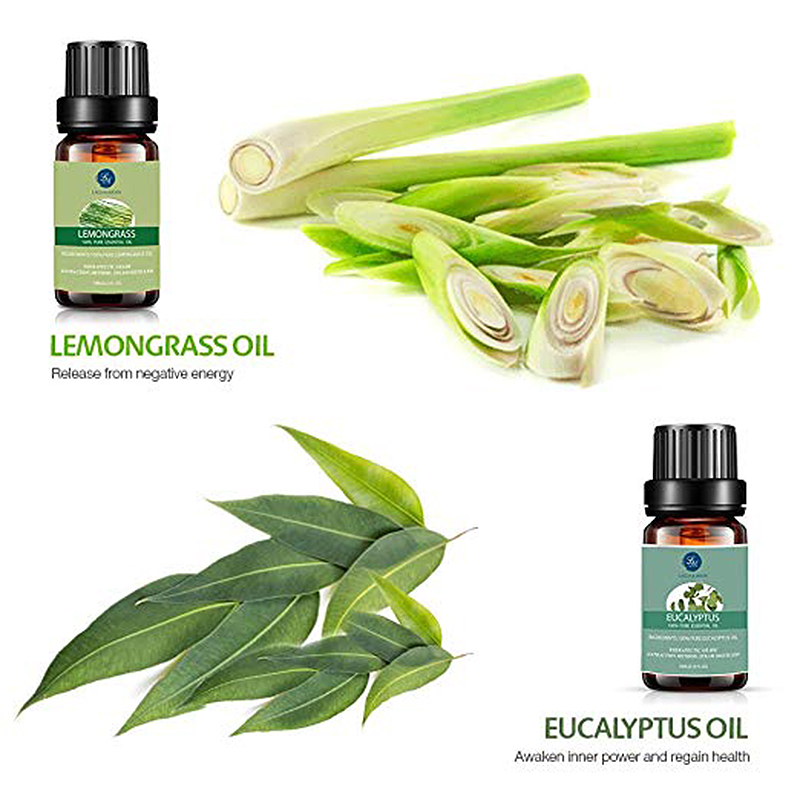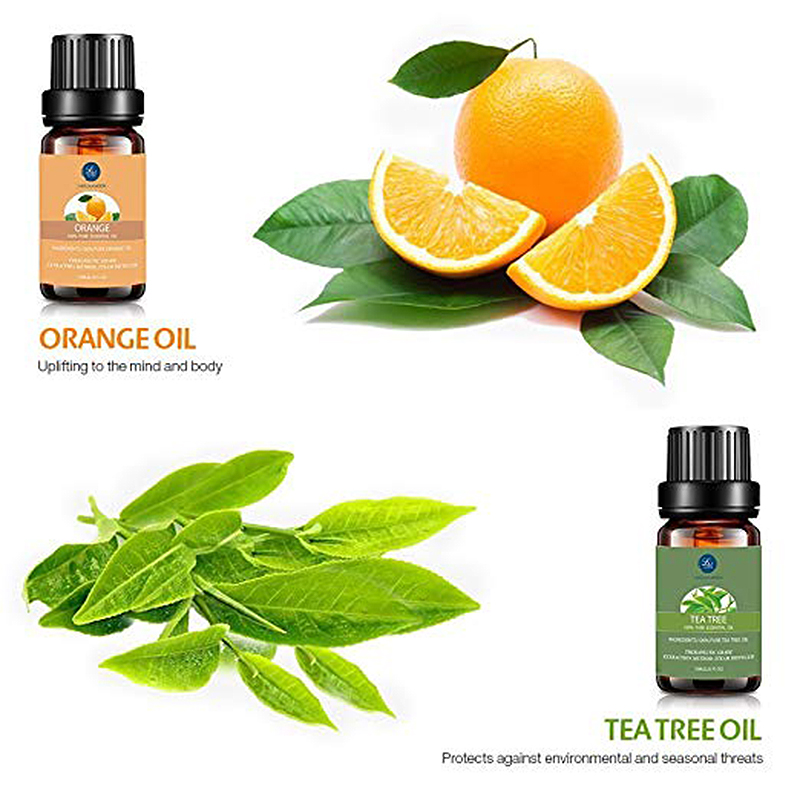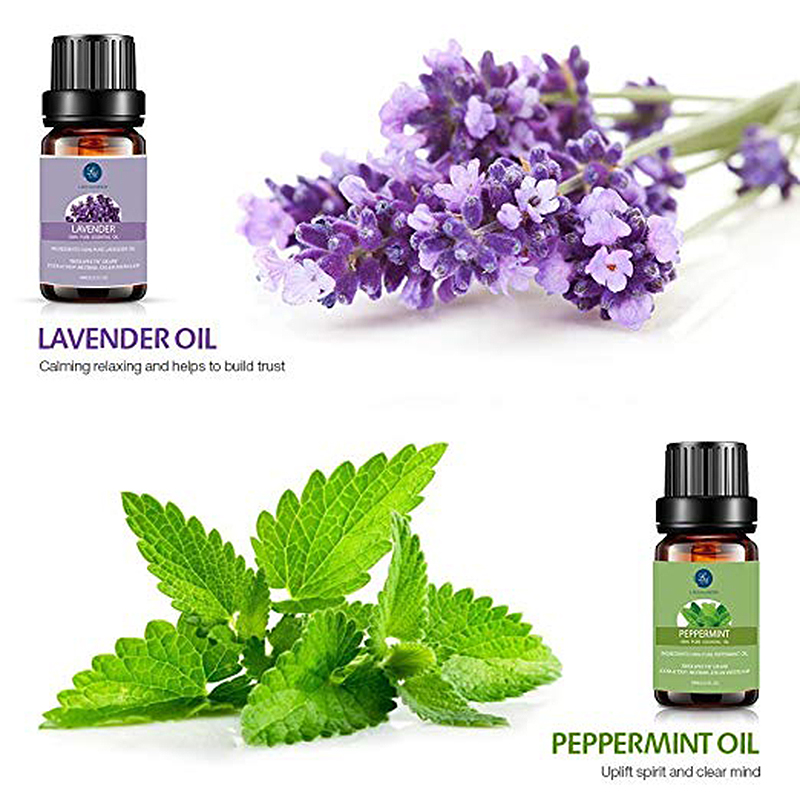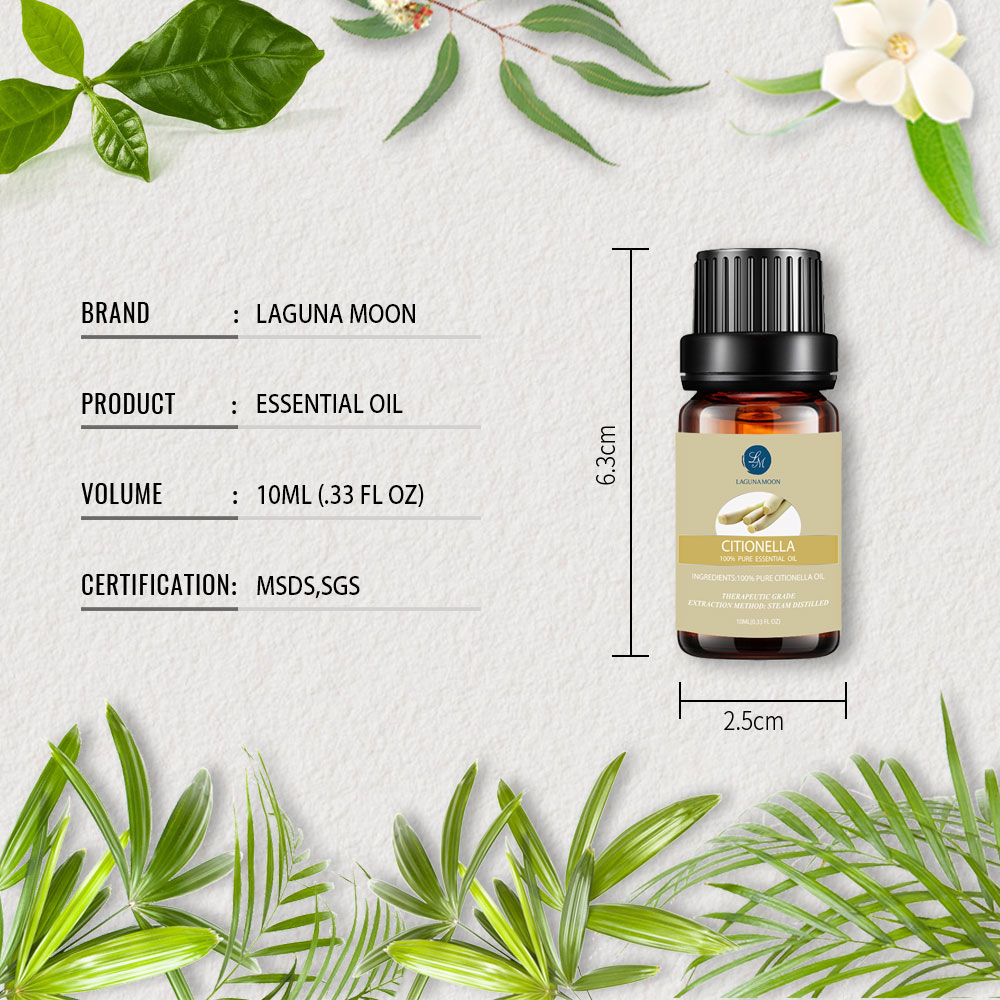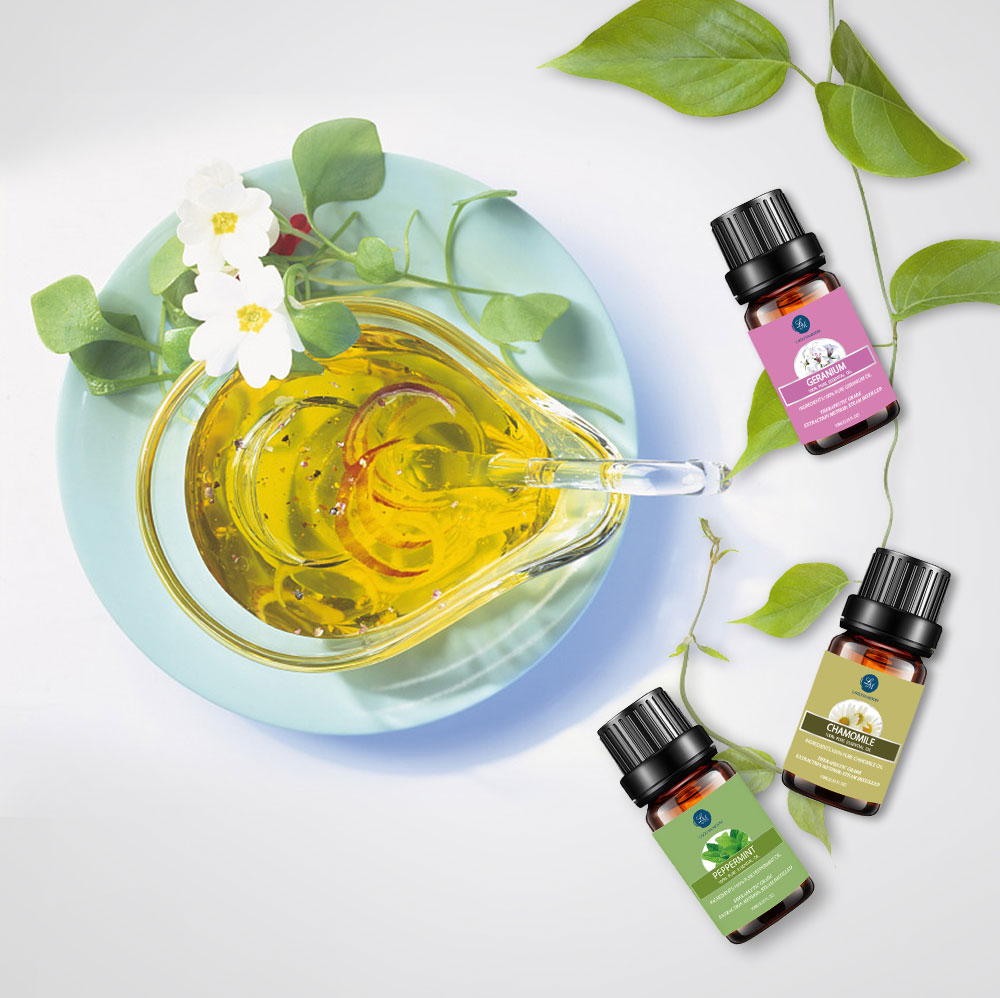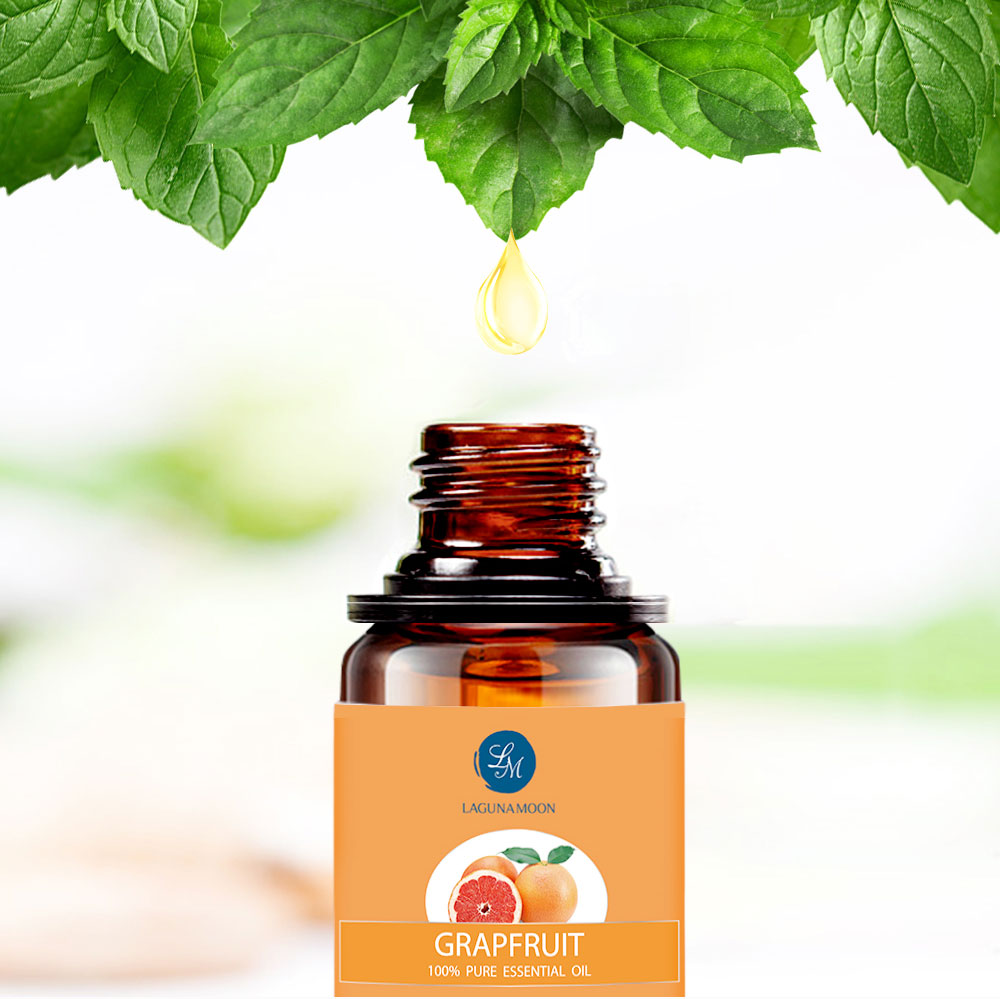 How Best To Use These Oils:
There are many, many ways to use our Essential Oils, here are just a few...
Oil Burners - One of the most popular ways is using them with an oil burner. Adding a few drops to your oil burner will create a lasting beautiful aroma, you can also mix oils to create your own smell.
Bath - Adding a few drops of our oils to your bath creates a heavenly, natural and pure aroma, and is proven to be a highly effective way get the most our of essential oils.
Massage - Our oils are strong, so please do not use them directly on your skin. Adding a few drops to a carrier oils (such as Grapeseed oil), and then massaging it on to your forehead, palms, neck, back, feet or other affected areas work wonders. 
Making your own - Many of you like create your own soaps, candles and beauty products, and these oils are perfect for that. They are of therapeutic grade, natural, pure and all hand made in the UK, making them ideal for you creative souls out there who make your own products.
Others - Other popular ways apart from the above include, diffusers, on your pillow at night, meditation, car air fresheners and in steam / saunas.
Warning:
* Do not use essential oils internally.
* Do not apply directly to skin; always dilute with carrier oil.
* Keep out of reach of children.
* Avoid contact with eyes and mucous membranes.
* Do not use citrus oils before exposure to UV light.
* Use only pure essential oils; avoid synthetic fragrances.
* Avoid prolonged exposure without ventilation.
* Store essential oils and carrier oils properly to avoid degradation and rancidity.
To protect your rights and avoid unauthorized merchants,please do not purchase outside Lagunamoon Beauty store.Our essential oils are suitable for diffusion, vaporizing, inhalation, cleaning, massage, oil burner, perfume, home care (bedroom, living room, bathroom, study room), office (workstation, conference room), outdoors, campground, yoga room, car and spa.
Come with gift box and essential oil guide,outside with well transparent protective seal wrapping.A perfect gift set for any accassion.Try Lagunamoon if you've enjoyed products by other brands. All oils GC/MS tested with no fillers, FDA and SGS approved. We adhere to the Good Manufacturing Practices for Cosmetics.
Our essential oils and functions:
| | |
| --- | --- |
| * Vanilla Essential Oil | Pure vanilla oil fights inflammation, works as an antidepressant and contains high levels of antioxidants. |
| * Clove Essential Oil | Promotes cardiovascular health, oral health, immune health. |
| * Bergamot Essential Oil | Skin purifying, emotional support. |
| * Patchouli Essential Oil | Help alleviate nervous tension or worry and calm the mind during personal reflection or meditation. |
| * Myrrh Essential Oil | Helps to purifies and cleanses the skin. |
| * Rose Essential Oil | Promotes skin health/complexion, emotional balance. |
| * Lemon Essential Oil | For increasing energy, digestive and respiratory support, cleaning. |
| * Grapefruit Essential Oil | Cleansing, skin health, alertness. |
| * Cinnamon Essential Oil | Supports metabolic function, oral health, cleaning. |
| * Clary Sage Essential Oil | Supports healthy hormonal balance, tension, emotions. |
| * Citronella Essential Oil | Support a healthy respiratory system and also aid in relaxation. |
| * Vetiver Essential Oil | Calmness and groundedness. |
| * Eucalyptus Essential Oil | Brings about optimism and concentration, relieves stress and sadness, and carries a strong camphoraceous aroma. Supports healthy respiration, skin, cleansing. |
| * Peppermint Essential Oil | Stimulates concentration and clear thinking, relieves fatigue, and carries a strong mint aroma. Wonderful for digestive/respiratory function, energy, cooling. |
| * Tea Tree Essential Oil | Promotes mental strength and calmness, relieves stress, and carries a warm and spicy aroma. Cleansing, healthy immune function, skin complexion. |
| * Basil Essential Oil | Mental alertness; supports sore muscles/joints, menstruation. |
| * Jasmine Essential Oil | Skin health, balanced mood. |
| * Ylang ylang Essential Oil | Promotes healthy skin and hair, calming. |
| * Lemongrass Essential Oil | Yields calmness and clarity, relieves fatigue and confusion, and carries a strong lemon-like aroma. |
| * Frankincense Essential Oil | Supports healthy cellular health, skin, emotions. |
| * Orange Essential Oil | Promotes optimism and peace, relieves anger and depression, and carries a fresh, sweet orange peel aroma. Emotional balance, overall health, cleansing/purifying, antioxidants. |
| * Lavender Essential Oil | Universal oil. Calming, skin health and recovery, flavoring.Helps cognitive functions and alertness, relieves anxiety and depression, and carries a floral aroma. |
| * CedarWood Essential Oil | Improves skin complexion and also moisturizes metabolism. |
| * Rosemary Essential Oil | Promotes healthy digestion, respiratory function, healthy hair/scalp. |
| * Thyme Essential Oil | Cleansing, purifying, healthy immune function. |
| * Black Pepper Essential Oil | Promotes skin health/complexion, emotional balance. |
| * Cajeput Essential Oil | Helps promote mental sharpness and  relieve fatigue.  |
| * Camphor Essential Oil | Boosts the activity of the circulatory system, metabolism, digestion, secretion and excretion. |
| * Cypress Essential Oil | Helps promote confidence, stability, renewal. Helps relieve grief, loss, anger. |
| * Fennel Essential Oil | Promotes healthy digestion,Calming and soothing. |
| * Geranium Essential Oil | Helps promote security, intimacy.  Helps relieve anxiety, depression, mood imbalance, stress. |
| * Ginger Essential Oil | Healthy digestion, supports muscles and joints, complexion, insects. |
| * Juniper Berry Essential Oil | Helps promote metabolism, relieve worriness, gloominess, fear. |
| * Pine Needles Essential Oil | Antibacterial, analgesic, diuretic, energizing, antiseptic. |
| * Tangerine Essential Oil | Cleansing, healthy immune system. |
| * Chamomile Essential Oil | Helps promote calmness, relaxation. Helps relieve anger, anxiety, depression, fear, irritability, loneliness, PMS and stress. |
| * Sandalwood Essential Oil | Skin health, calming, grounding. |