The Gigabit Ethernet Media Switch with external power supply are designed to transmit and receive 10/100/1000Mbps data over optical fiber. The electrical interface will Auto-Negotiate to a 100Mbps or 1000Mbps Ethernet rate without any adjustments. The optical interface operates at a 1000Mbps Ethernet rate. Both are environmentally hardened to operate in extreme temperatures. LED indicators are provided for confirming equipment operating status.
1.Default with 2A+2B Fiber port,when you need 4A ,4B ,3A+1B,1A+3B,plaese leave a message to us,same price
2.
Default with EU power adapter.UK,US,BR,AU standards can be provided as request.
3.Bulk order please contact with us , we are factory have the best price for you. 
please note:
Default with 2pcs 1310nm A side Fiber module and 2pcs 1550nmB side, 2pcs 1550nm B Side and 2pcs 1310nm A side can be provided as request.
Gigabit Ethernet Switch 4G2E Series Fiber Switch
The Gigabit 4G3E is an Ethernet Fiber Switch which is specially designed for network monitoring. It
has 3*10/100/1000Mbps Ethernet ports and 4*1.25Gbps fiber ports. It adopts Marvell chips to ensure
low power consumption and high stability. It extends the transmission distance of a network from
100m to 120km via copper cables. It can extend the transmission distance; there are also many other
advantages such as isolation protection, good data security, working stability and easy maintenance.
Main Features:
1.Support the switch between 10/100/1000Base-TX and 1000Base-SX/LX
2.4*1.25Gbps full-duplex fiber ports and 3*10/100/1000M Ethernet ports with auto-negotiation function
3.Support 1000M speed rate, MDI/MDIX and half/full-duplex with auto-negotiation function
4.Each port has the complete LED Indicator light
5.Support single mode single fiber,single mode dual fiber ,multi-mode dual fiber and SFP slot
6.Support IEEE802.1d Spanning Tree
7.Support high performance QoS function on each port
8.Support 5V DC voltage input
9.Support IEEE 802.3x flow control and back pressure control
10.Require no configuration and will instantly operate as soon as you power it up
11.Low power consumption chip with heat sink built in to ensure longtime efficient operation
For telecommunications , broadcasting, broadband fiber optic network data traffic and the need to improve performance, high-reliability network environment.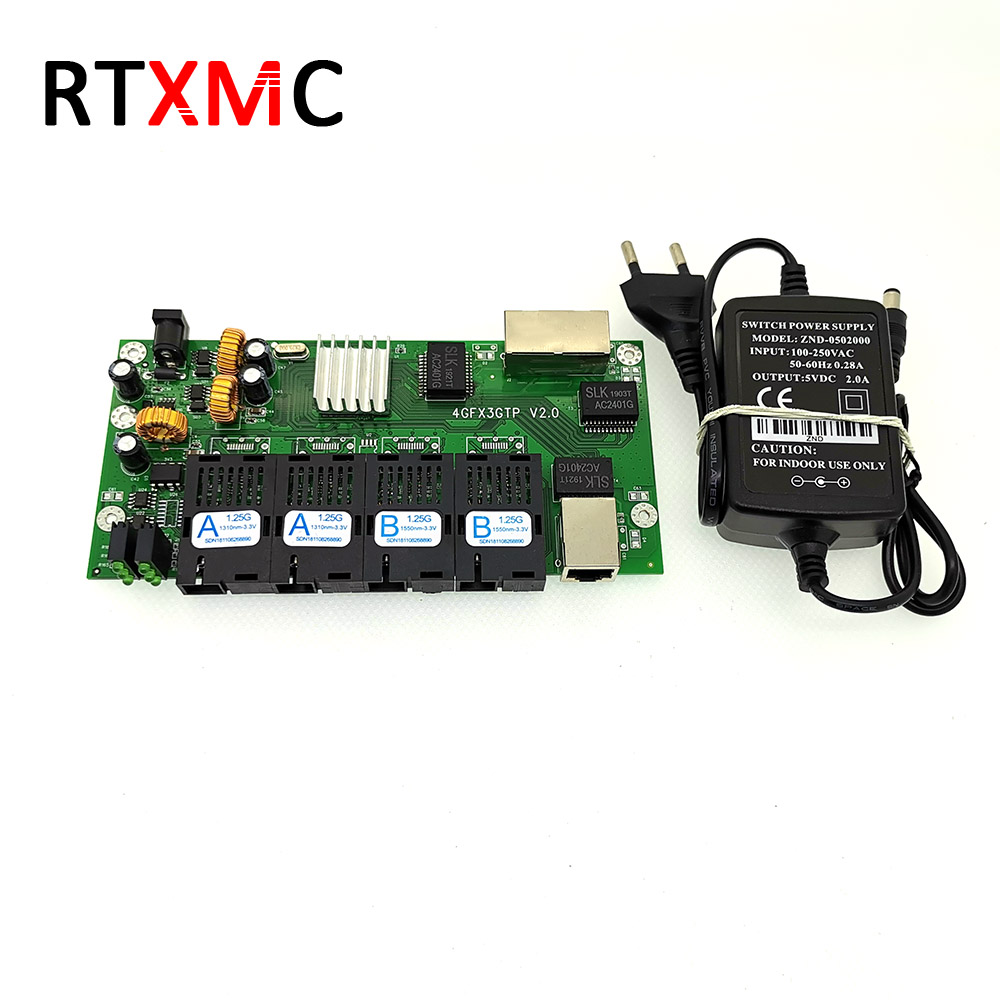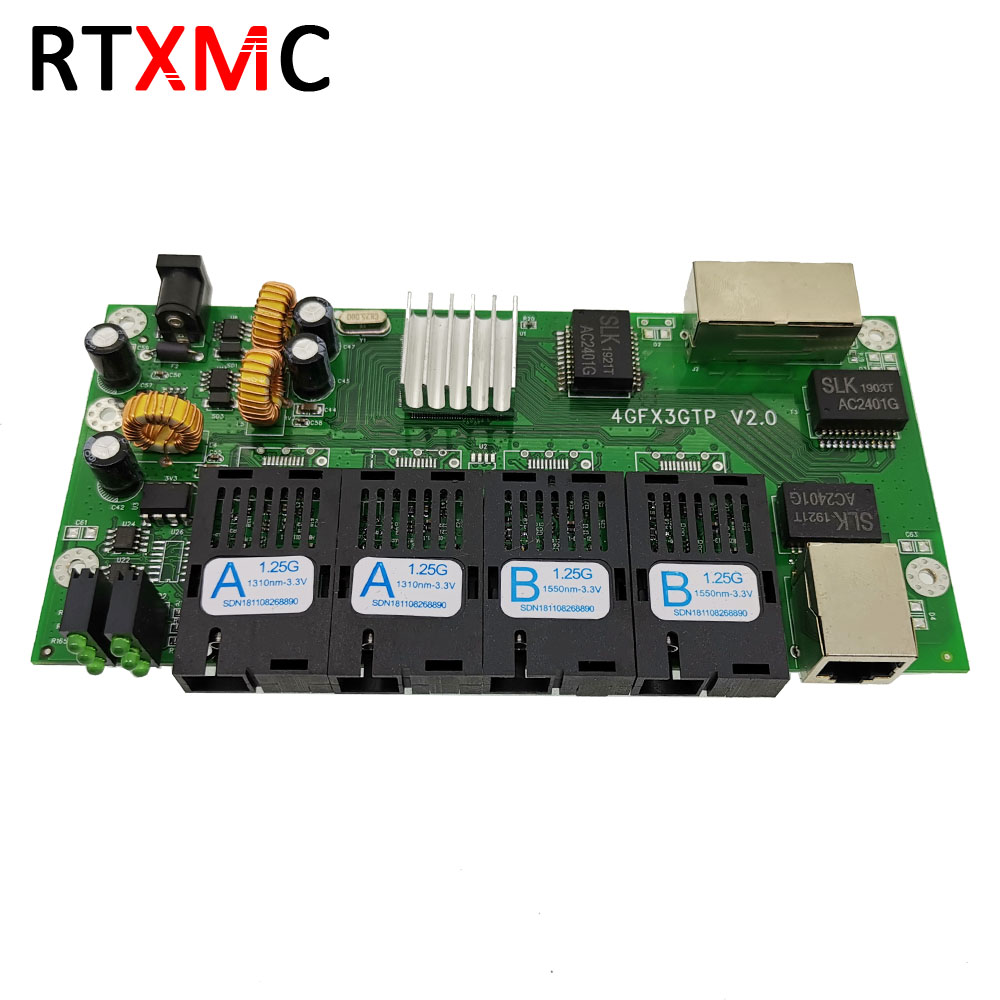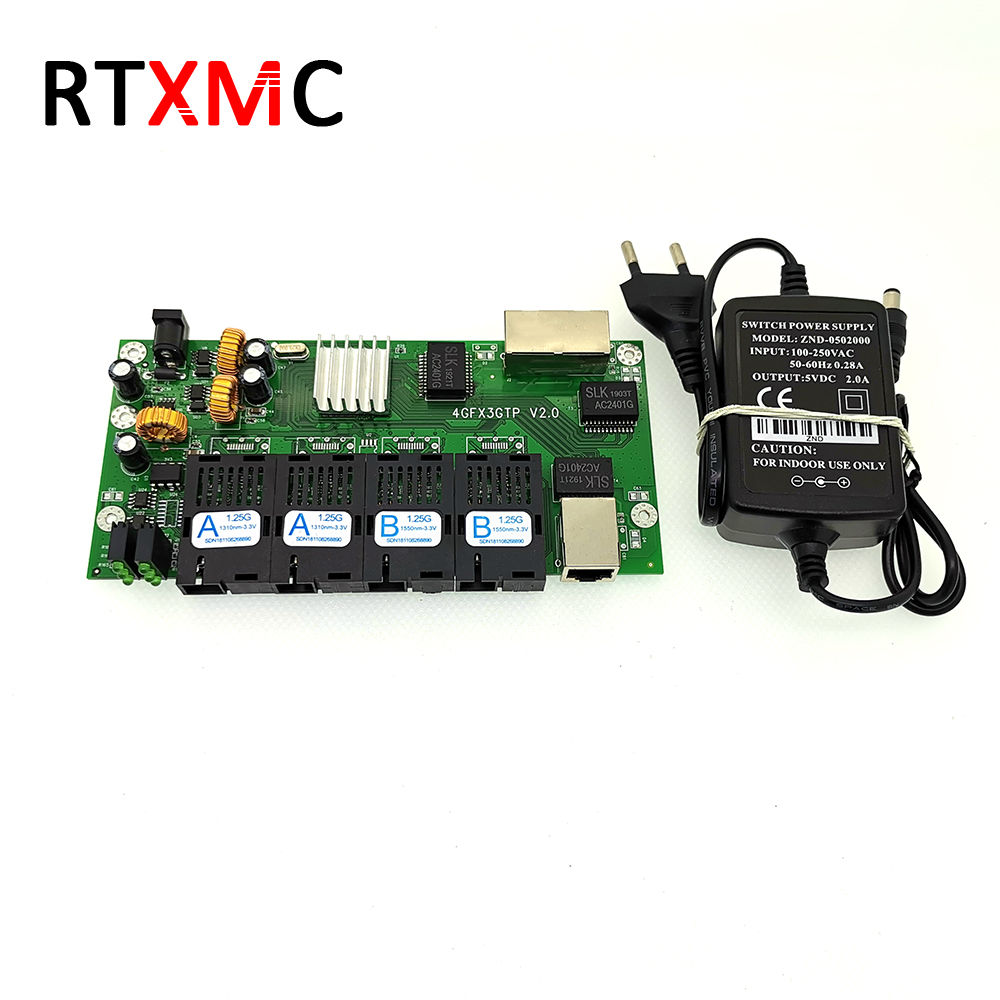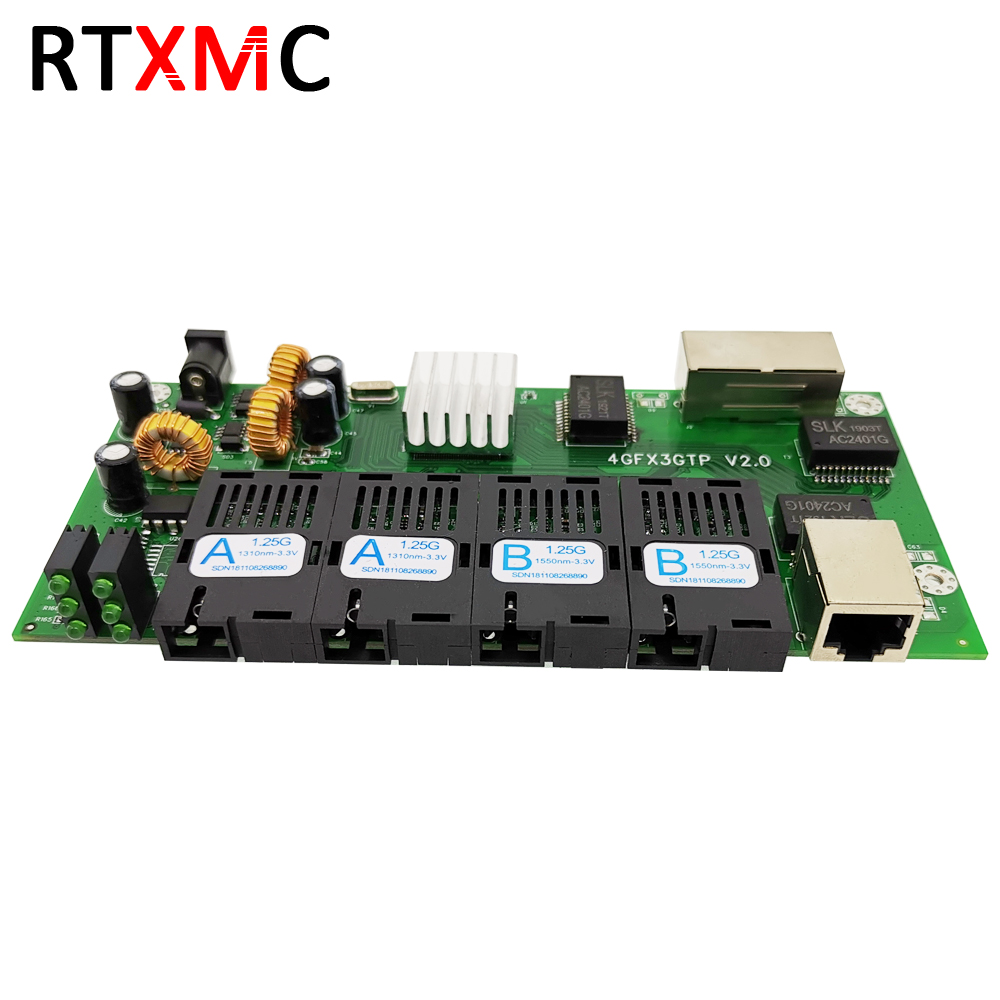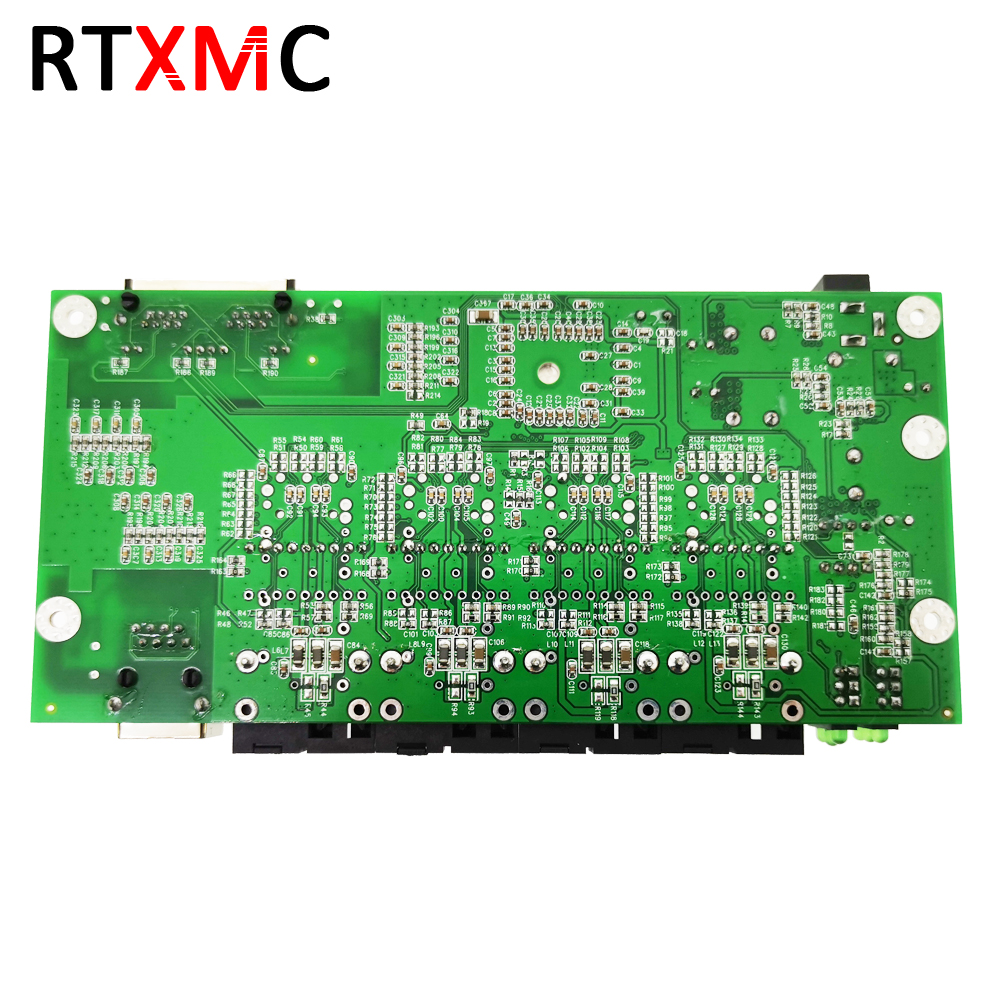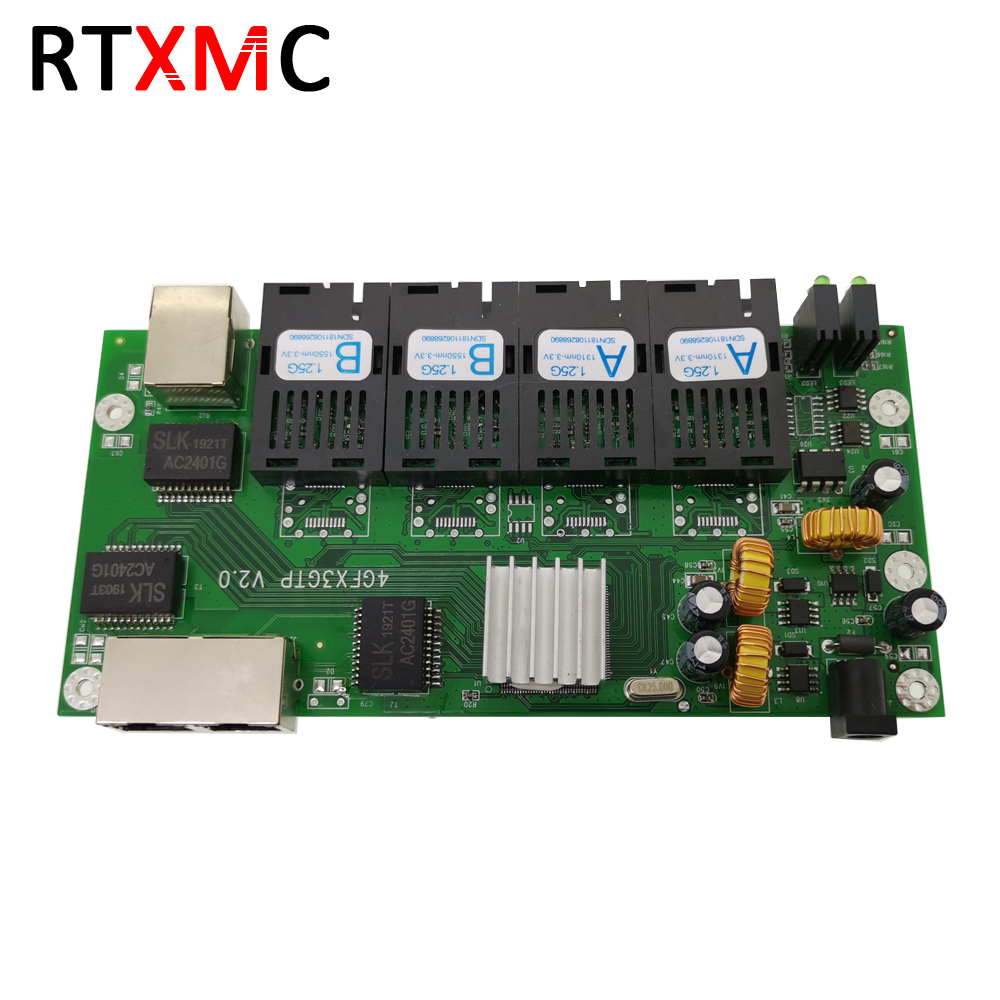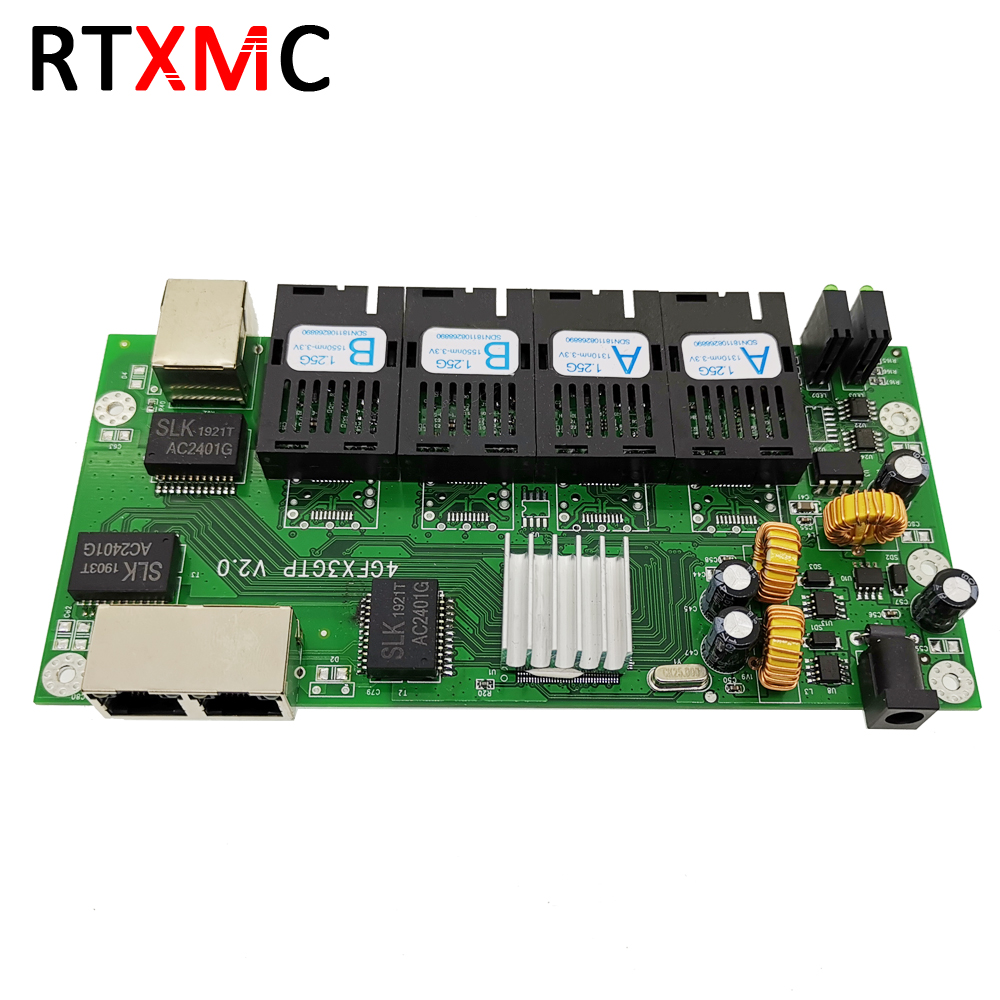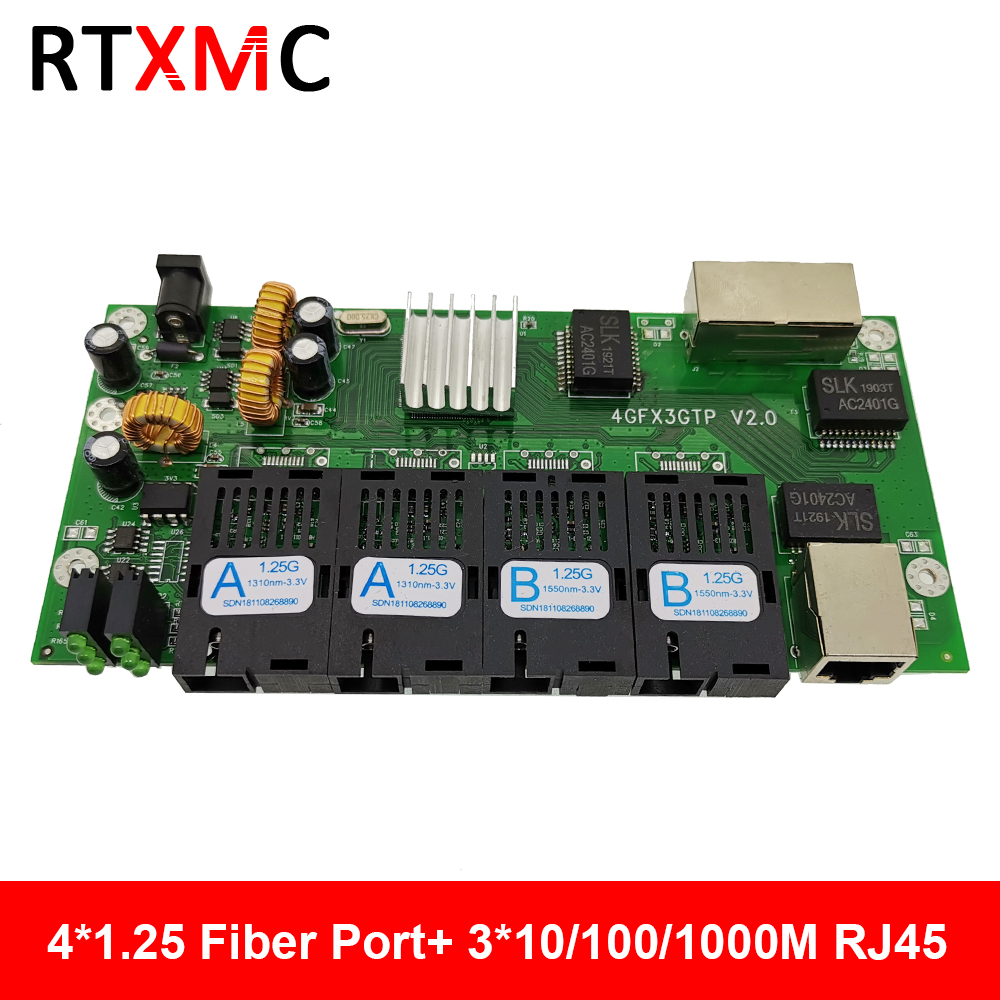 1.gigabit fiber switch sfp port media converter 2 port sfp 8 port  RJ45  2G8E ethernet optical fiber switch FTTH 1310nm/1550nm 1.25G media converter PCB

 Media Converter*1PCS(10/100/1000M Fiber switch 8UTP&2SC
)
2.Power Adapter*1PCS(when select with power supply)