Waterproof Marine Stereo Boat Radio Bluetooth Audio Receiver MP3 Player+4" Marine Speaker For ATV Yacht Motorcycle+FM AM Antenna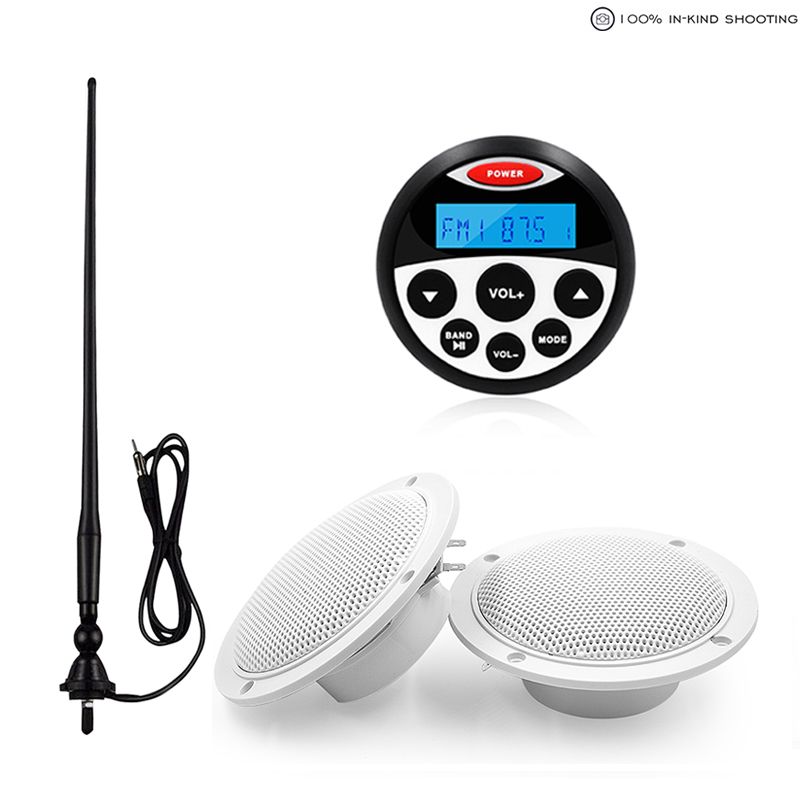 While enjoying your music with this Weatherproof Gauge Media Player. 
Turn on the Weather Band/AM/FM radio, hook up your smartphone or MP3 player through the Auxiliary input or plug into the USB port to charge or play USB-connected devices. Bluetooth technology lets you stream audio apps like Spotify and Pandora. Change up the sound with the built-in Preset EQ. With an IP66 Waterproof Level, state-of-the-art weatherproofing materials and special UV protection coatings, the player resists corrosion and is protected from the elements. Keep your tunes flowing with the unit.
Uses USB, AM/FM Bluetooth Audio Sources
USB Features: Support MP3 Fits in Gauge Opening
AM/FM tuner with 18FM/12AM presets
Radio Response Bandwidth:US AND EUR
Meets ASTM B117 salt/fog standard
Dimensions Mounting Hole: 78.5mm
Dimension Mounting Depth: 41mm
Source Type: AM/FM/Bluetooth Enabled Marine Radio
Input Types: Bluetooth, USB,AUX IN
Bluetooth: Long distance music Streaming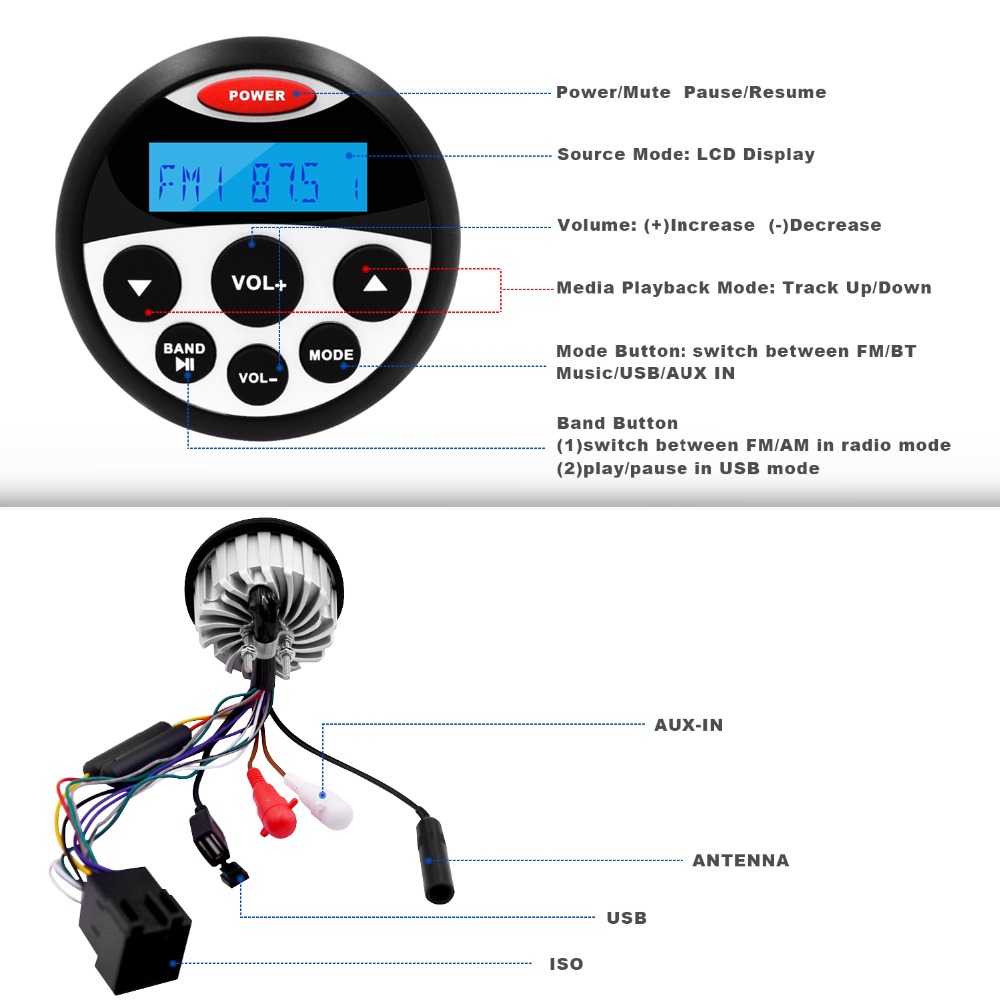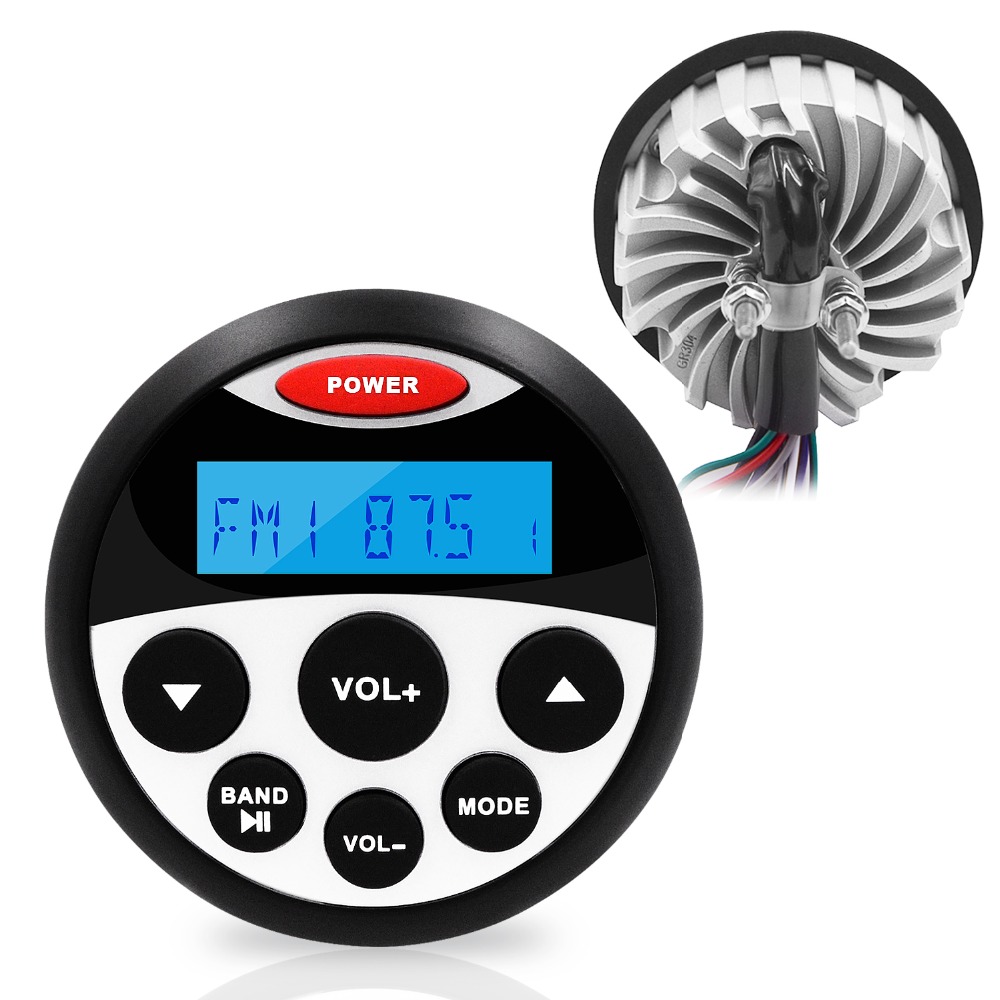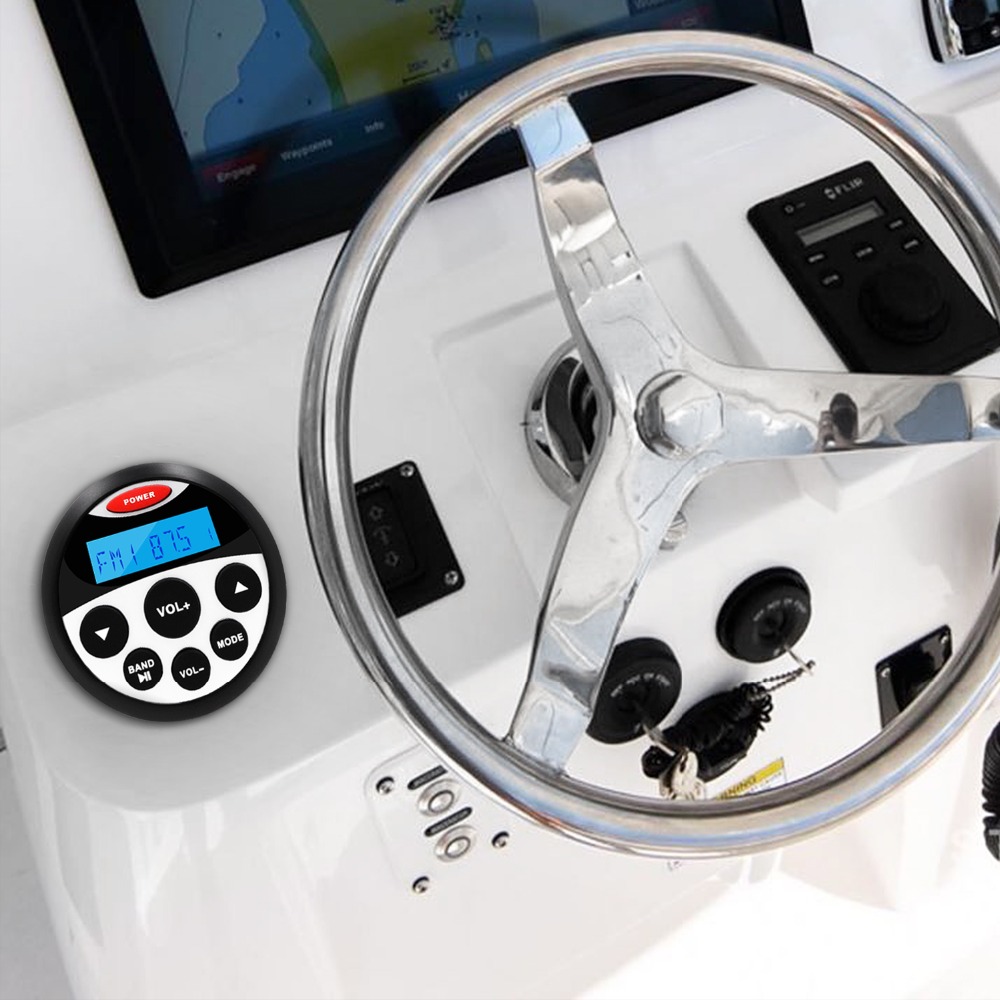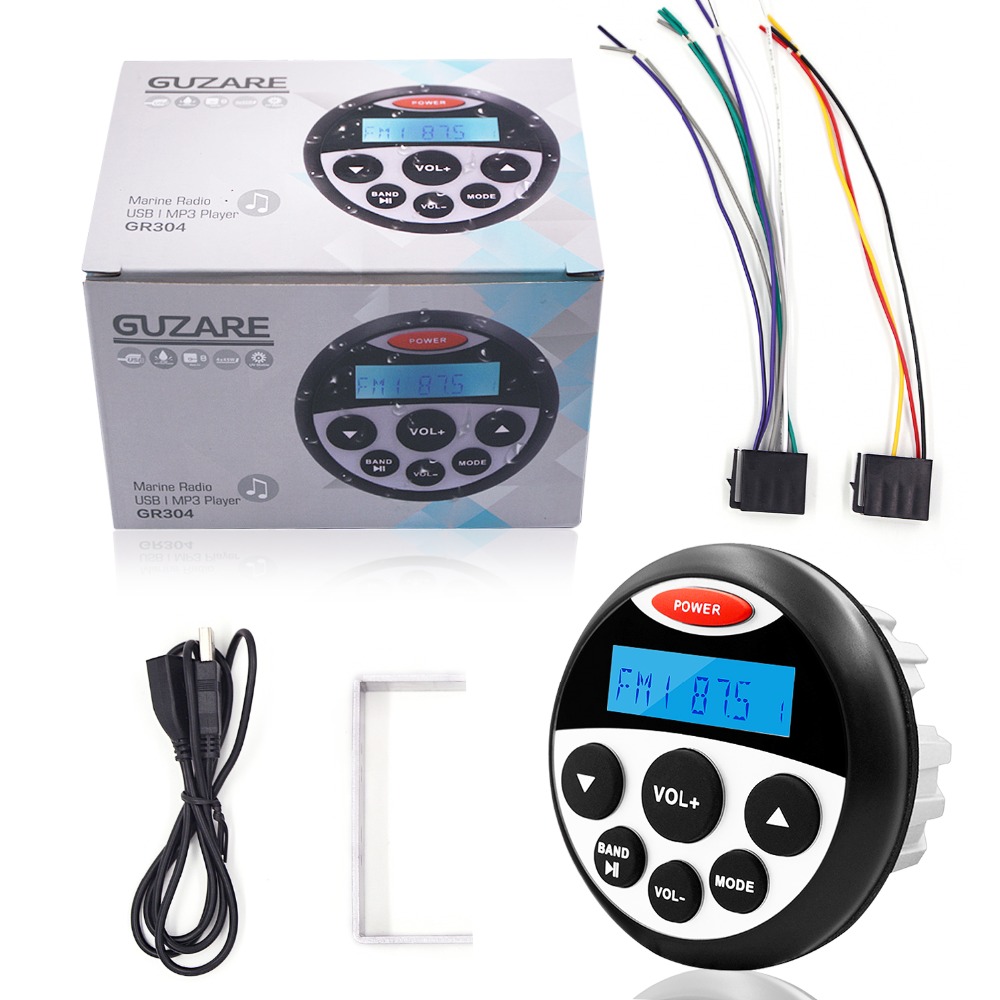 4 inch Marine Stereo Speakers
These waterproof speakers are high quality, robust and durable waterproof speakers, designed and built to withstand the harsh conditions associated with use in marine, boat, pool or spa applications.Rated at 80W max power output and frequency response of 120Hz-20,000Hz these 4" waterproof speakers are capable of delivering full range output, ideal for installations with space constraints or to compliment larger speakers already installed in your marine, boat, pool or spa stereo system.
Mounting Hole Diameter: 115mm(4.52")
Mounting Depth: 35mm/(1.37")
Frequency Response: 120Hz - 20kHz
Grill material: UV Plastic
Basket Material: UV Plastic
Cone Material: Polypropylene
Magnet Material: Ferrite, 4oz
Magnet Protection: Plastic Water Guard
Car,motorcycles,yacht,fishing boats, cuddy cabins, ski boats , the unit is also perfect for spa pools, quad bikes, golf carts,UTV,ATV and RV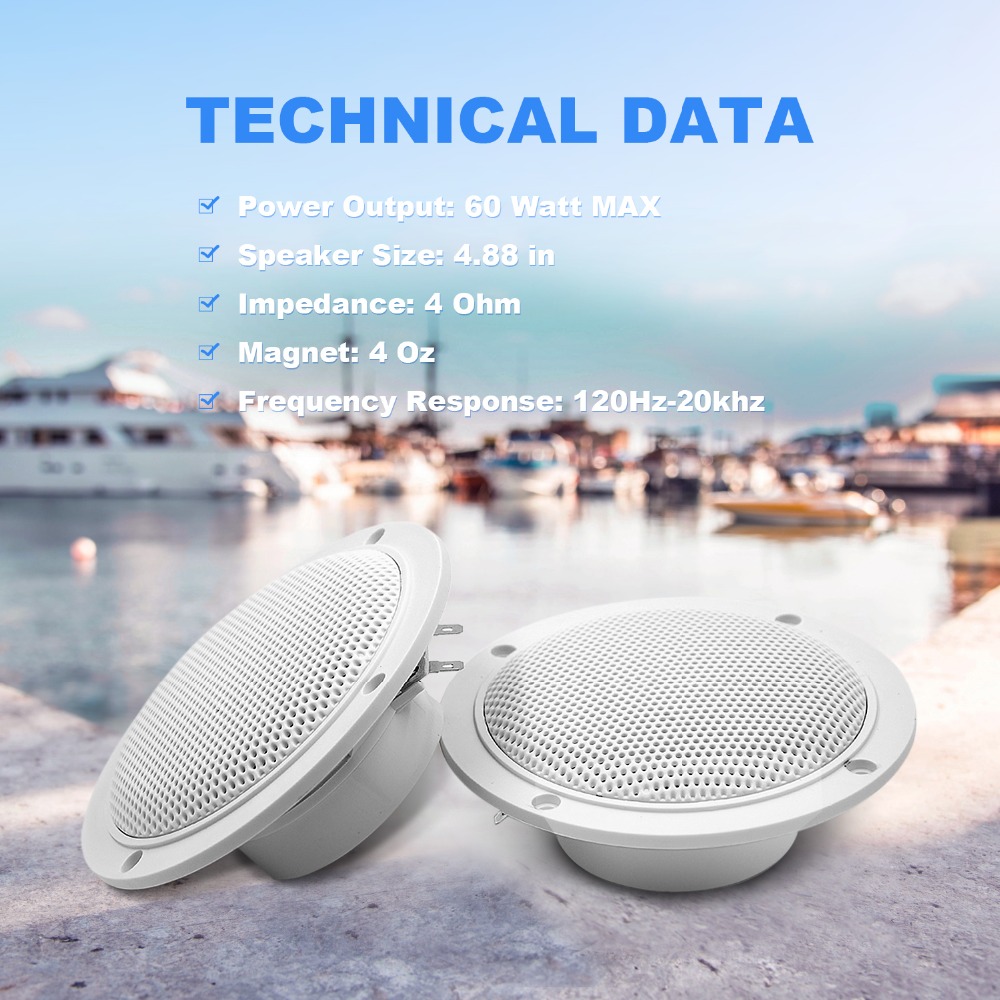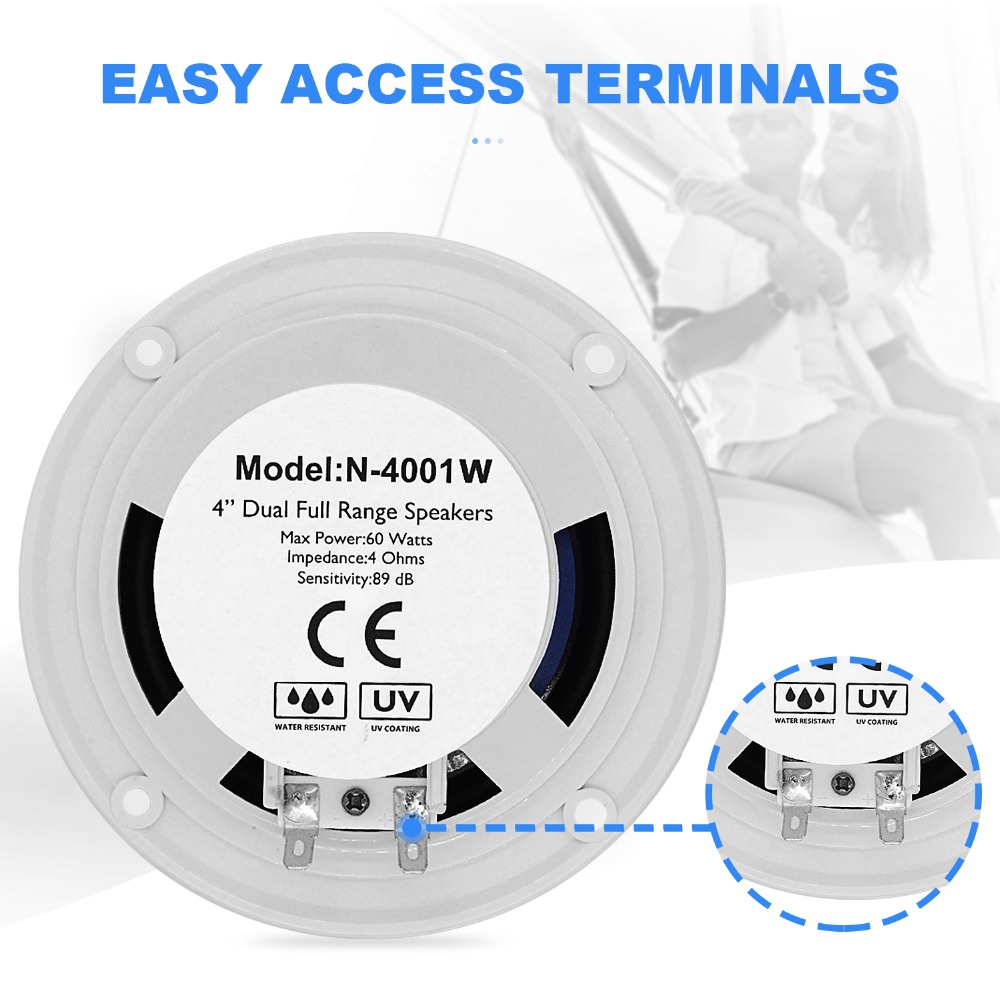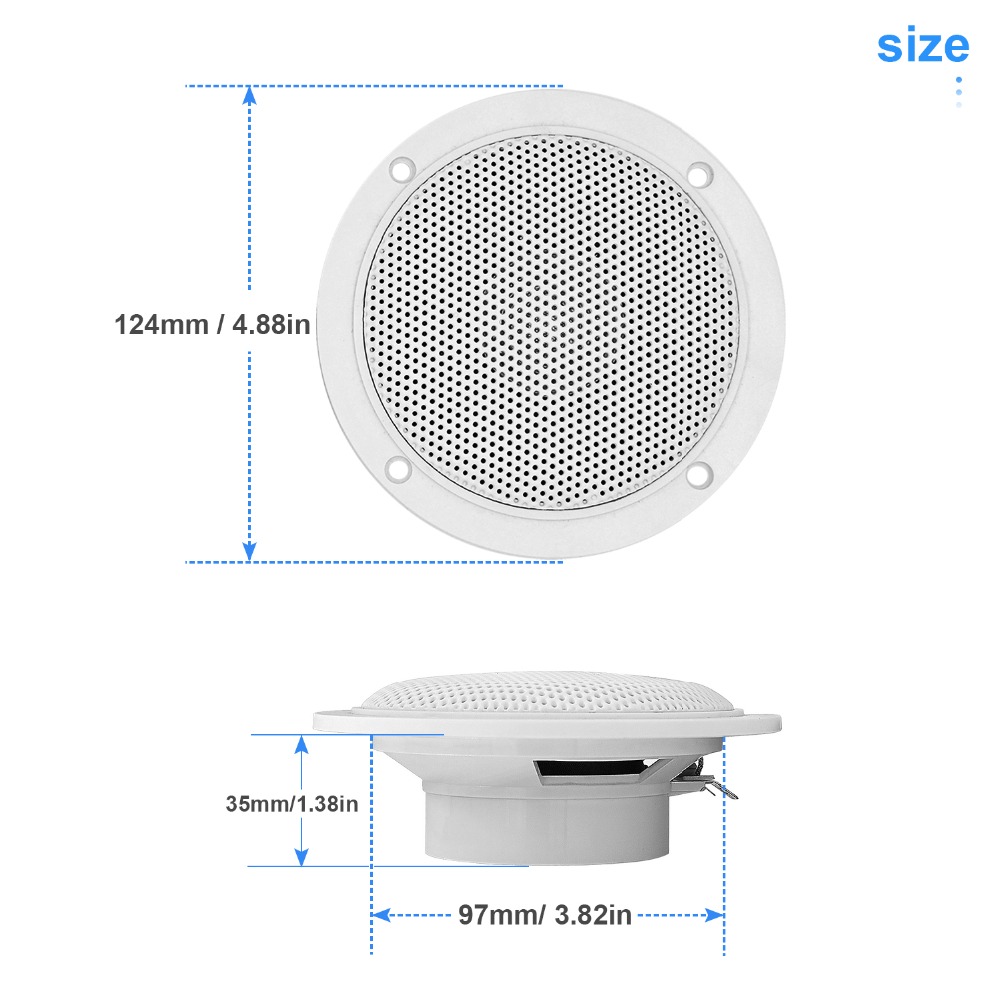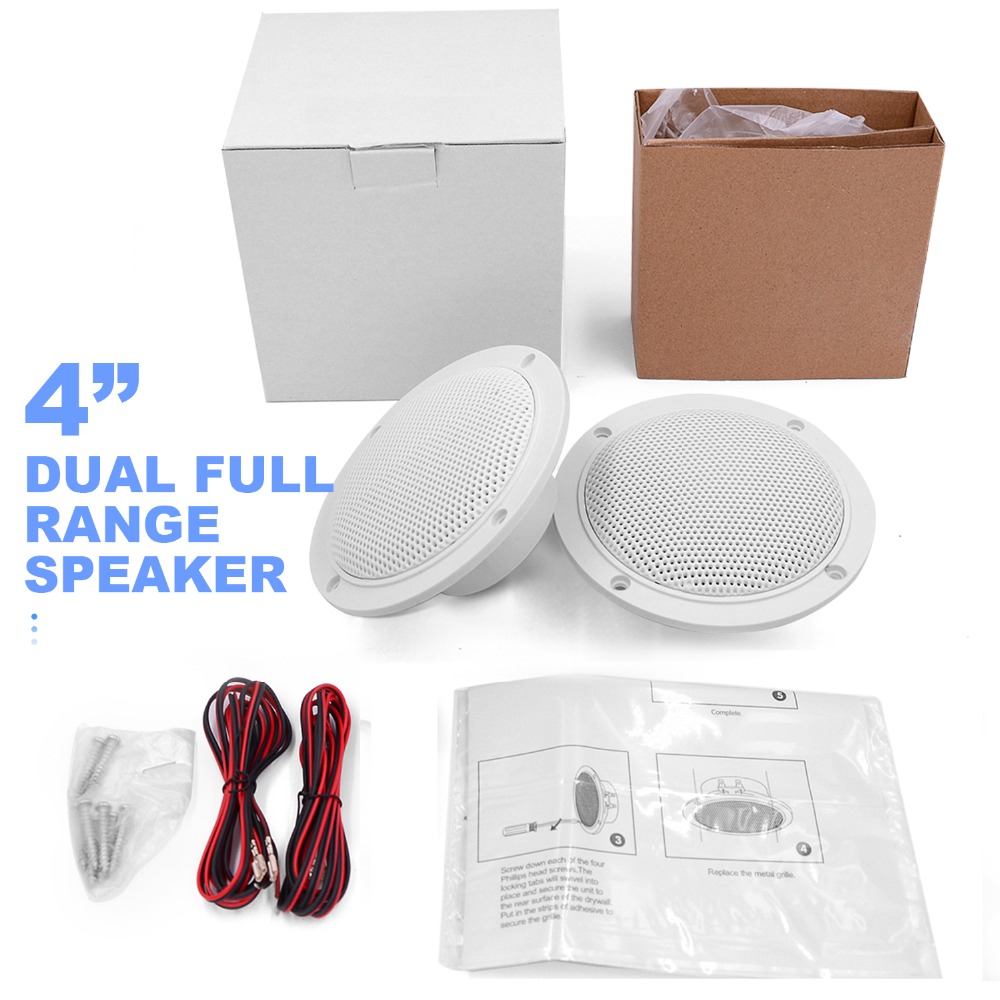 Marine Radio FM Antenna Aerial Waterproof Rubber Duck Dipole Flexible FM Modulators
The flexible mast helps it withstand bracing winds, while the corrosion-resistant rubber exterior ensures that it won't succumb to salt and spray. you can mount the antenna in a variety of locations on almost any boat, Heavyduty, ATV, UTV environment. Waterproof Rubber Duck Dipole Flexible Marine FM AM Radio Antenna.
Waterproof Engineering Design For Humid Environment, Indoor/outdoor Available
Waterproof Grade IP66 , Meets ASTM 117 salt/fog Standard
The Flexible Mast Helps it Withstand Bracing Winds
Weight: 200g , Cable Length:52" , Antenna Length: 40cm
Marine Rubber Radio Antenna 
Great reception for AM/FM 
Waterproof and resists corrosion. 
Perfect for boats and campers. 
Car,motorcycles,yacht,fishing boats, cuddy cabins, ski boats , the unit is also perfect for spa pools, quad bikes, golf carts,UTV,ATV and RV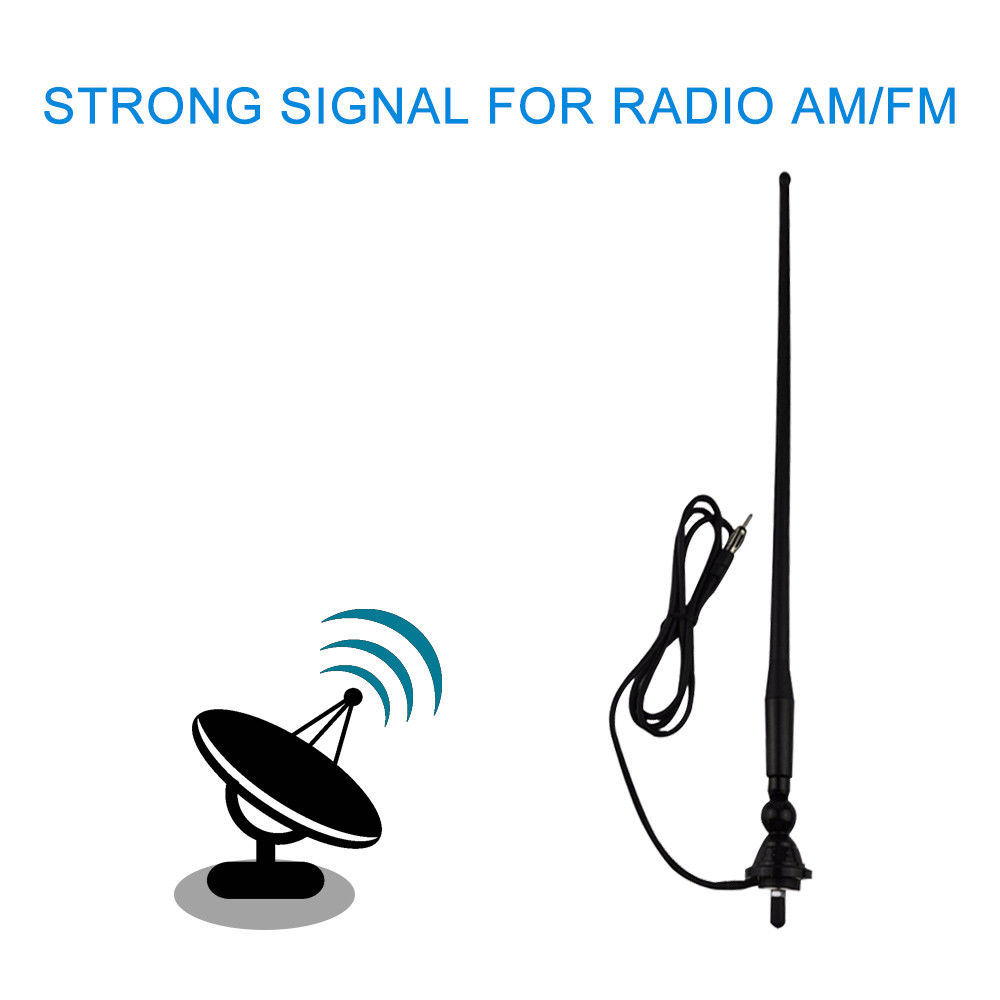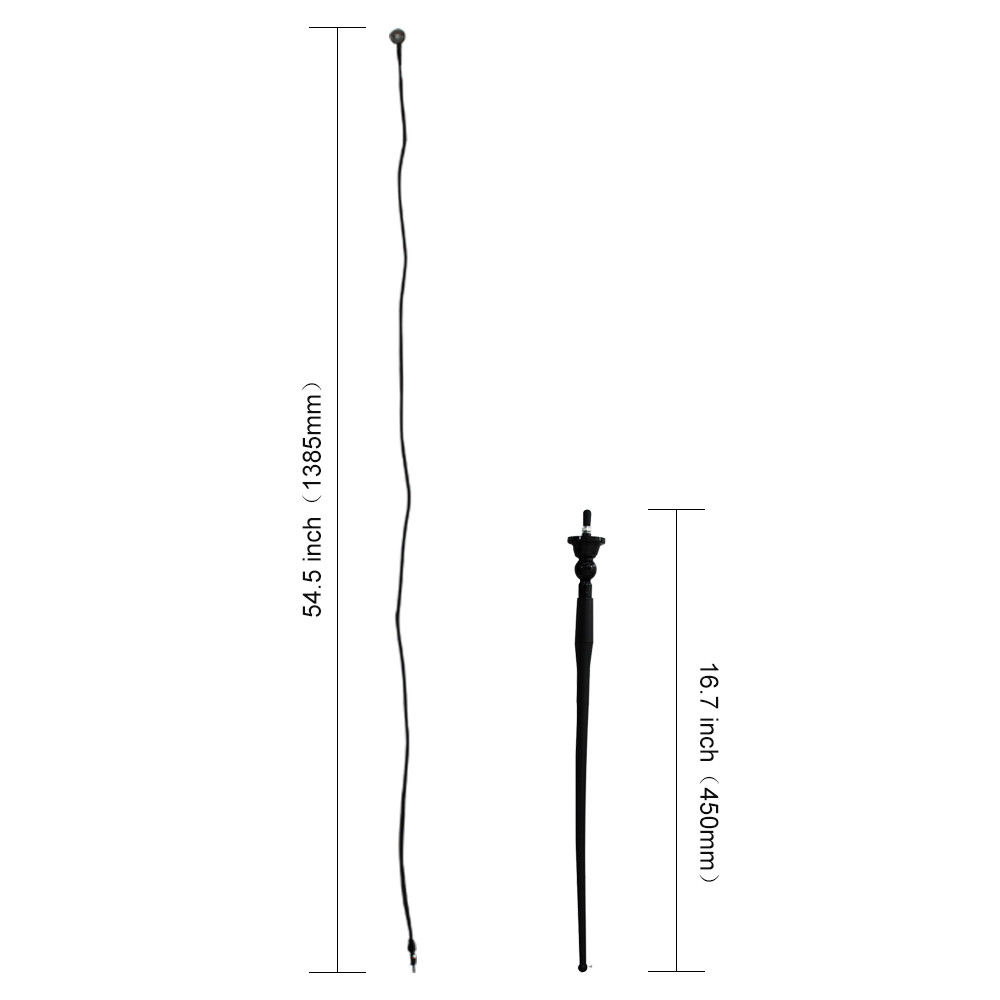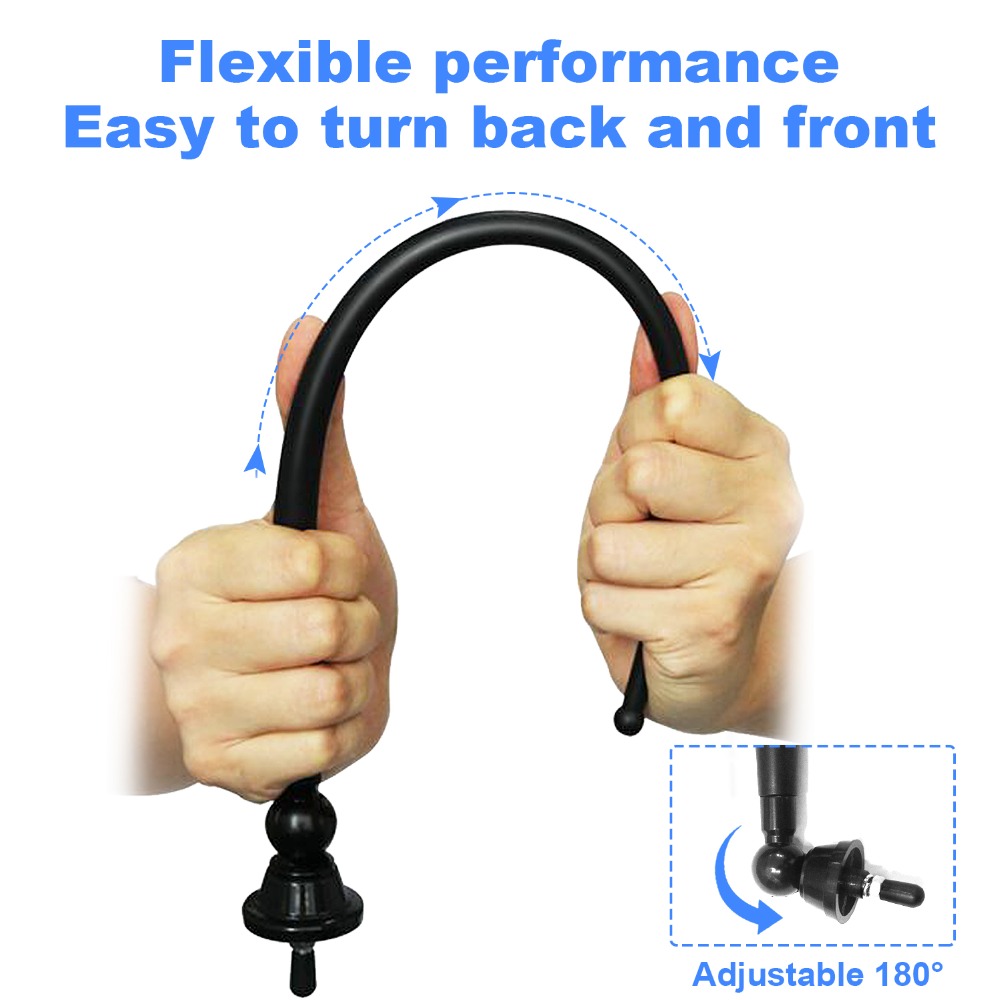 IP66 Waterproof Level:
This unit is rated IP66 which means water splashing against the enclosure from any direction shall have no harmful effect.High-tech, state-of-the-art waterproofing materials plus special UV coatings for plastic surfaces, coated circuit boards and connections ensure these marine and outdoor products are corrosion resistant and protected against harsh elements.
Audio Streaming and Aux Input:
Wirelessly stream audio via Bluetooth from compatible devices so you can listen to streaming music services through your system.The Aux Input allows you to connect to the audio output of an external device such as an MP3 Player or smartphone so you can enjoy your music through your system.
USB Port and USB Charging:
Supports USB flash drive files up to 32 GB for music playback on units without monitors and music playback on units.Charge USB connected devices through the built-in 1A charger.
No CD Mechanism and Built-in Preset EQ:
Our units without a CD mechanism are ideal for listening to digital media files from USB drives, and external devices such as smartphones through the auxiliary input.The built-in Preset EQ allows you to choose from preset EQ curves for a variety of music styles such as Rock or Pop.
Switchable Tuner:
The selectable tuner function allows you to adjust this receiver's tuner to receive radio broadcasts in either the US or Europe.
Package contents:
1PCS x Radio/mp3 Unit 
1Pairs x Marine Speakers
1PCS x Marine Radio Antenna​​