There are 4 models for you to choose,please choose suitable model before purchase
Please note: Product size includes external size,the size is manually measured, there will be an error of 2-3cm, please follow the actual situation, if you have any questions, please contact us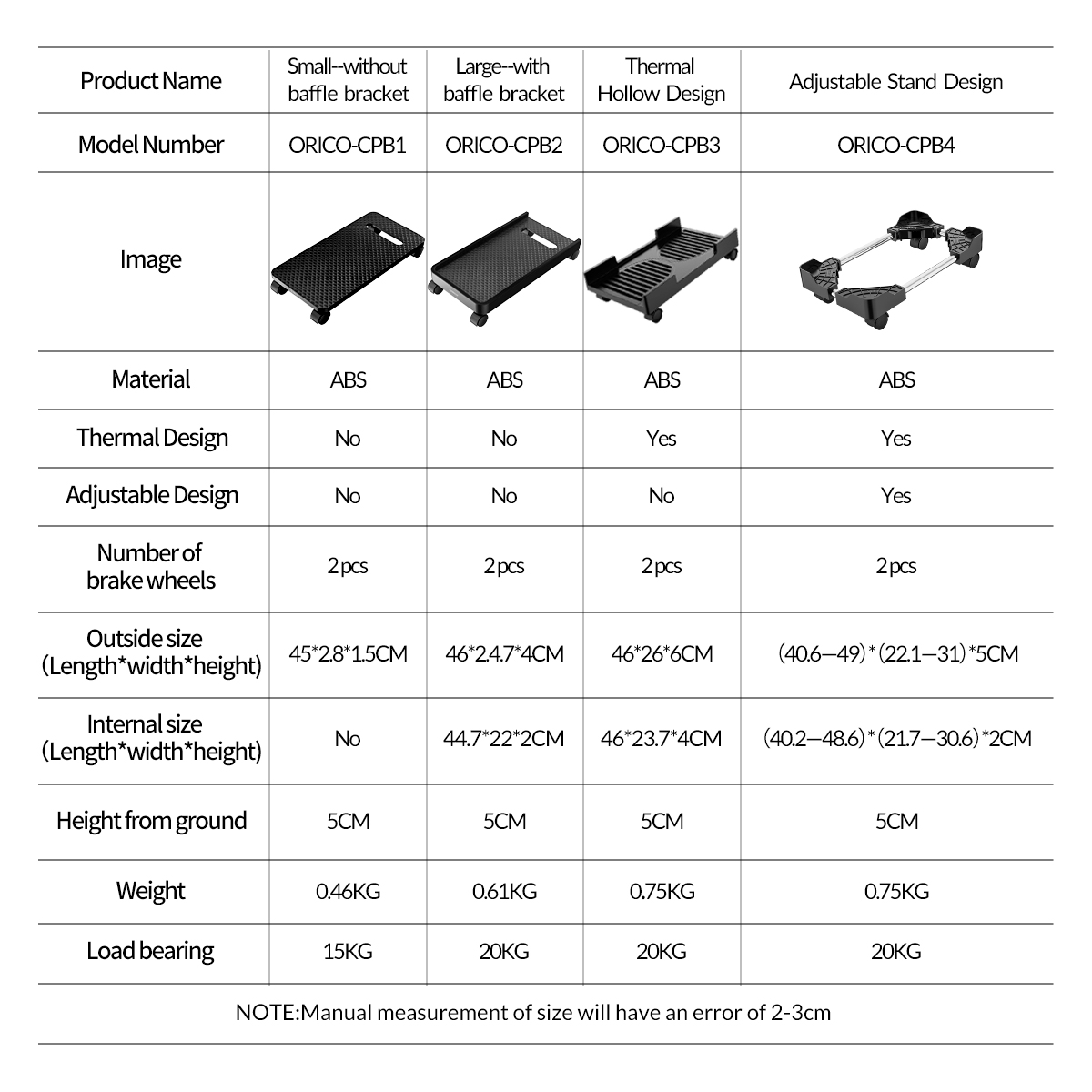 Model 1:CPB 1 - Without Baffle Bracket
Size:about 17.71* 8.97 *0.59 inches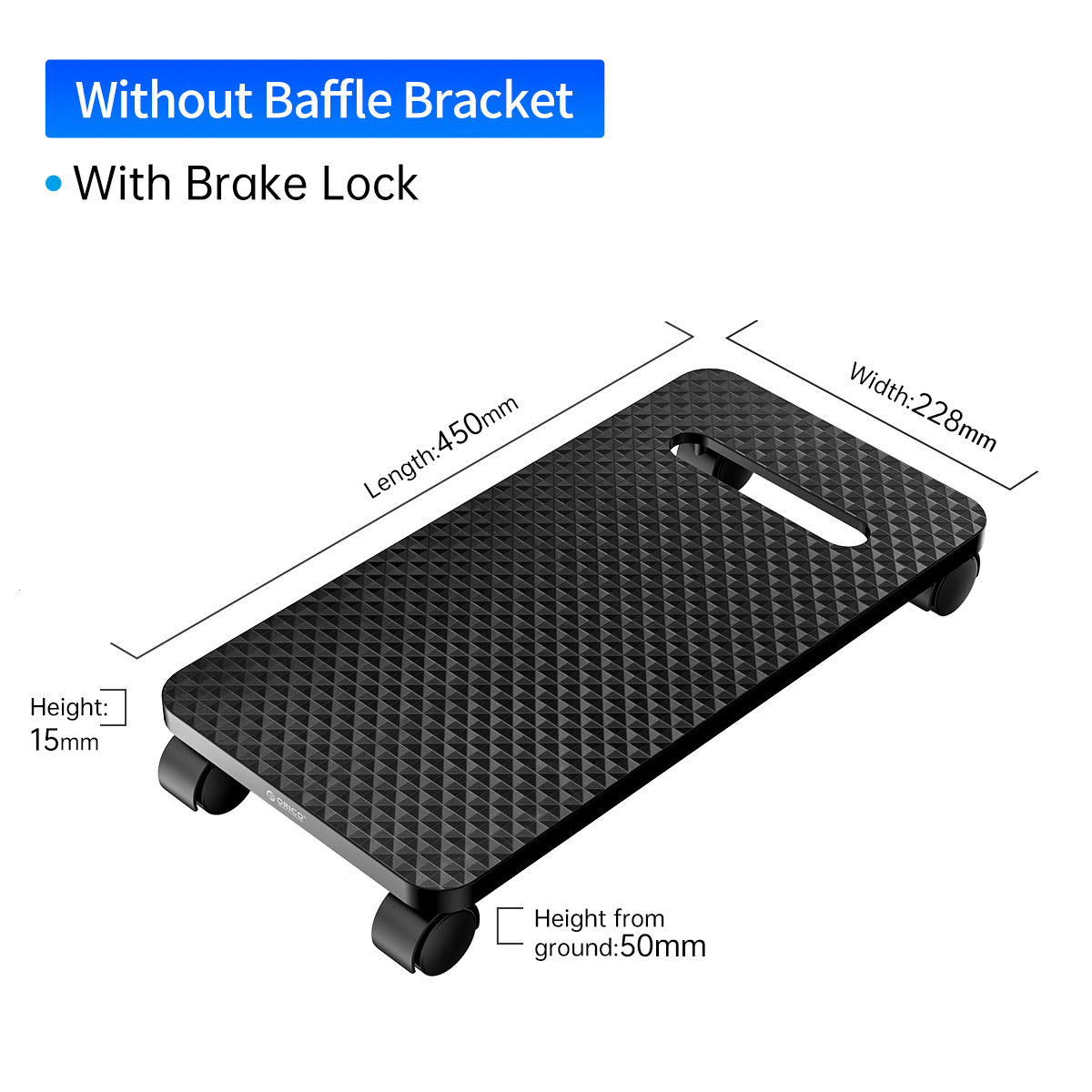 Model 2 : CPB 2 - With Baffle Bracket
Size: about 18.11* 9.72 *1.57 inches
Feature
* Four caster wheels, move freely, easy to handle.Designed with Brake Lock,The front two wheels can be locked by brakes to ensure stability on the smooth ground. * Three-way Protection,Three-sided baffle prevents the computer mainframe from falling.(CPB 2 Version) * Strictly Selected ABS High-quality Material,Sturdy and wearable,providing strong load-bearing capacity and ensuring the safety of the computer.,water-and smudge-proof,High temperature resistant(The temperature cannot be too high) * Delicate Details,High Quality,Carbon fiber grain, beautiful and durable,Designed with handle, easy to carry,Heightened base,keep away from water-splash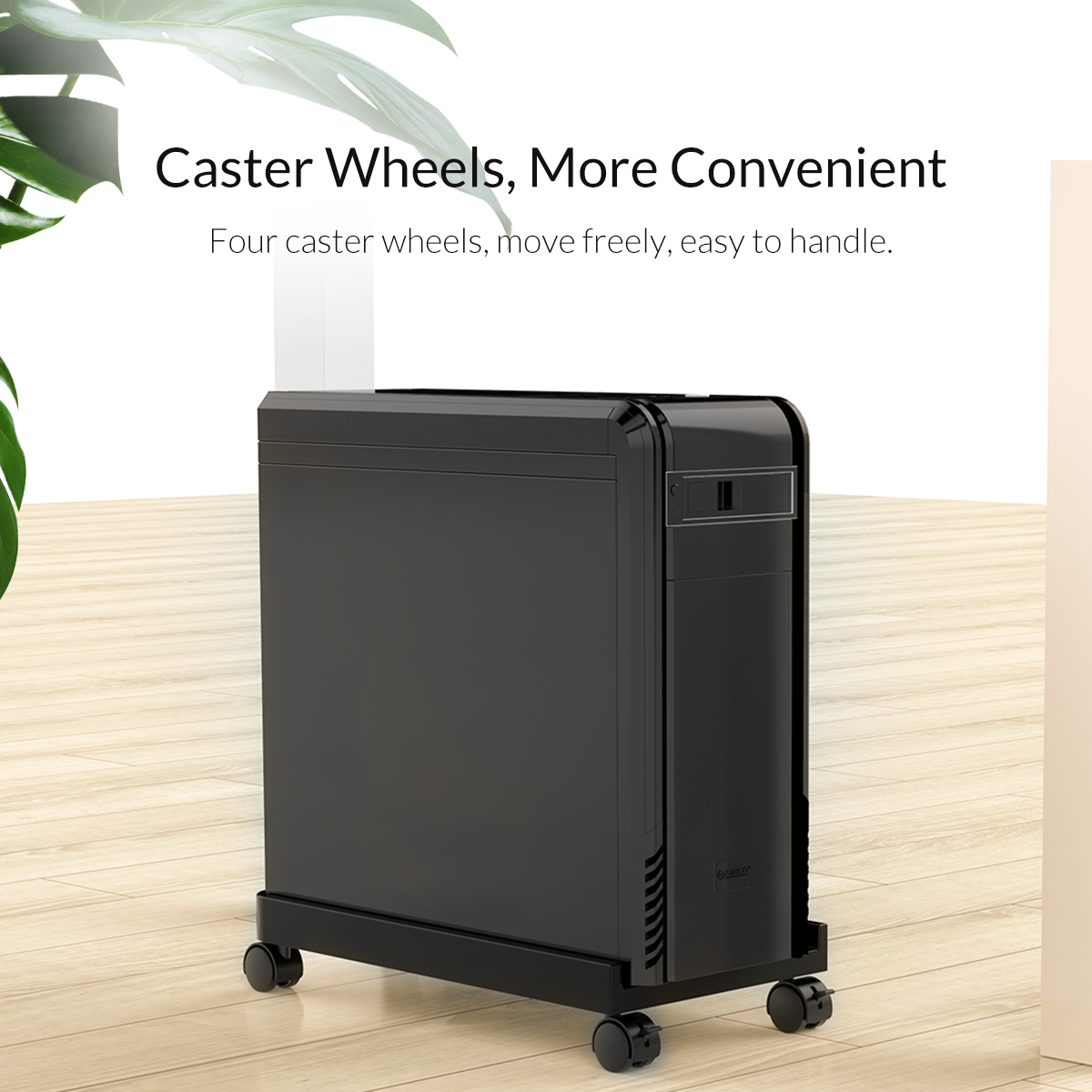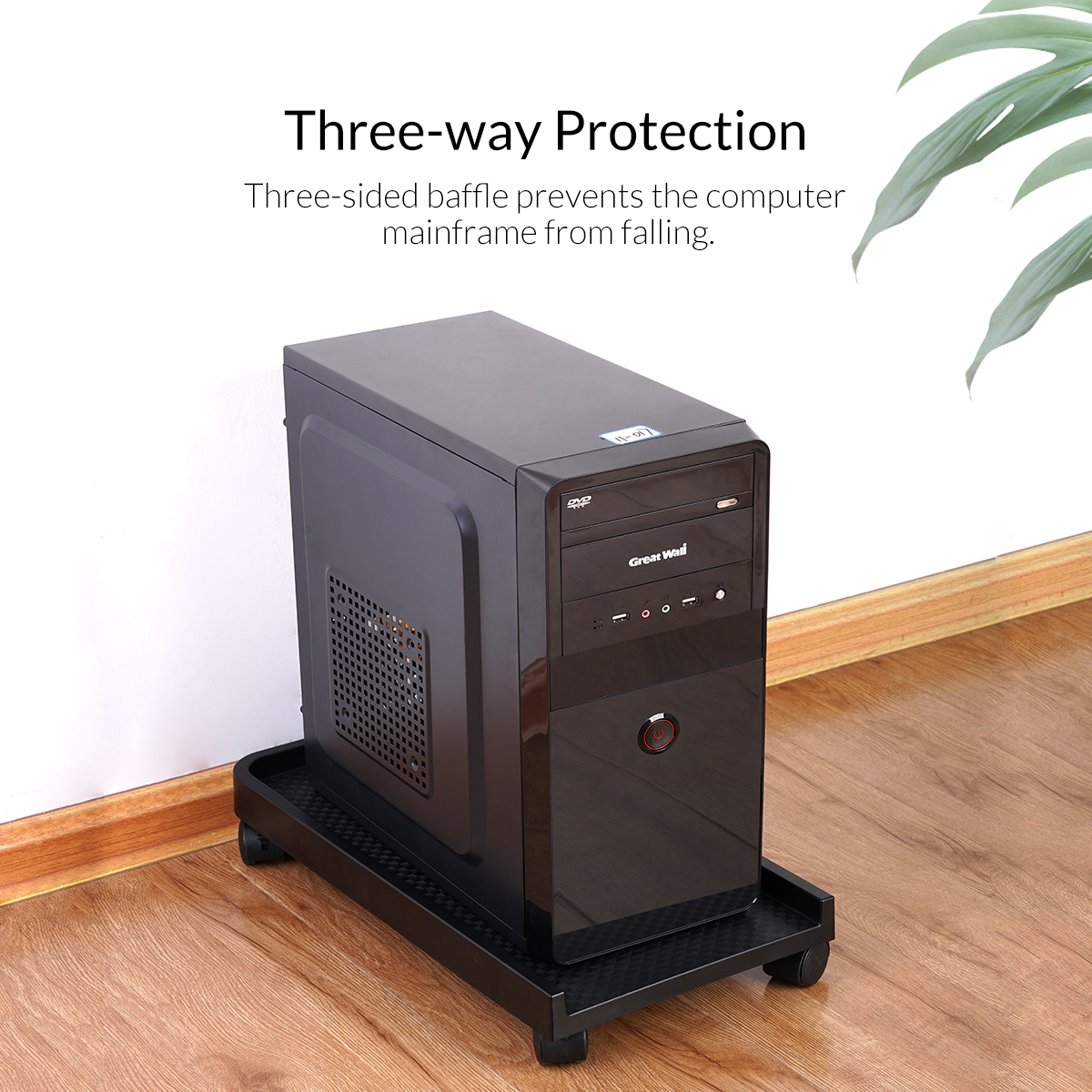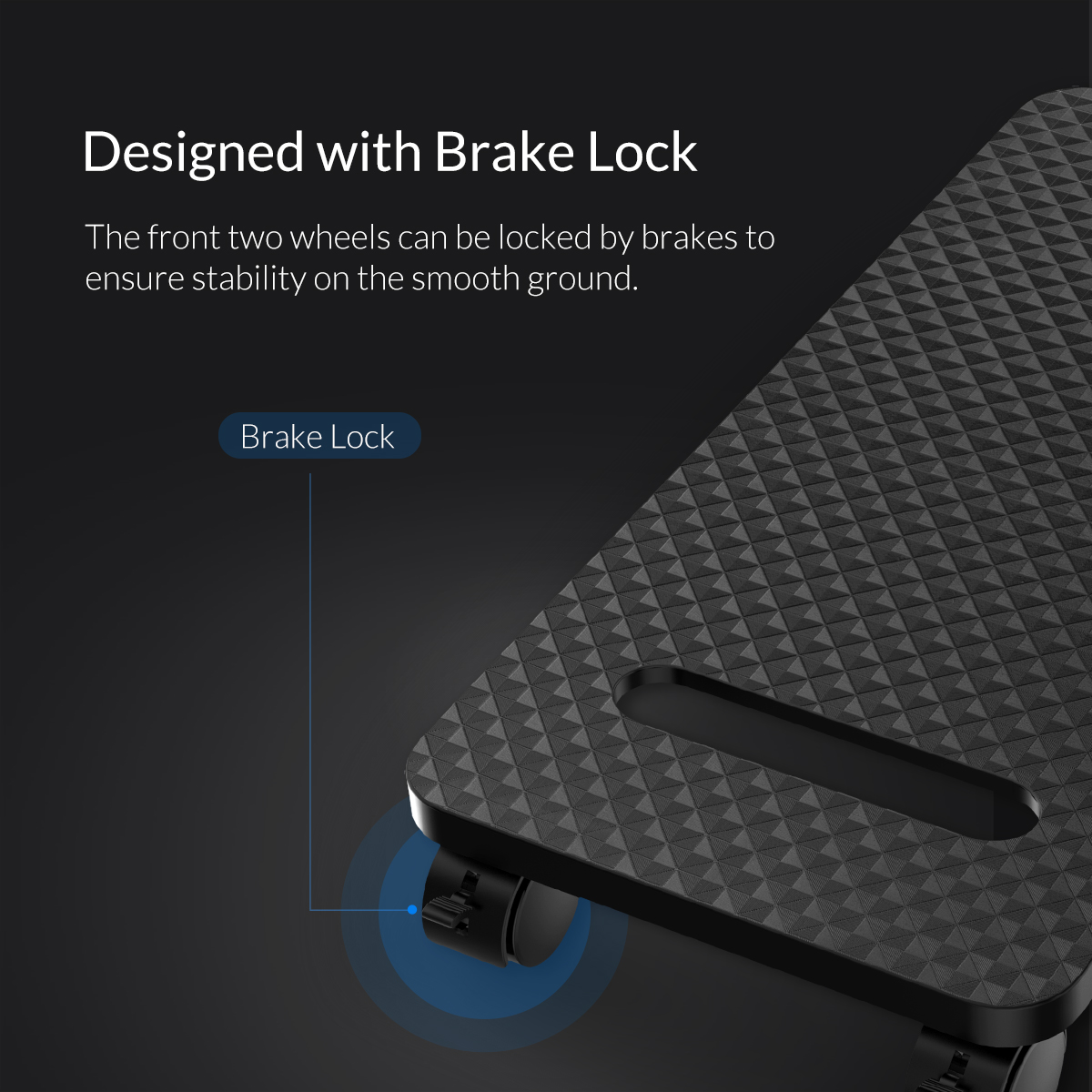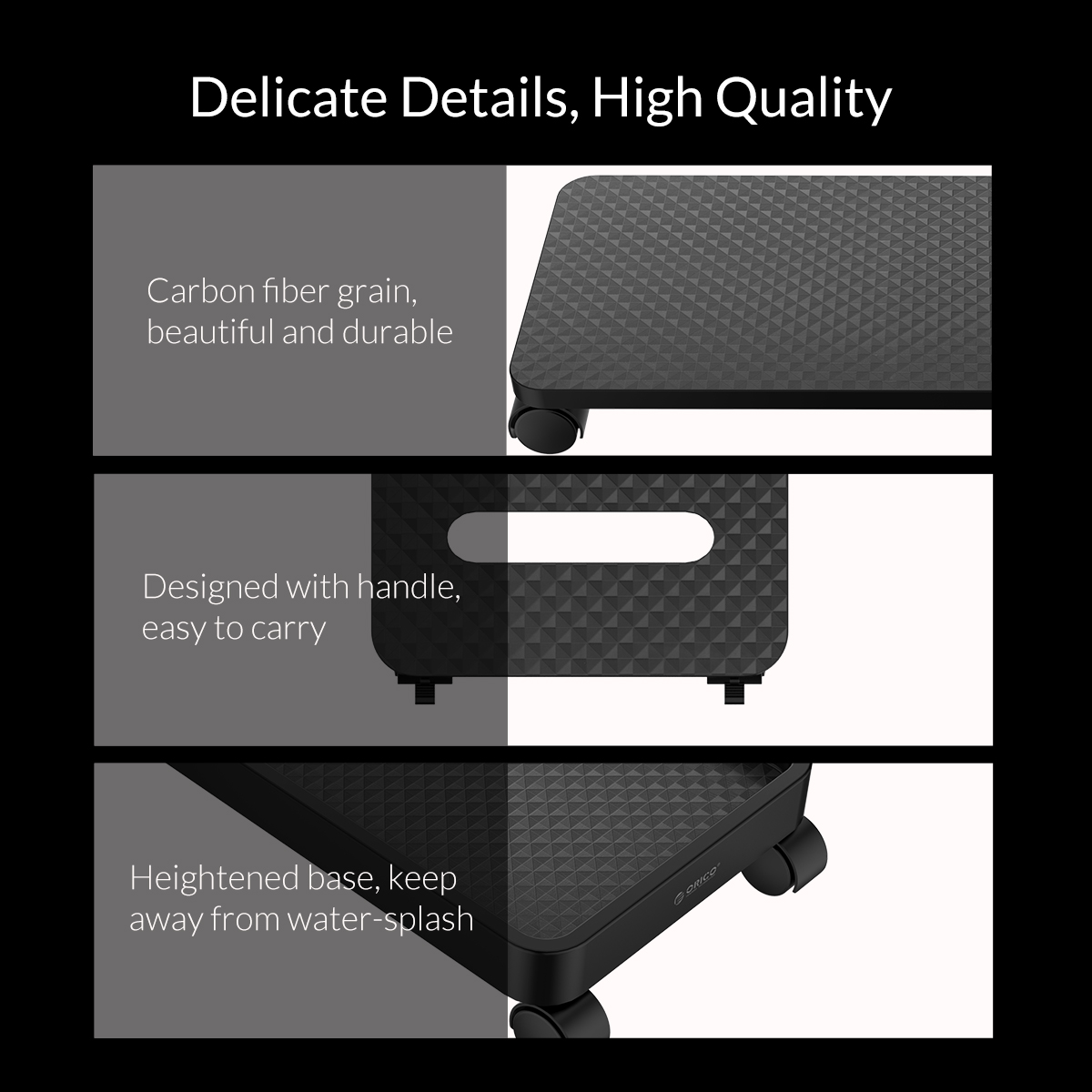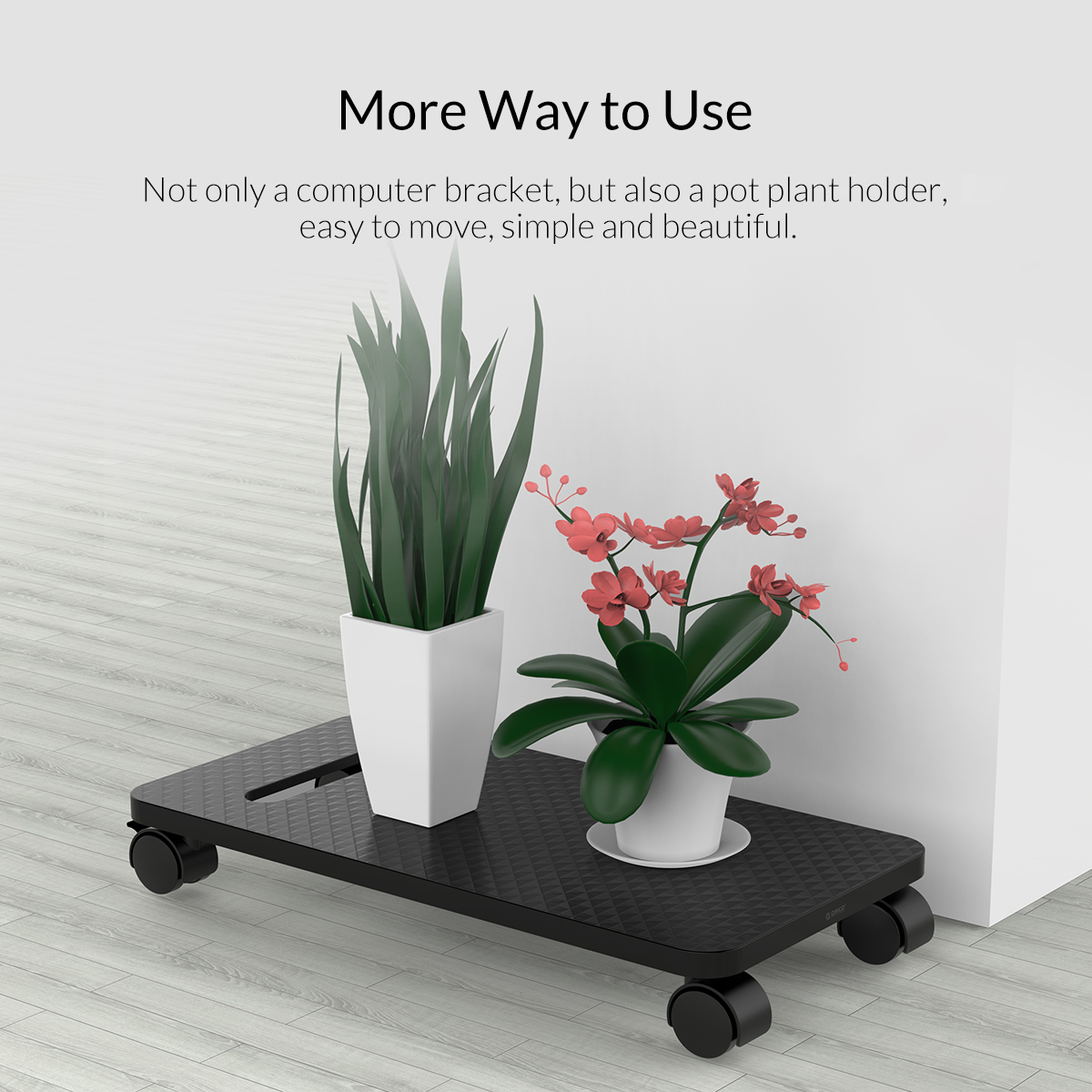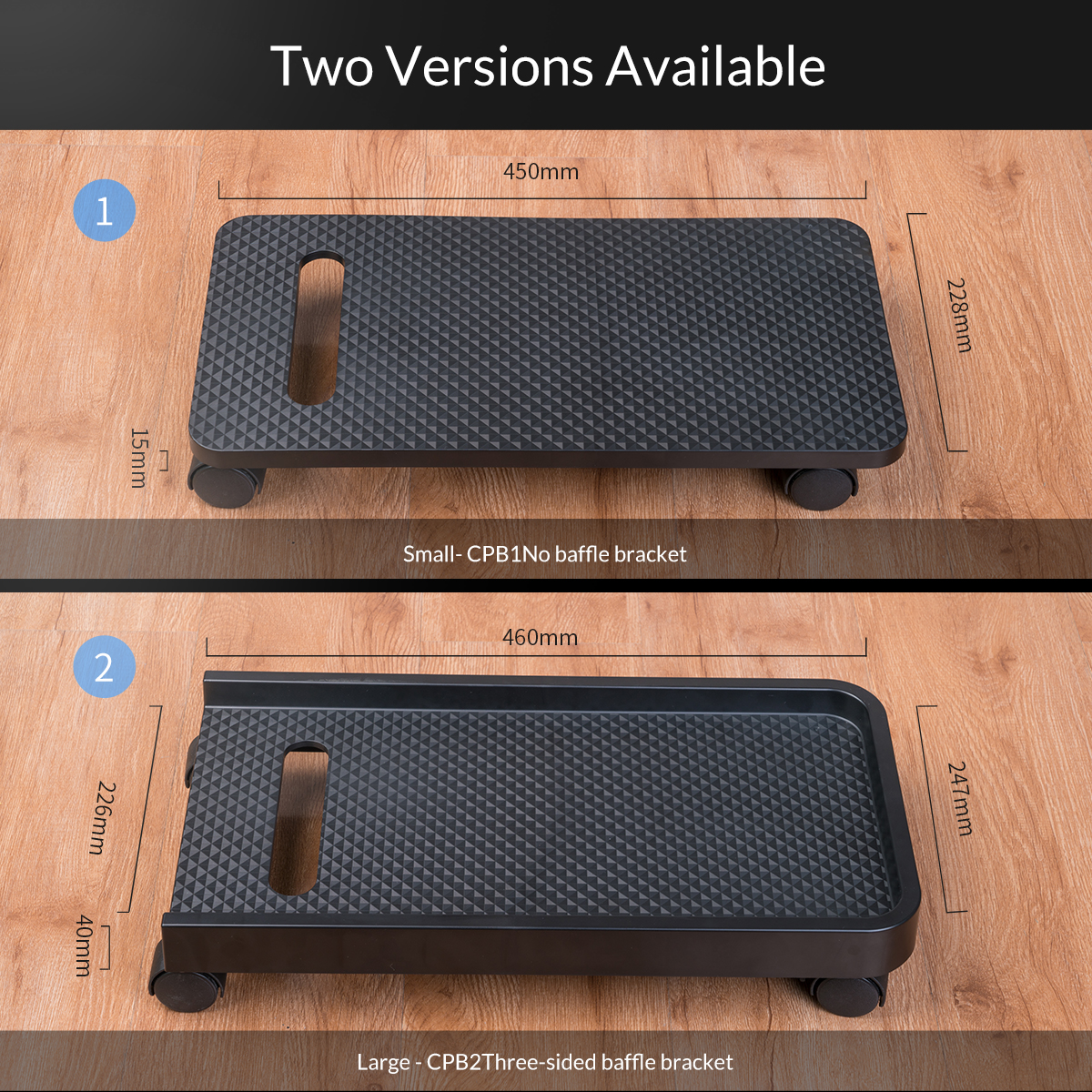 Model 3 : CPB 3 - Thermal Hollow Design
Size: about 18.11 * 10.43 * 2.36 inches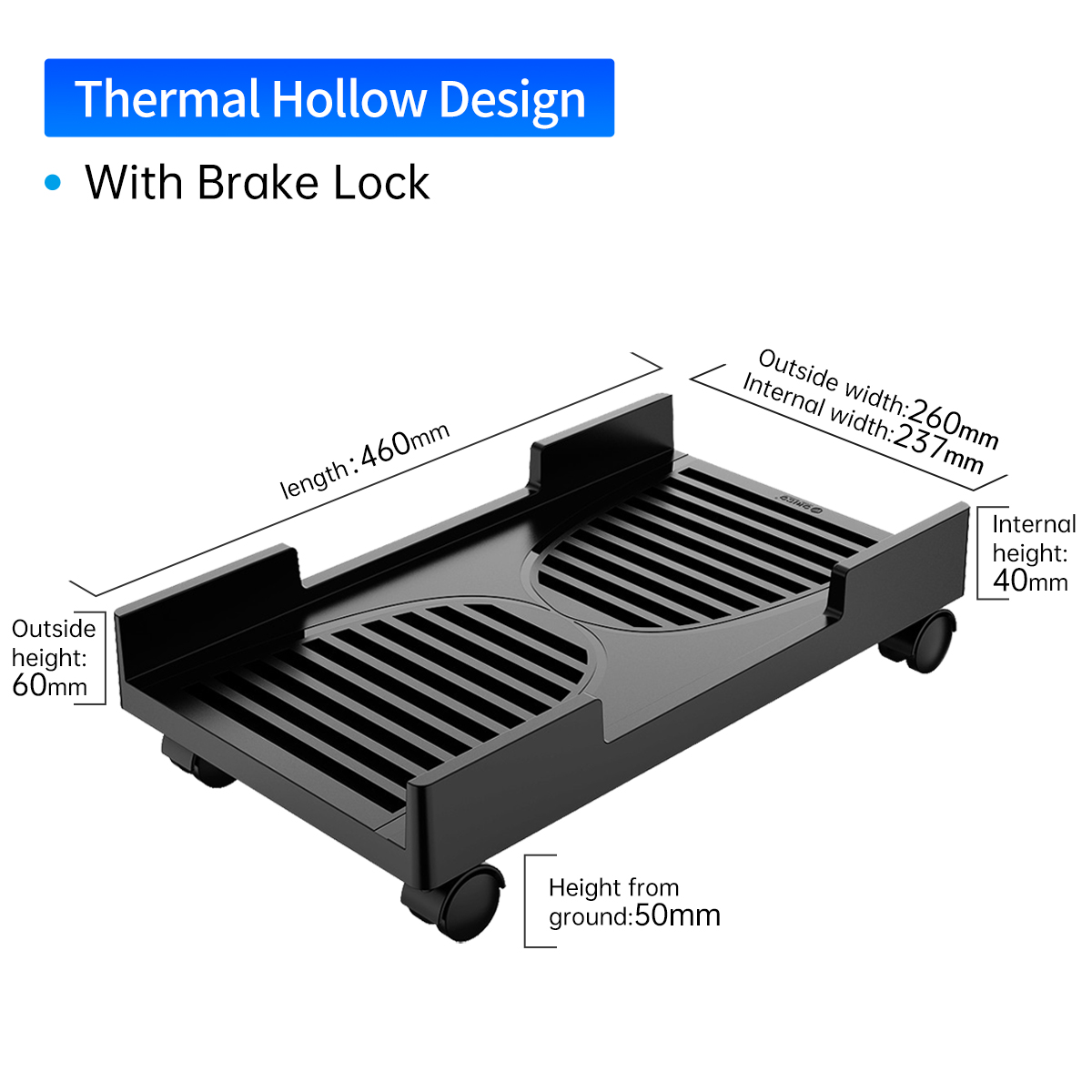 Computer Tower Stand With Wheels
Function:Damp-proof,Wheels with Brake,Efficient Heat Dissipation,Sturdy Construction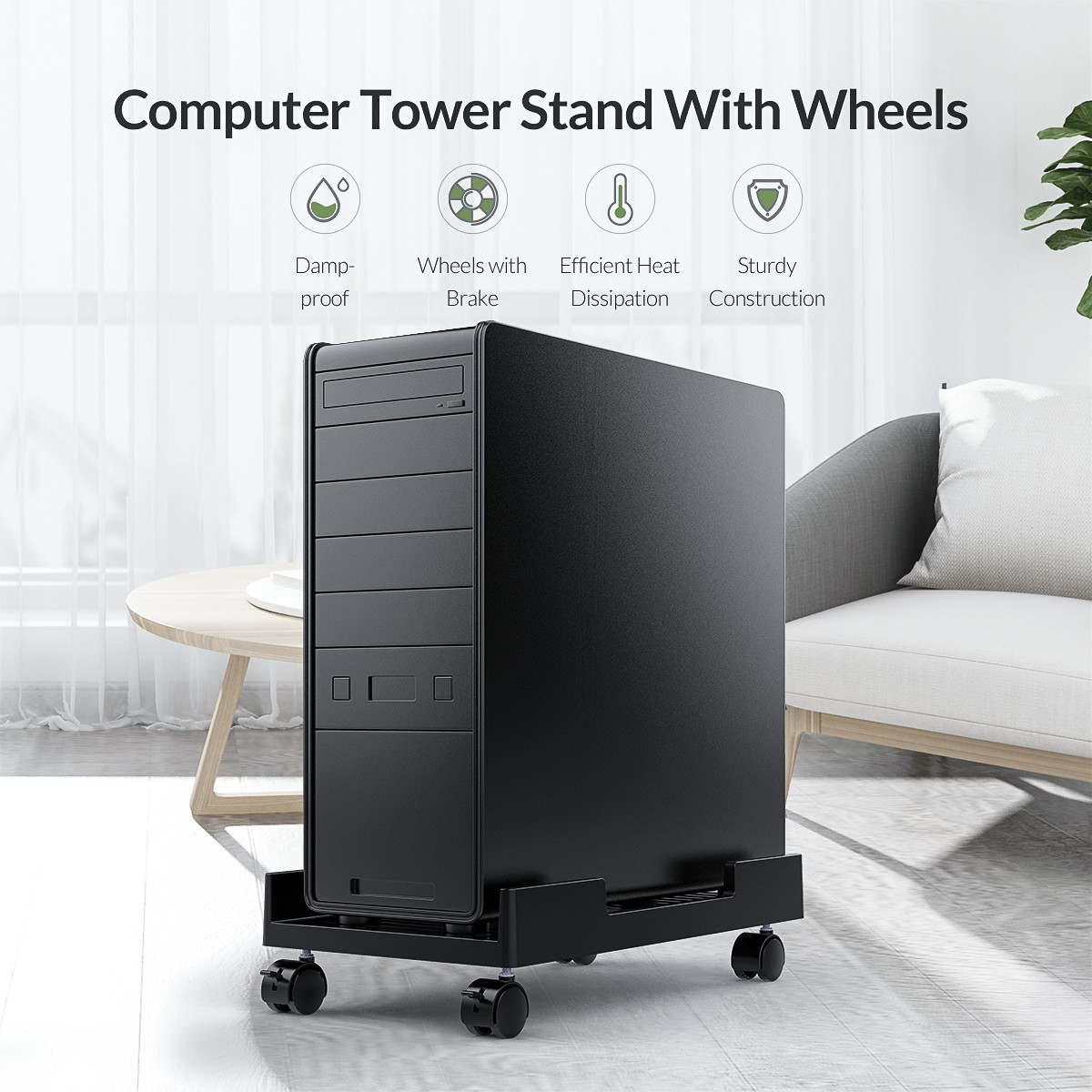 Function
* Elevates your mainframe off the ground, to prevent moisture and to facilitate cleaning.Adopted sturdy butterfly structure, more stable and durable.Thermal hollow design to assist the mainframe in cooling.High-side edges, provide a firm grip on your computer case and avoid turning over. * With brake, it can be used more flexible.The wheel is separate from the product.please assemble it according to the user manual.Made of superior ABS, scratch-resistance and crush-resistance. * Built For Large Mainframe,It can easily carry heavy mainframe.Easy Mobility,With 4 caster wheels, to easier access to back of the computer. * Damp-proof,This stand features four caster wheels for smooth motion and convenient placement.and it can raise your mainframe off the ground.to prevent moisture and dust.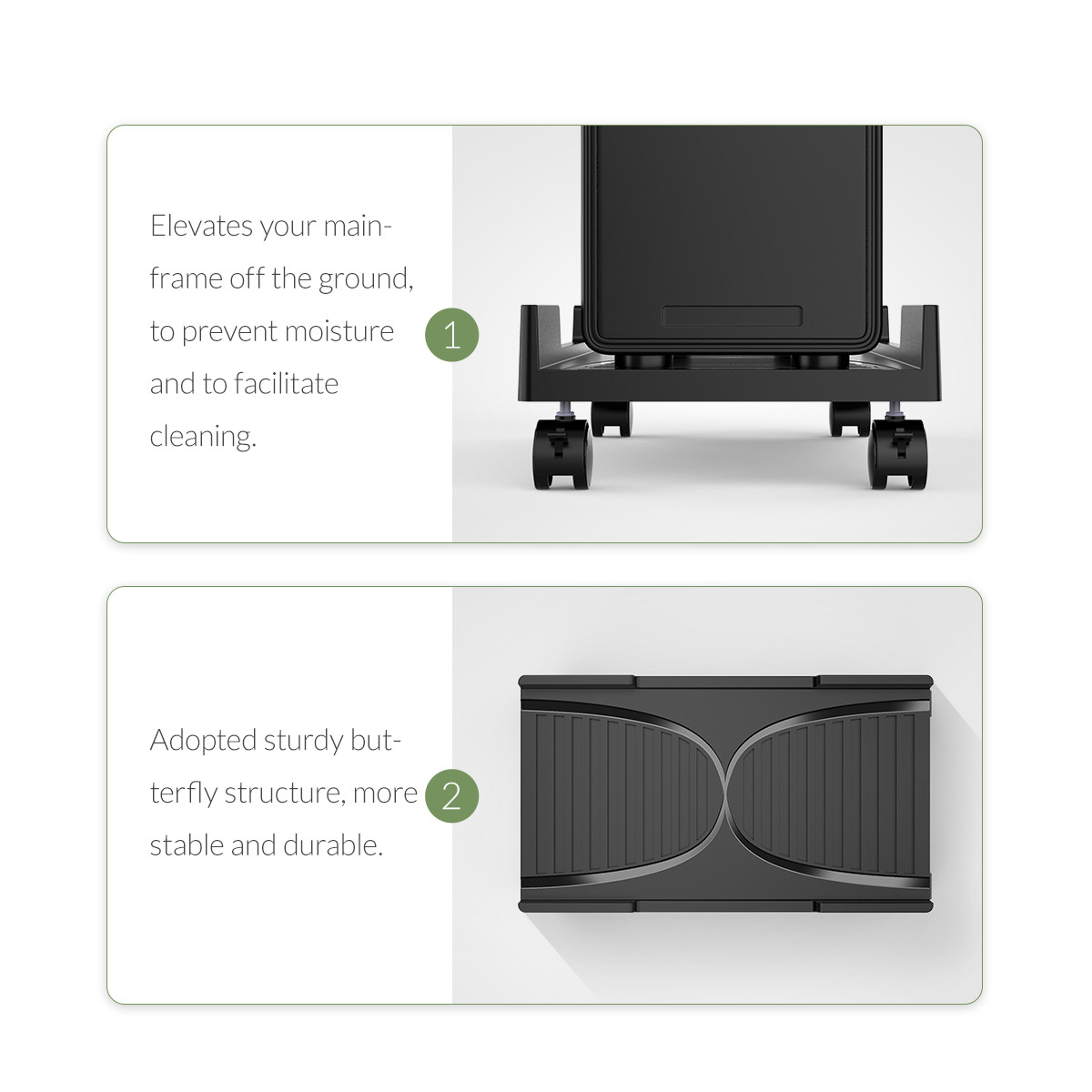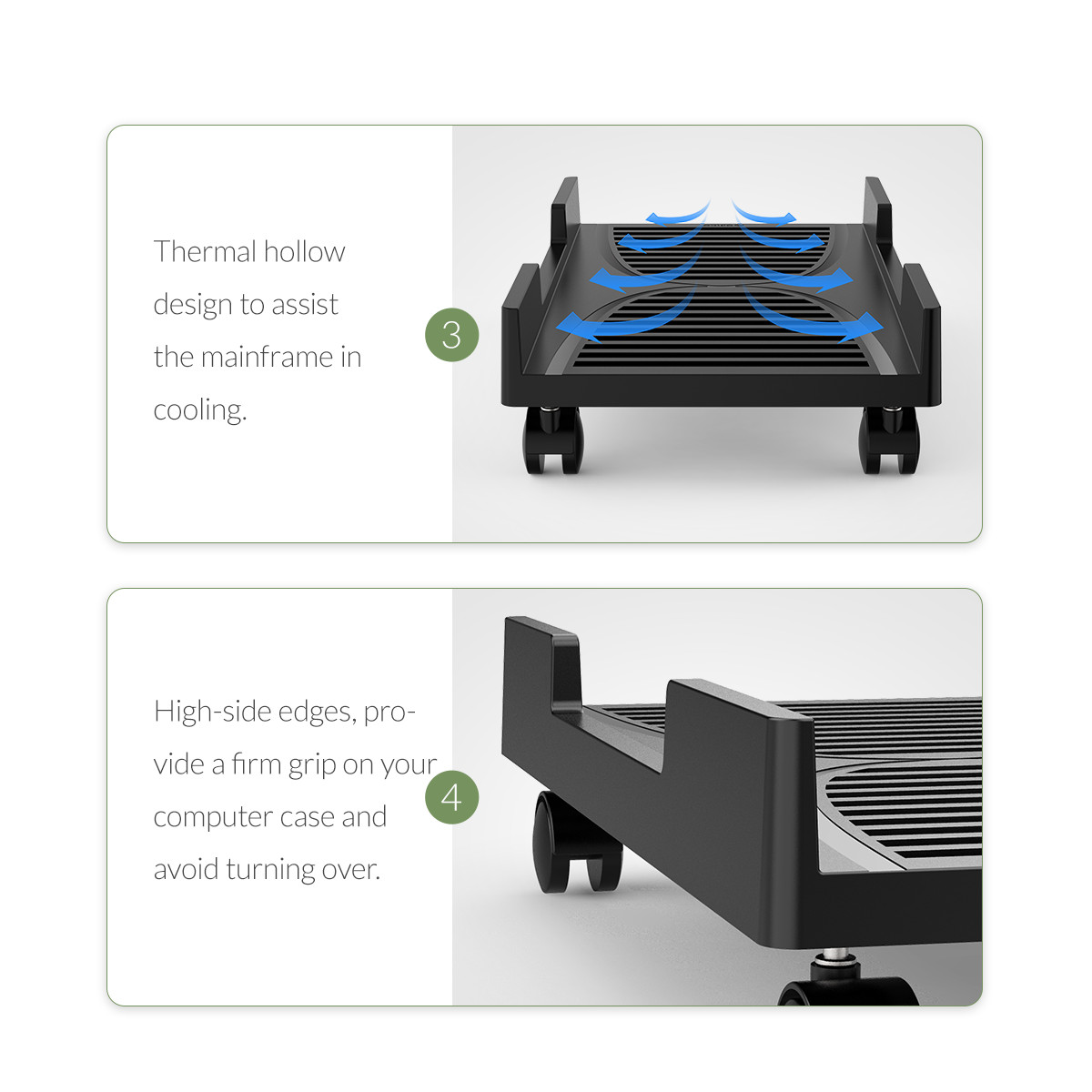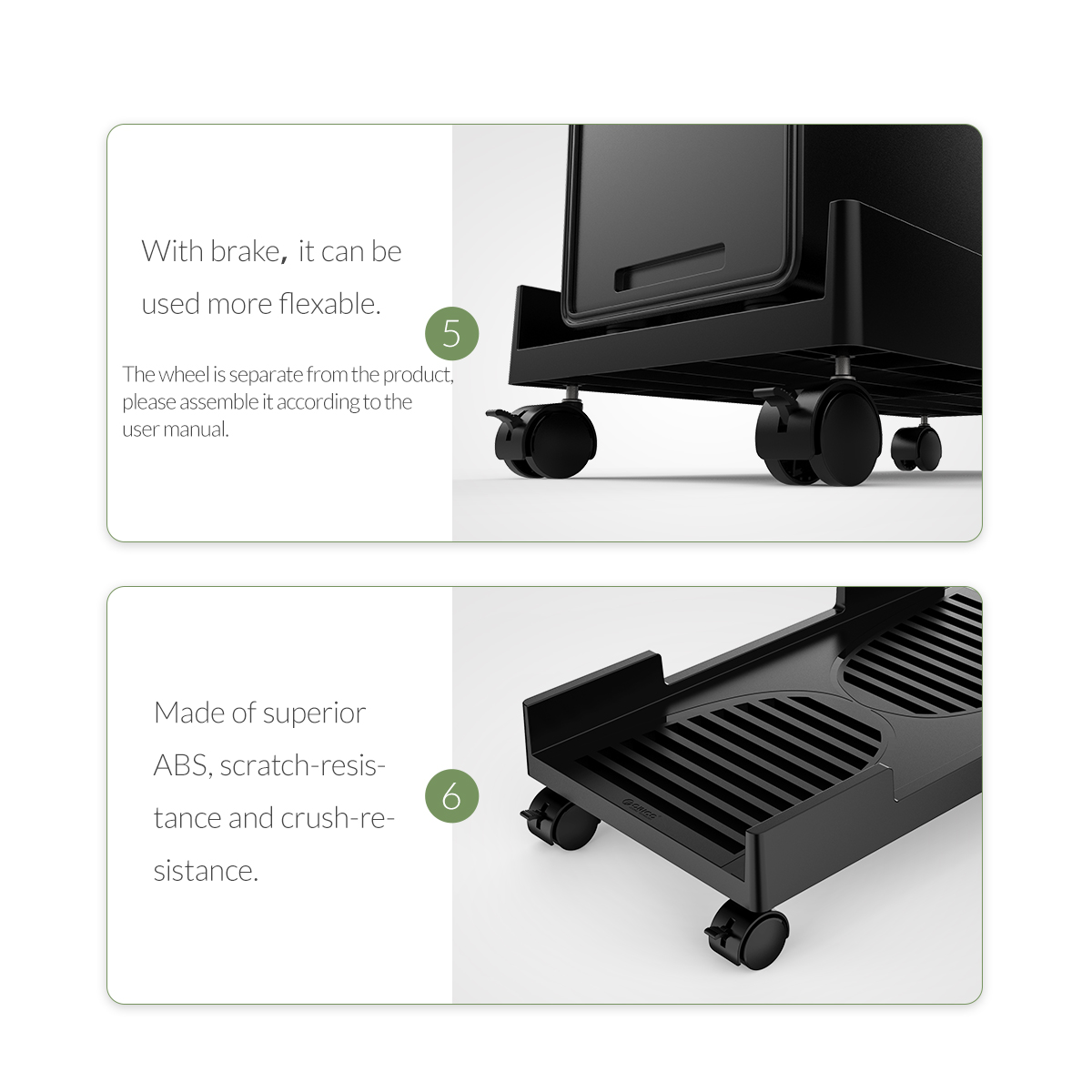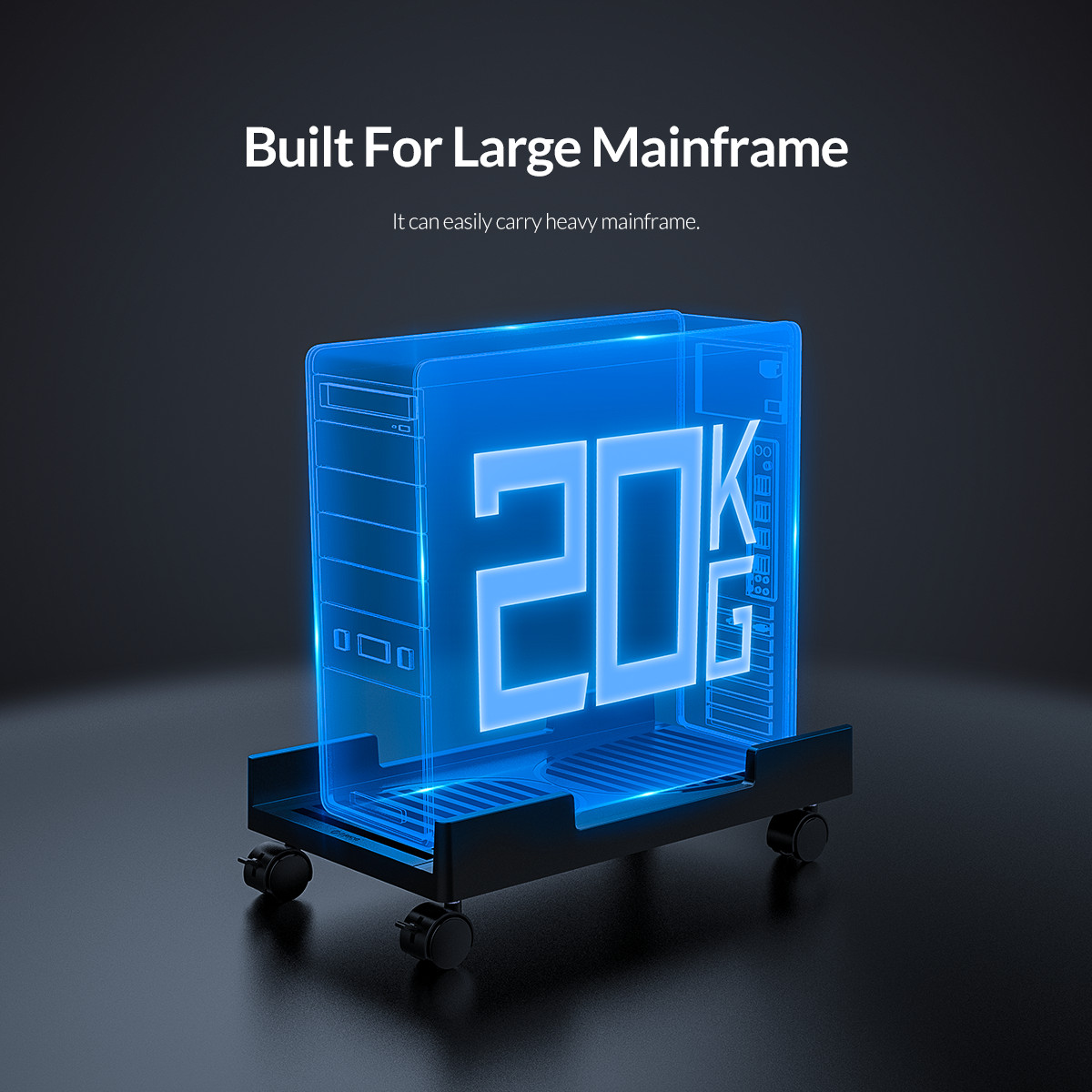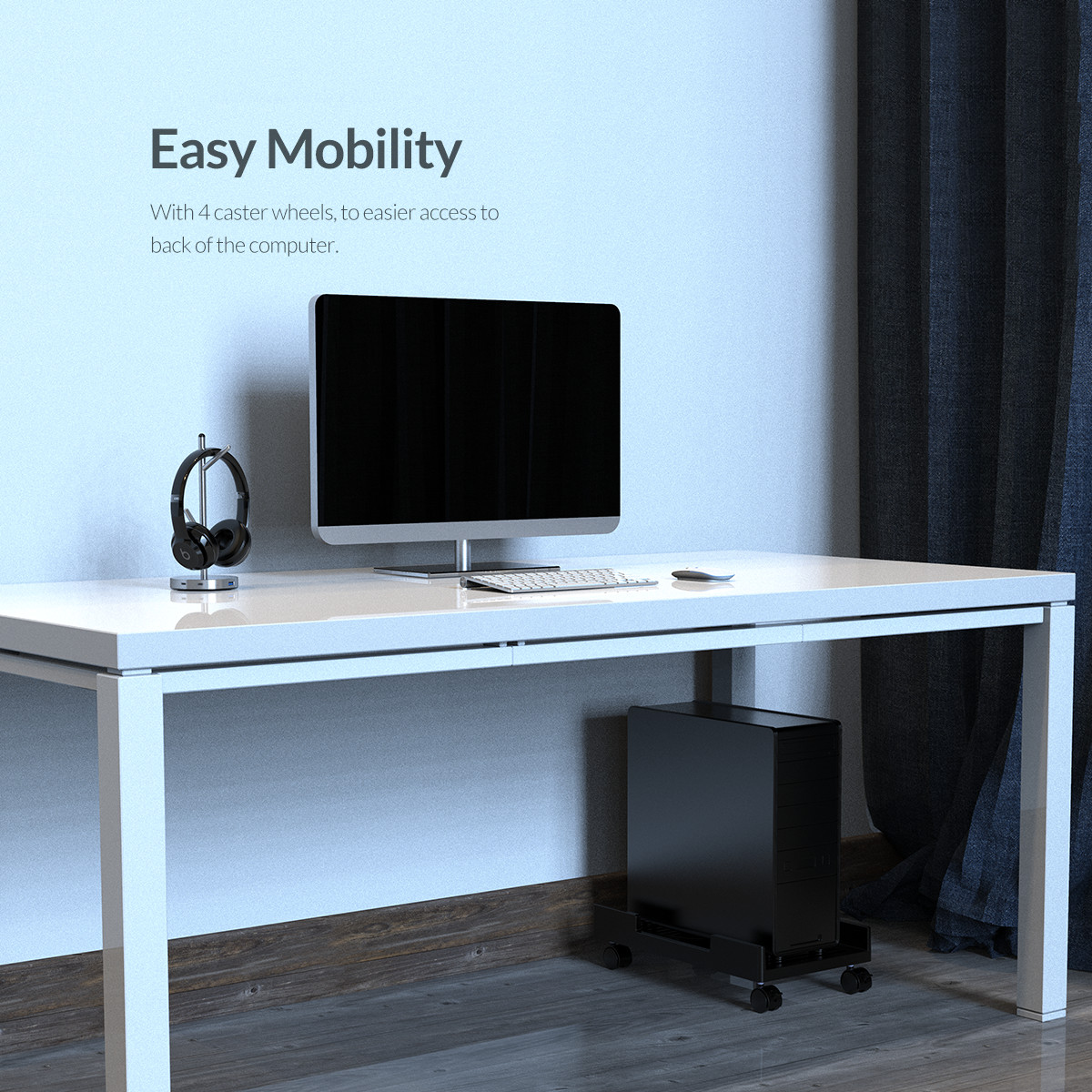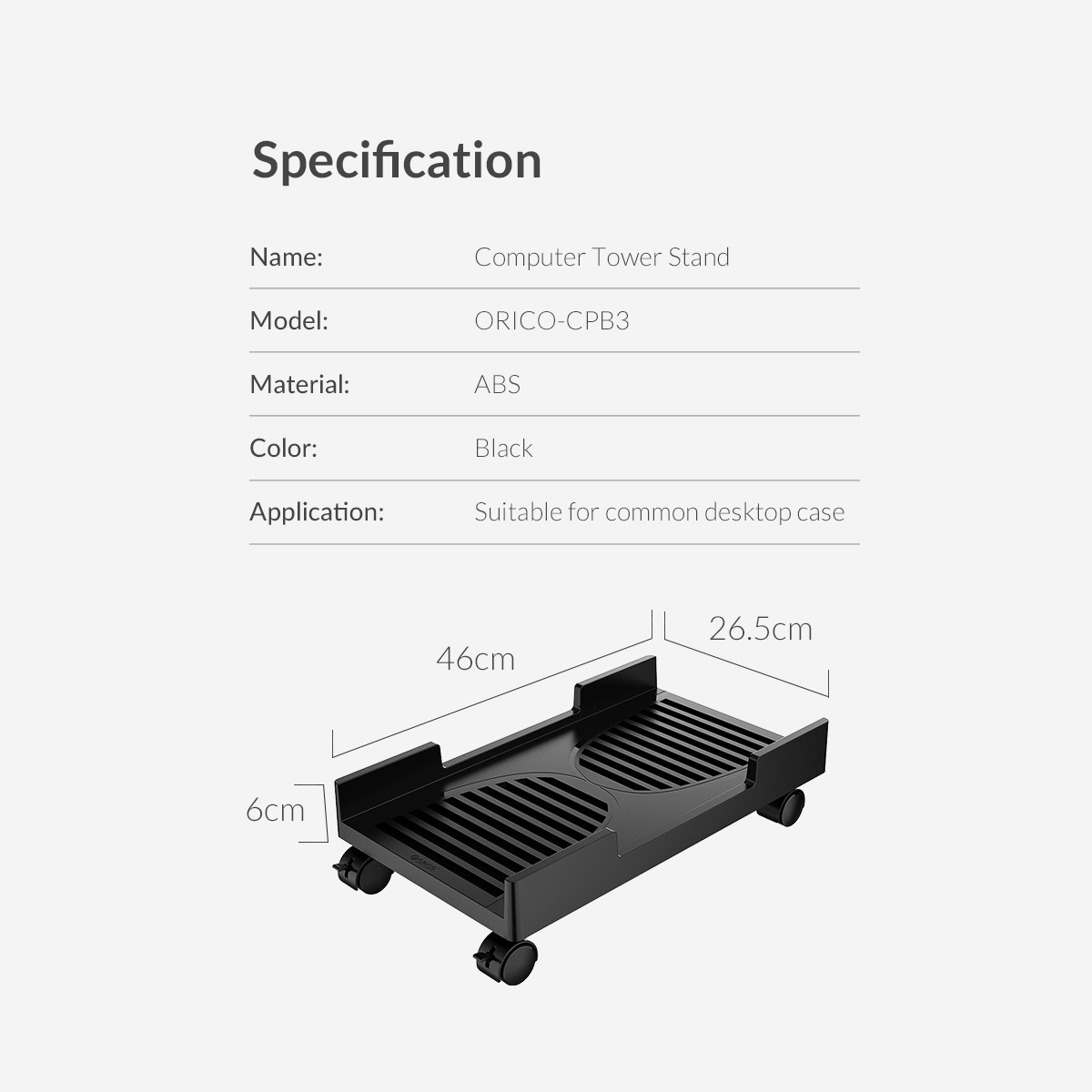 Model 4:CPB 4 - Adjustable Stand Design
Size: about 15.98-19.2 * 8.7-12.2 * 1.96 inches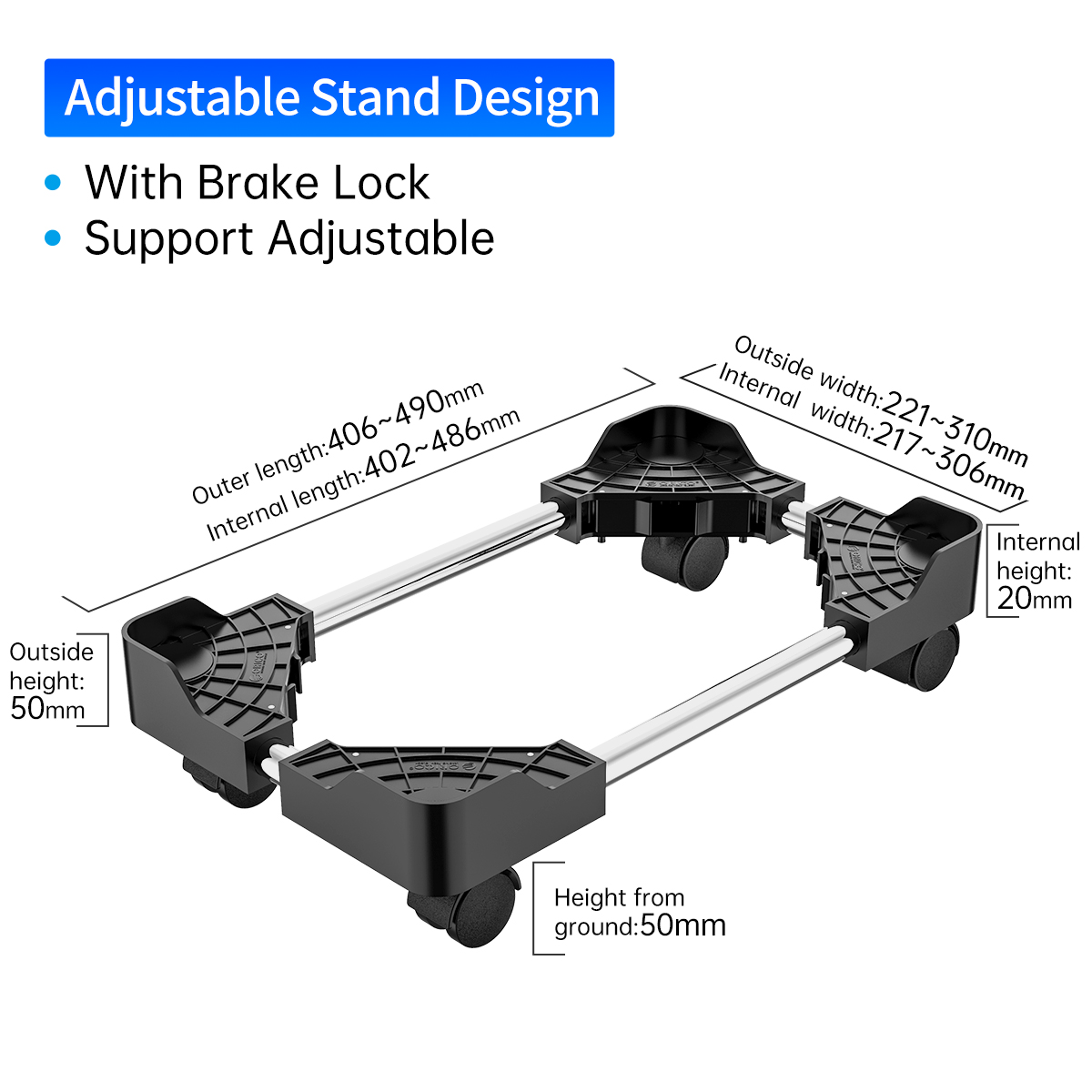 ORICO Adjustable Computer Tower Stand
Adjustable Width,omnidirectional Casters,Hollow Bottom Design,Sturdy Construction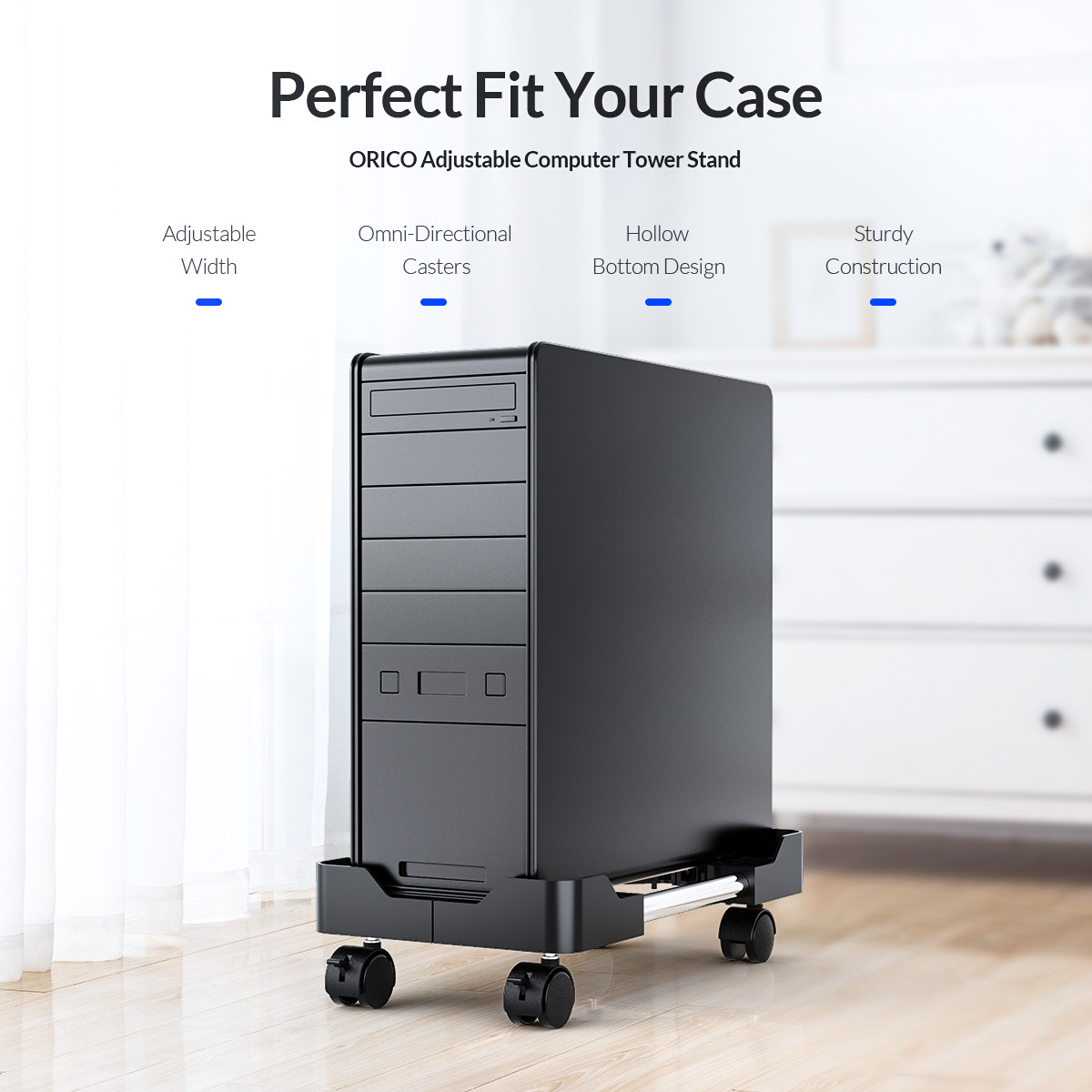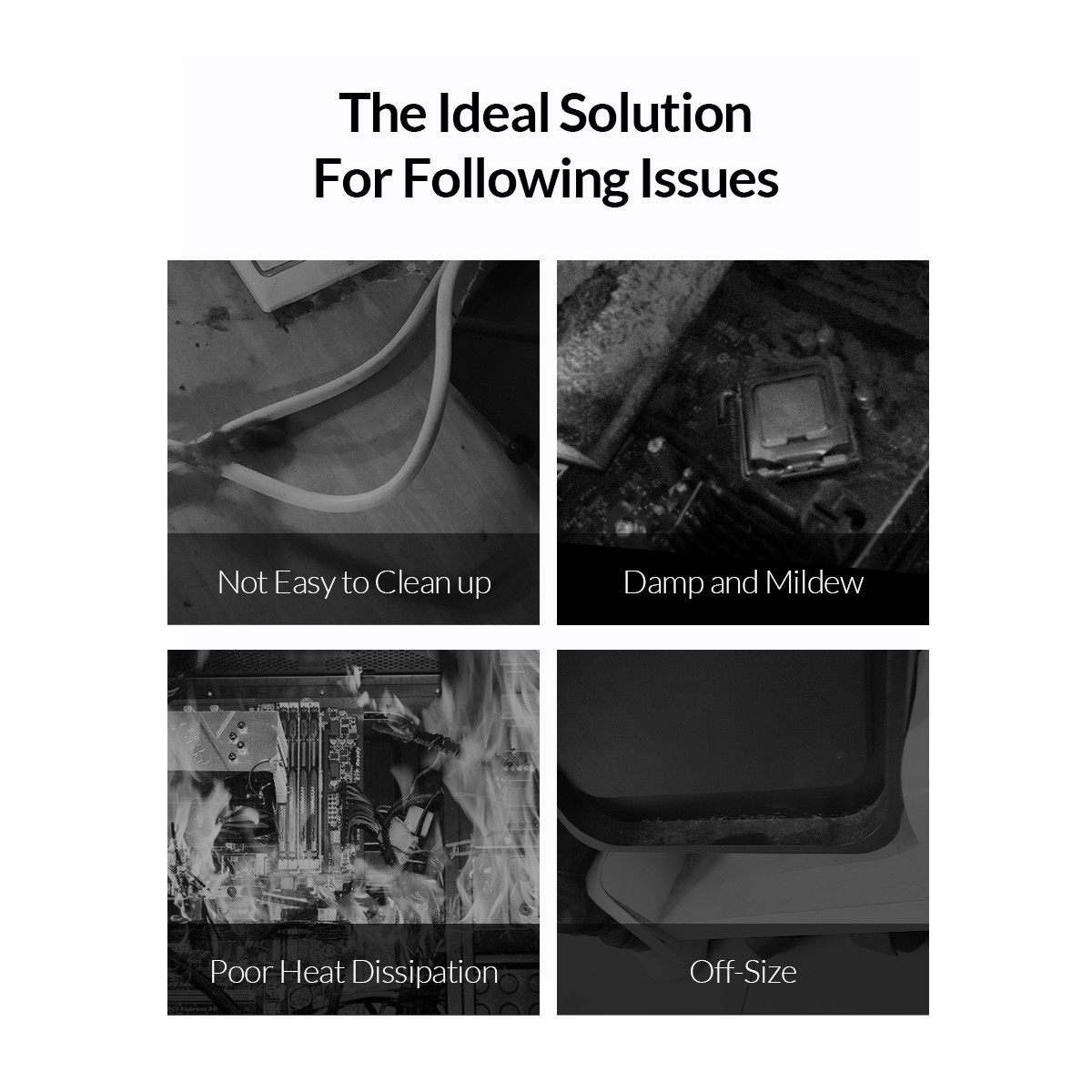 Computer Tower Stand and Cater Wheels
This PC Stand allows you to elevate and properly ventilate your computer tower, to keep dust and moisture off the floor and protect the computer and the stand itself. Meanwhile, this stand features four omnidirectional casters for smooth motion and convenient placement.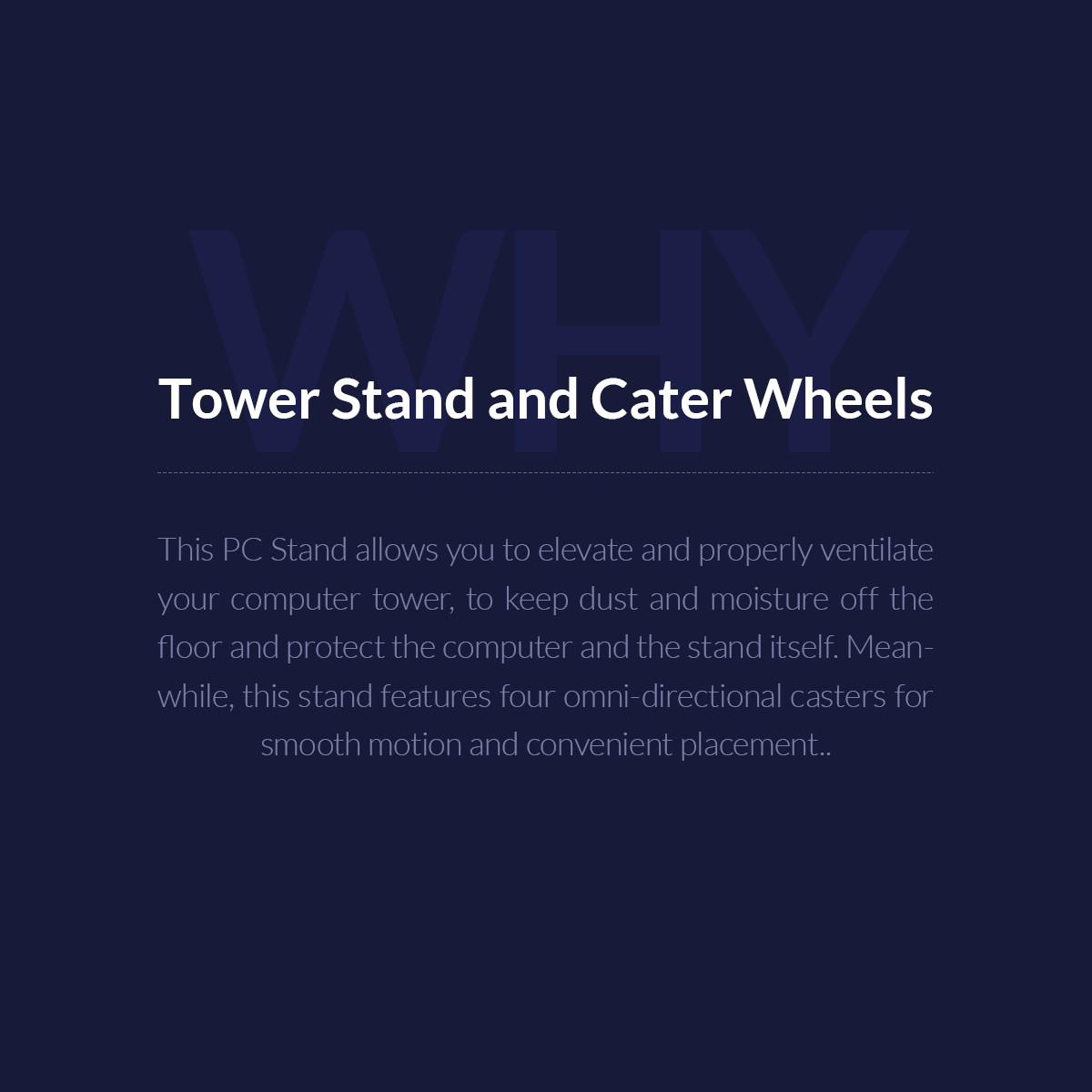 Adjustable Stand
The standish adjustable from 406-490 mm (length)to 221-310mm (width)allowing it to accommodate most computer cases on the market
Feature
* With 360 degrees directional wheel, for easier access to anywhere you need. Two lockable wheels that are recommended to be mounted on the front end of the same side. * Hollow Bottom Design,The base adopts hollow out design,Properly increase the distance to keep the computer tower away from the ground, enhance the bottom and surrounding heat dissipation to keep it clean and ventilated, and save desktop space by placing the CPU under or next to the table. * Sturdy Construction,The base is made of strong ABS material,with around protective bars,to avoid displacement and side of the computer cases due to collision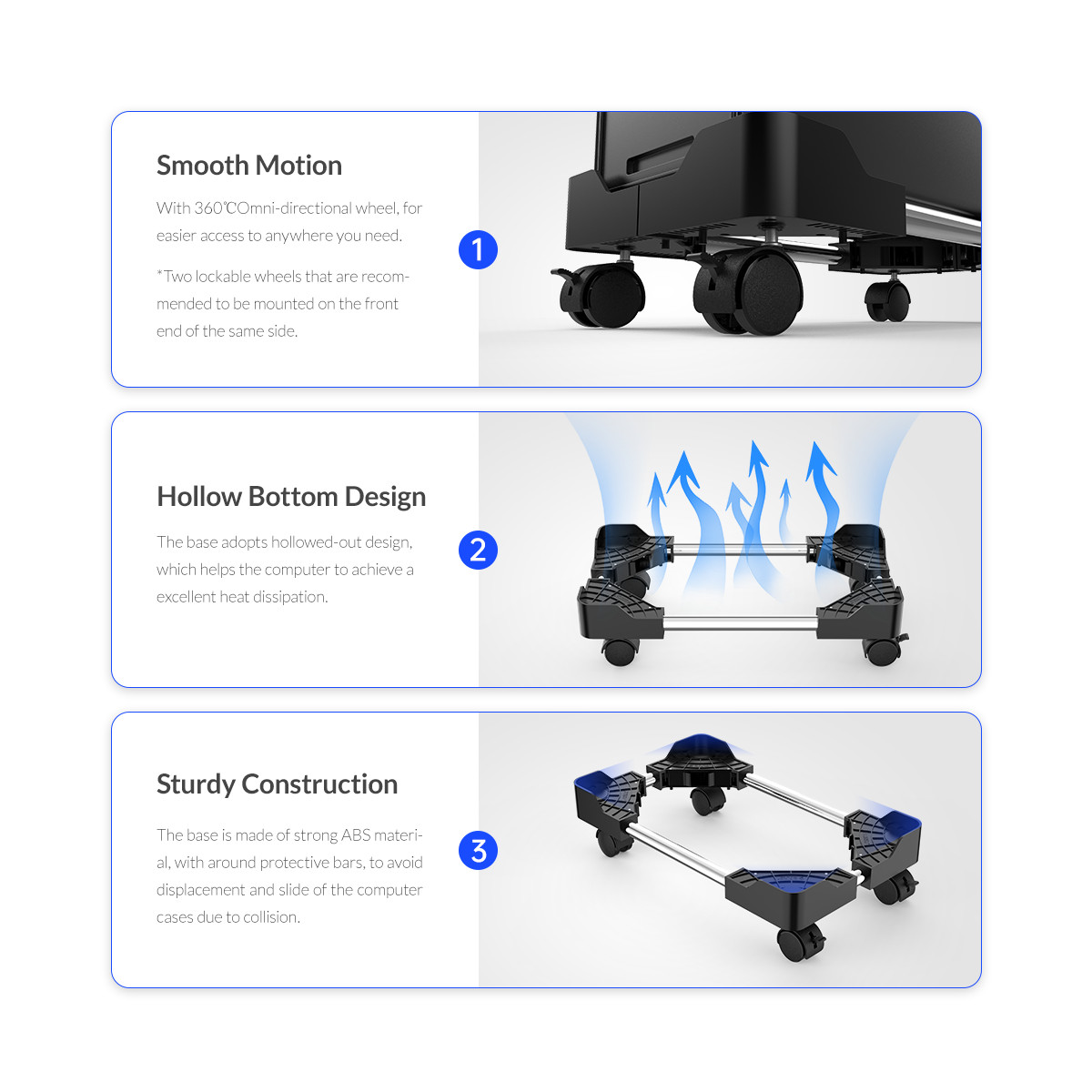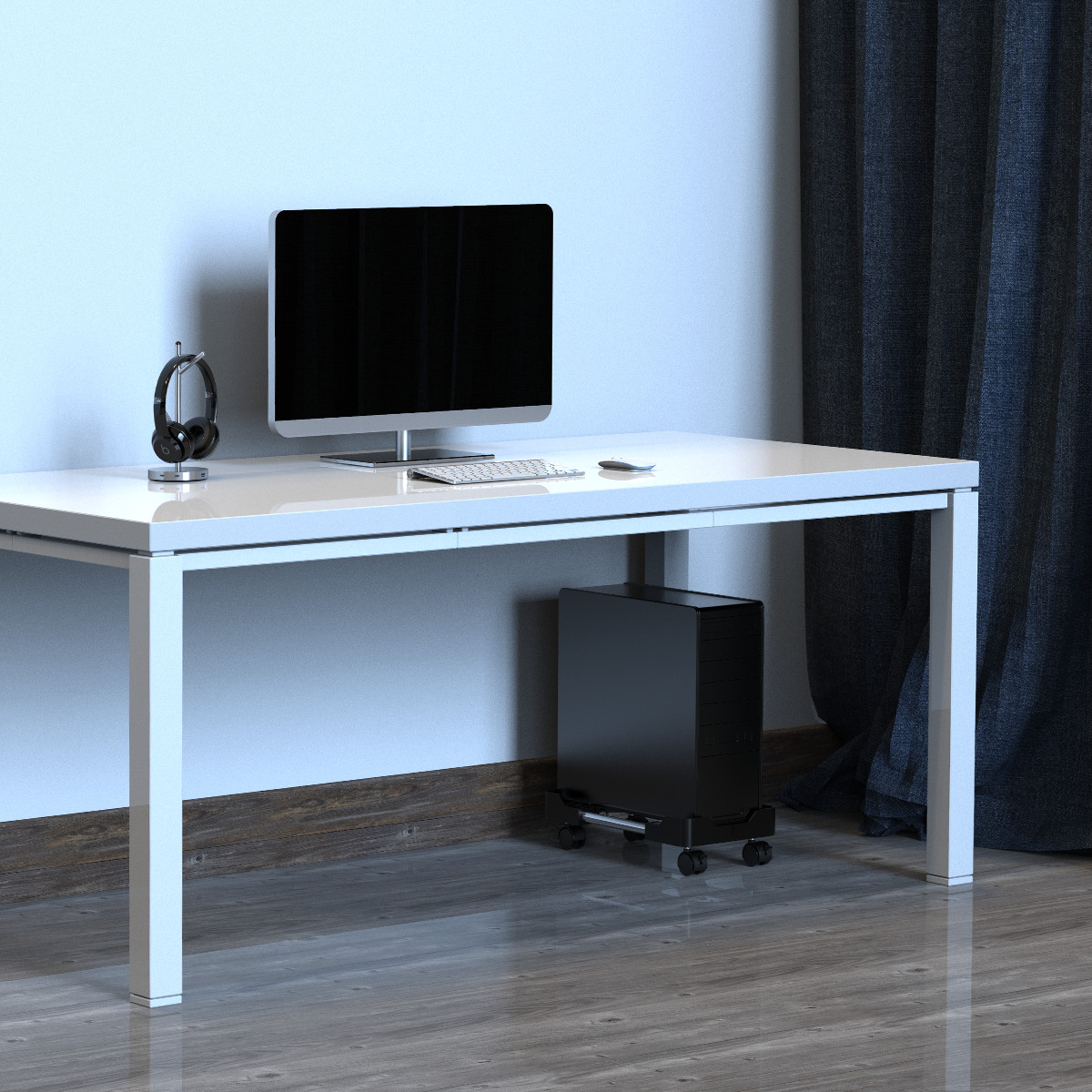 Installation
1.Insert the wheels into the bottom hole, and ensure the two lockable wheels should be mounted on the front end of same side 2.Turn on the inner adjustment switch 3.Adjust the width according to the size of the ATX Case 4.Secure the switch and complete the installation (The maximum length and width can only adjust to the third lattice, otherwise it may cause unstable shedding.)