RANDY SUN  The beach volleyball socks designed for water sports or outside beach activities ! It suits for many occasions, such as boating, canoeing, kayaking, sailing, beach, pool,  sailing, windsurfing, fishing, beach volleyball, sand playing, water sports. Especially use for family outings,travelling,vacation。
It can make your feet enjoy the freedom of movement with high-grade comfort property and fashion appearance. It is not only ultra-lightweight and quick-dry but also highly moisture and perspiration permeable. One pair is weighed at 100g-170g. You can put them in your backpack, handbag or even your pocket!
The beach volleyball socks are 100% seamless, one-piece molding (with deodorant yarn, quick-dry spandex). The strong structure combining protection and lightness/comfort, which can protect your feet from the hot sandy beach, the rocky spot and shell fragments on the beach. Its one-piece molding design and soft vamp provides a comfortable fit like socks, keeps you enjoy the feeling of barefoot with protection and grip.Non slip soles keep you from slipping or falling on slippery surface such as rocks.
Environment-friendly dyes on the socks. No pollution to sea water and soil.
Vamp:
Black Color: 92% Nylon, 4% Polyester, 4% Elastane.
Other two colors: 51% Polyester, 45%Nylon, 4%Elastane.
The feeling of barefoot, soft skin touching
Strong, durable, breathable,
Stretchy and smooth
Flexible and comfortable
Sole:
100% TPE Sole, eco-friendly materials. Strong ability to grasp the ground, lightweight, portable. Can be folded at 360 degrees.
​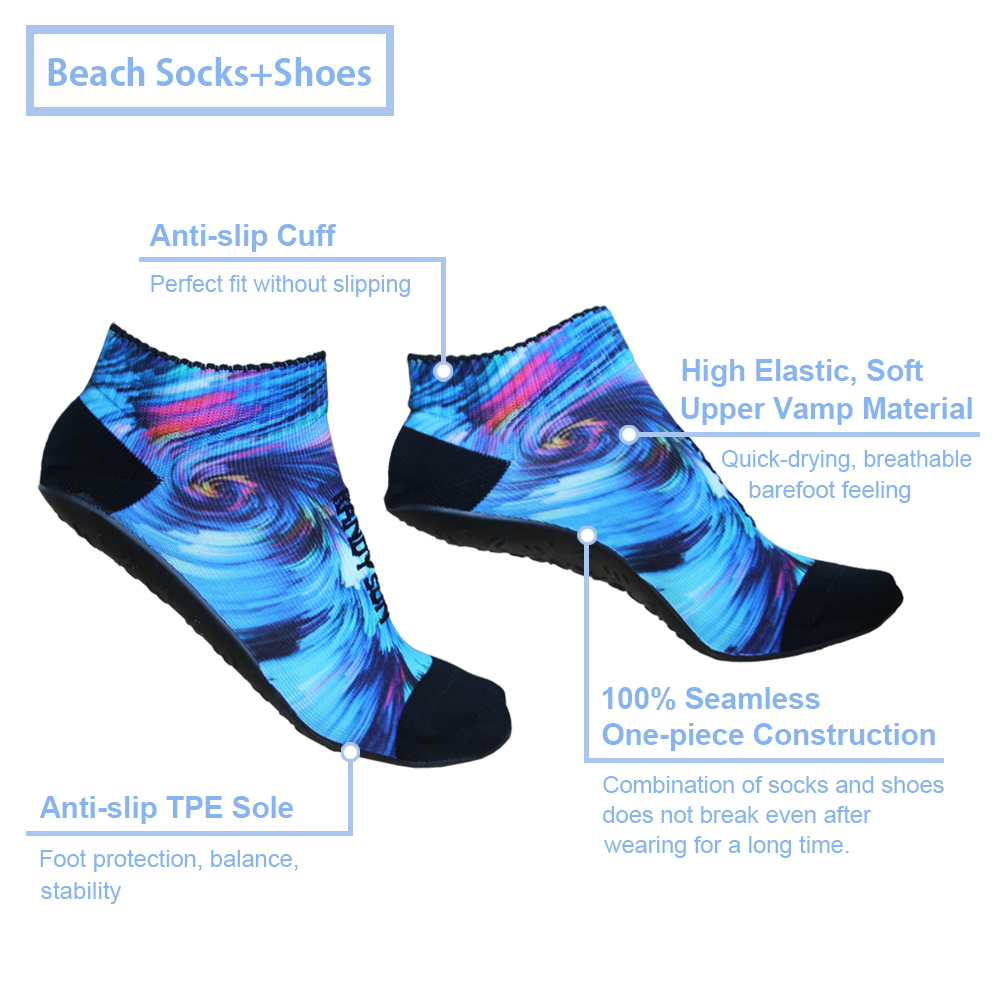 1. Safety Protection Barefoot Shoes. 

Wearable and top-quality TPE outsole, which protects your feet from being hurt by stone or sea shell on the beach. Increase Balance And Stability. TPE soles with strong anti slip feature keeps you from slipping or falling on slippery surface such as rocks.
2.100% Seamless, Integrated Structure.

 The firm socks&shoes combination won't fall apart even after long term wearing. No-toxic safe sole part and soft socks part (upper materials). Durable, weather/fatigue/temperature resistant, eco-friendly beach shoes. 
3.High Elasticity, Soft Upper Materials.

 Upper socks part is very stretchy to fit your feet gently. And it is also very easy to put on and off. Due to the flexibility of socks, it feels like wearing bare feet. Also, the upper material is quick-dry and breathable, which man make your feet comfortable after long time walking.  
4.Men&Women Multi-use Sand Socks. 

It can be used on beach to prevent from shells, rocks and sand. Sands do not get in the shoes. For beach volleyball, yoga training, fitness, weight training, jogging, walking, pool, boating, fishing, etc. Suitable for family outings, gardening, lawn and driving. Also can be used as non skid indoor walking socks.  
5.Ultra-light, Packable, Easy To Carry. 

Can be folded. Soft and stretchy upper materials provide your feet a comfortable fit. It is convenient to wear and take off. The bottom of beach socks is flexible to bend roll(360 degrees foldable) and can keep its shape after spreading. It occupies less space, very suitable for travel, trip, vacation, holiday. You can carry them in your backpack, suitcase or even your pocket! 
This is one pair of sock shoe - featuring the latest trends, letting your feet enjoy the feeling of barefoot and no longer bound feet any more. After wearing many times, our shoes will become more fit for your feet, thus getting a better stability for a better walking and sporting experience.
Wide size: since the vamp of the shoes has good elasticity, it is suitable for different foot types. Men, Women feet are all adapt.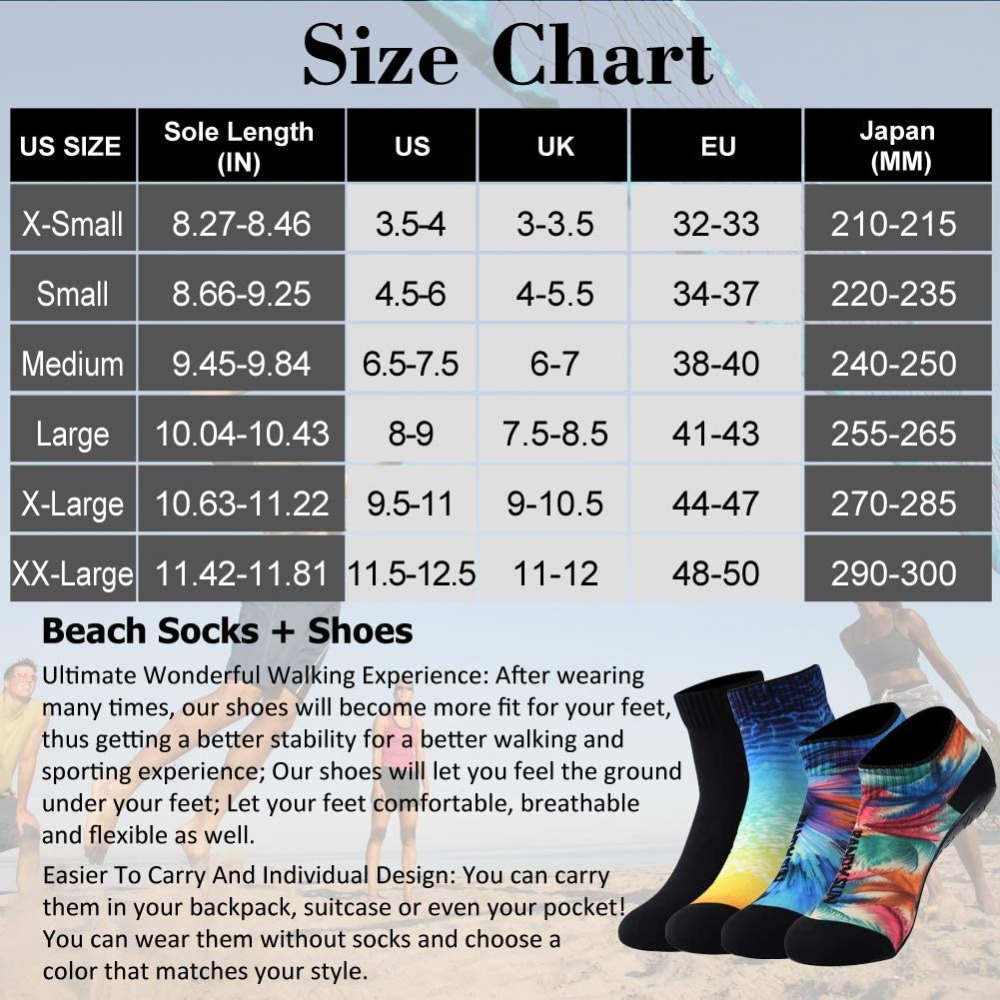 - Machine washable, you can just slip them in your washing machine. Do not bleach. set a gentle cycle (30°C/86°F) and you're good to go!
- Hang in ventilated place to air dry after spin-drying. 
- No distortion or color fading after multiple washings.