Hand Held Plastic Extrusion Welder,hand extruder, EXTRUDE EQUIPMENT WELDER ,Hand held Plastic Extrusion Welding Machine,Hot Air Plastic Welder Gun extruder,Plastic Extrusion welding gun,Extrusion Welder,
Product Overview
SWT-NS Model extrusion welder is a new type of hot air welder which imported foreign advanced technology, well-developed.
It has reached or exceeded the same type products of oversea, filling the domestic blank. The major components (hot air gun and drive motor) are made of imported brand-name accessories, stable performance, long service life; They are two independent systems,one is for preheating raw material,another is for welding rod extrusion. Reasonable structure, convenient operation, continuous welding, high working efficiency, powerful extrusion, to make the weld strength is greatly improved,It is the ideal product for a variety of thermoplastic welding processing.
This product is with two major components,preheating raw material's hot air part and welding rod's extrusion part.Hot air part with adjustable temperature controller to heat automatically,and extrusion part with independent    thermostatic heating control system to send hot air independently, It is easy to adjust extrusion speed and use screw extruding for powerful extrusion pressure. Using 220v power supply uniformly to weld plastic sheets,tube and other thermoplastic products,especially for both ends of large diameter hollow wall pipe,producing pipe and repairing pipe and so on.
Available welding materials: thermoplastic HDPE, PP, PVDF, especially PE .Do not apply in a conductive plastic (PE-EL), 
or cause the machine to produce a conductive short-circuit.
This series of welding machine is powerful with high welding speed and good welding quality.
It is available for welding PE, PVDF, PVC, PP and other hot melt materials. 
It is the first one to have a digital display control, 360 degree rotating welding head, 
the motor cold start protection, independent heating of welding rod and membrane material and other functions in China. 
International warranty 24months.
Any parts broken or does not work under normal operating,we are free to provide.
Images of Hot Air Plastic Welder Gun extruder: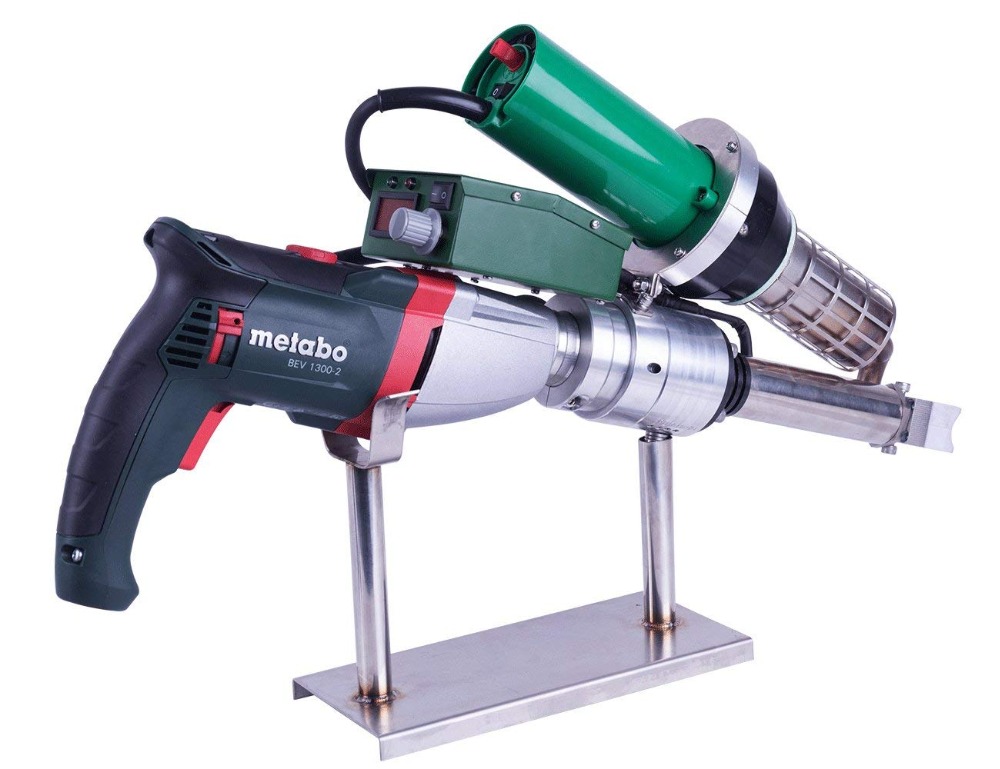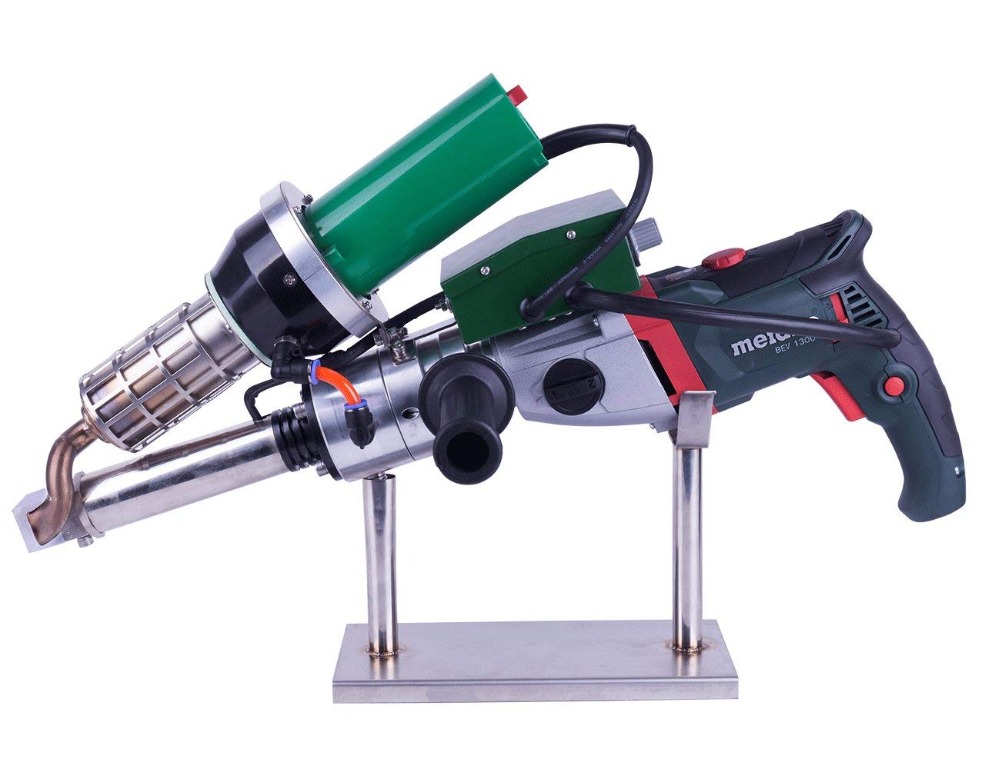 Technical Parameters For Plastic Hand Held Extrusion Welder:
Voltage: 220V/110V
Frequency: 50/60Hz
Extruding Power:Drive Motor 1100W
Hot air drive power:3400W
Wind Temperature: 20—600℃ 
Heating temperature while plastic extruding:200-300℃ 
Welding speed: 2kg/h
Diameter of Welding Rod:  ф3.0mm-4.0mm
Weight:7.0kg
Below is detailed description of Plastic Extrusion welding gun: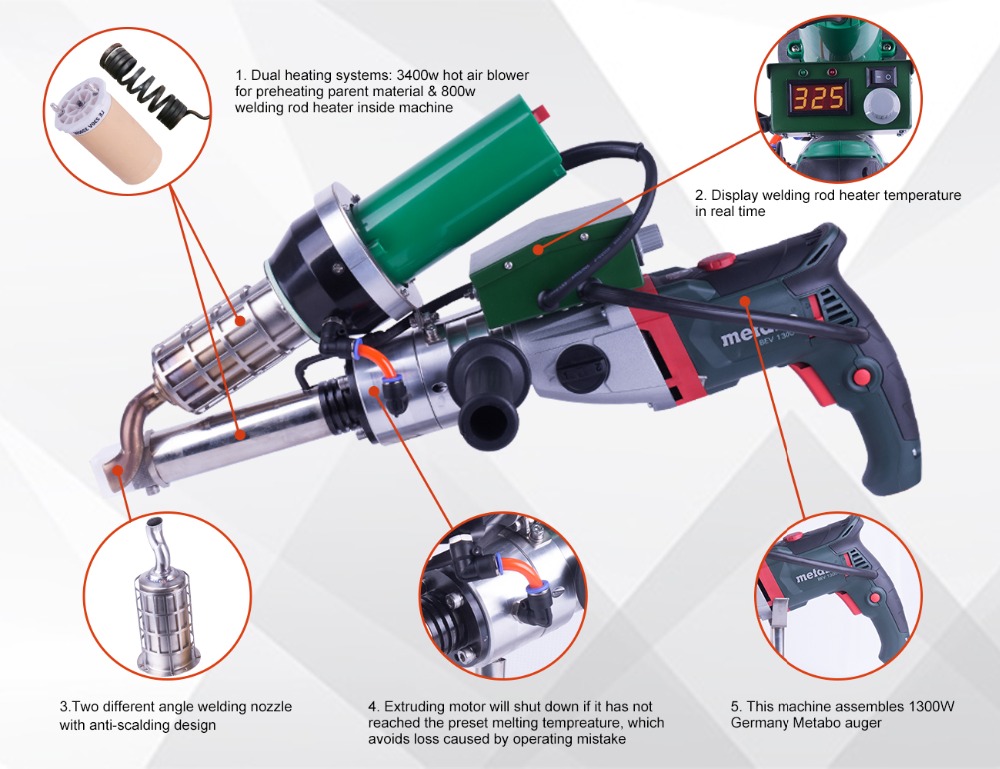 Packaging of Extrusion Welder: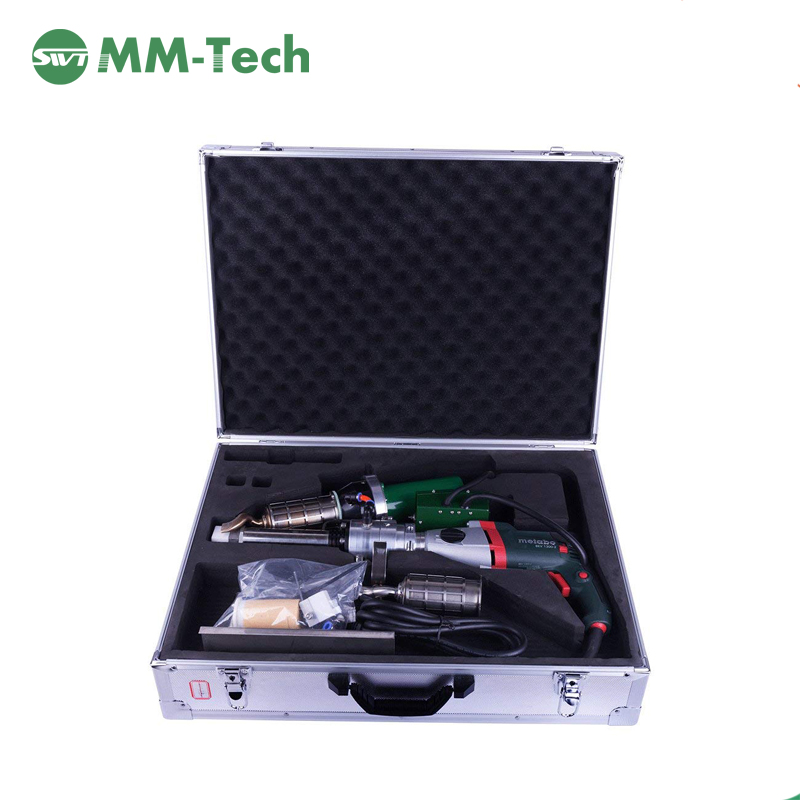 Application of Hand Held Extrusion Welder :
Hand Held Plastic Extrusion Welder is used for welding PE, PP, PVC, PVDF, HDPE and so on.
Hand held Plastic Extrusion Welding Machines are used for plastic sheets, and bitumen waterproofing and packaging materials with hot air for tanks and lining and agricultural and environmental cover.
Welding machines for polypropylene and polyethylene pipes.
Hand held Plastic Extrusion Welding Machines are designed for water conservancy,aquaculture,landfills,chemical mining,sewage treatment,roof construction, and other waterproofing projects.