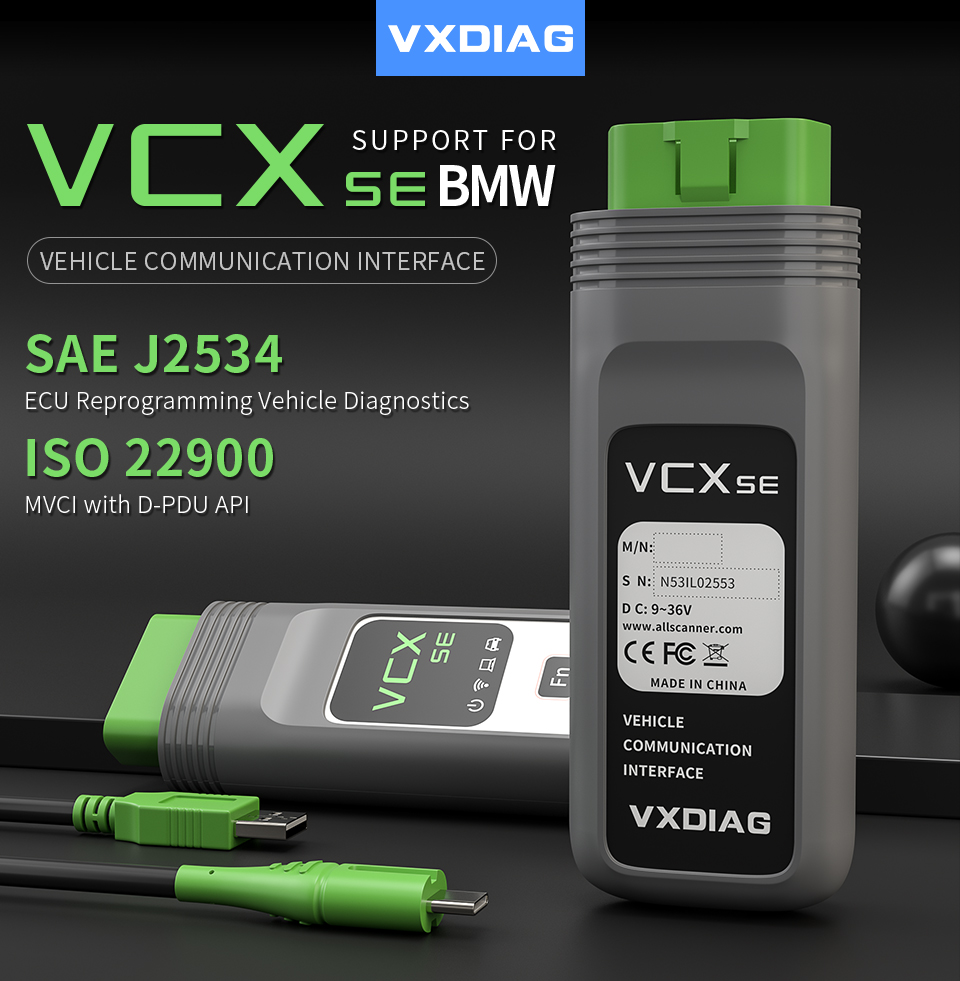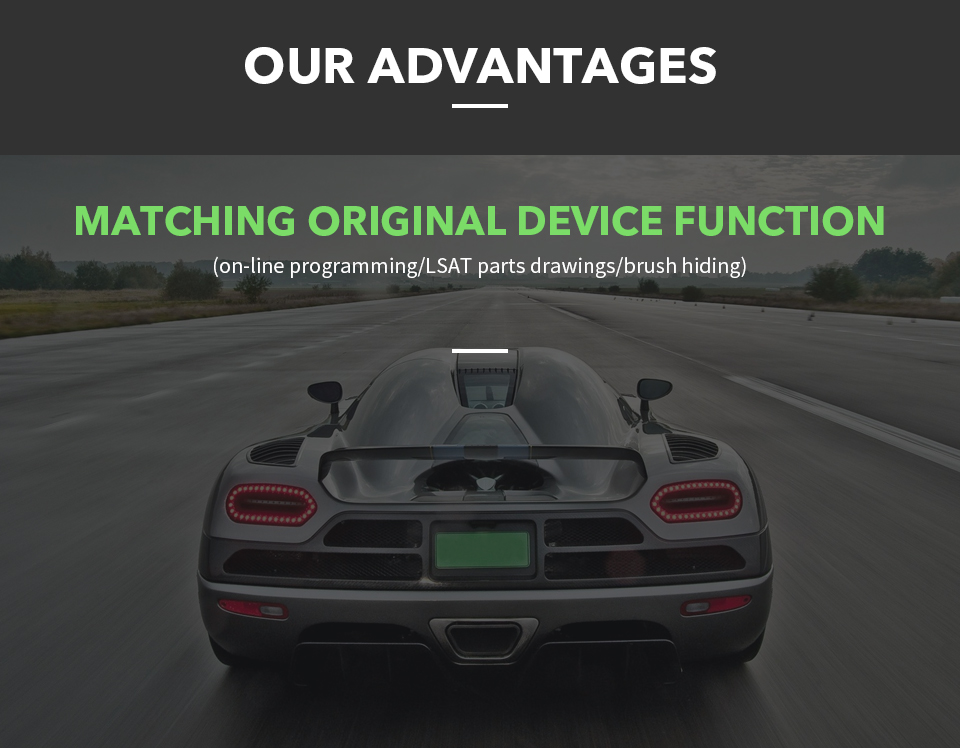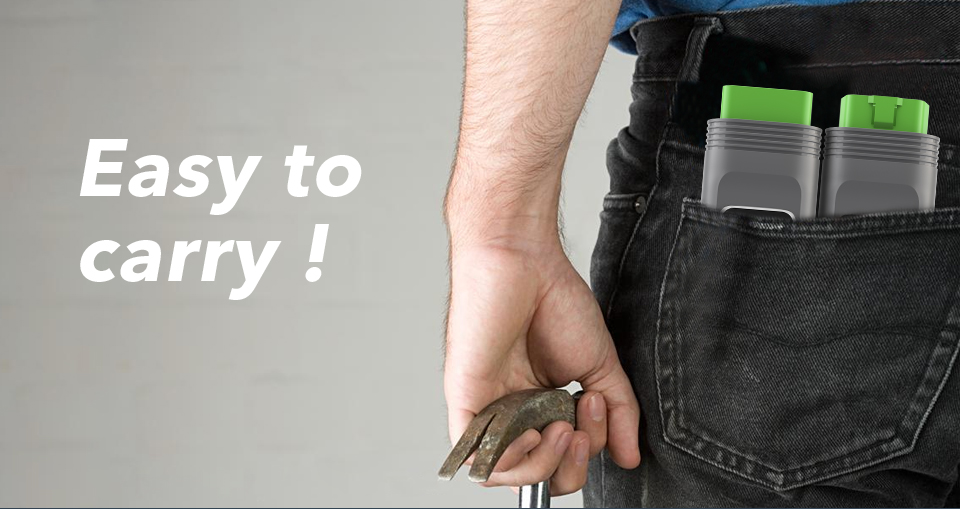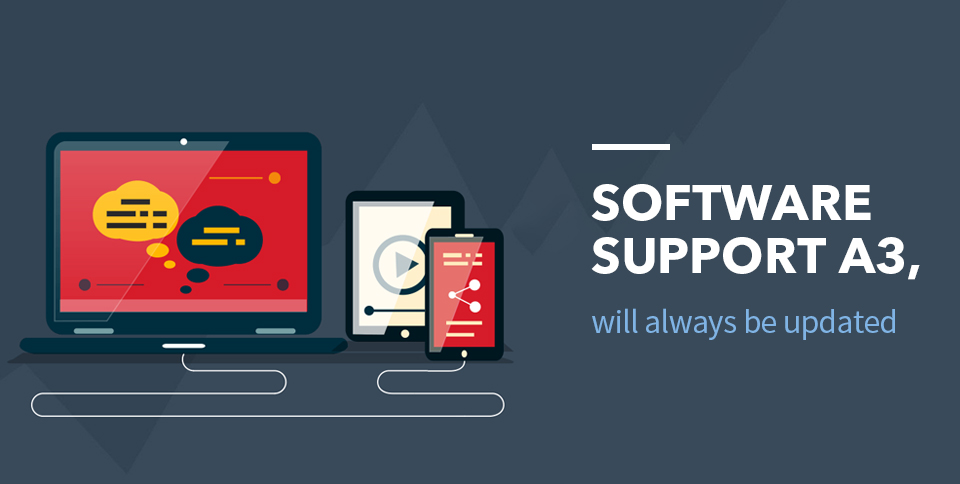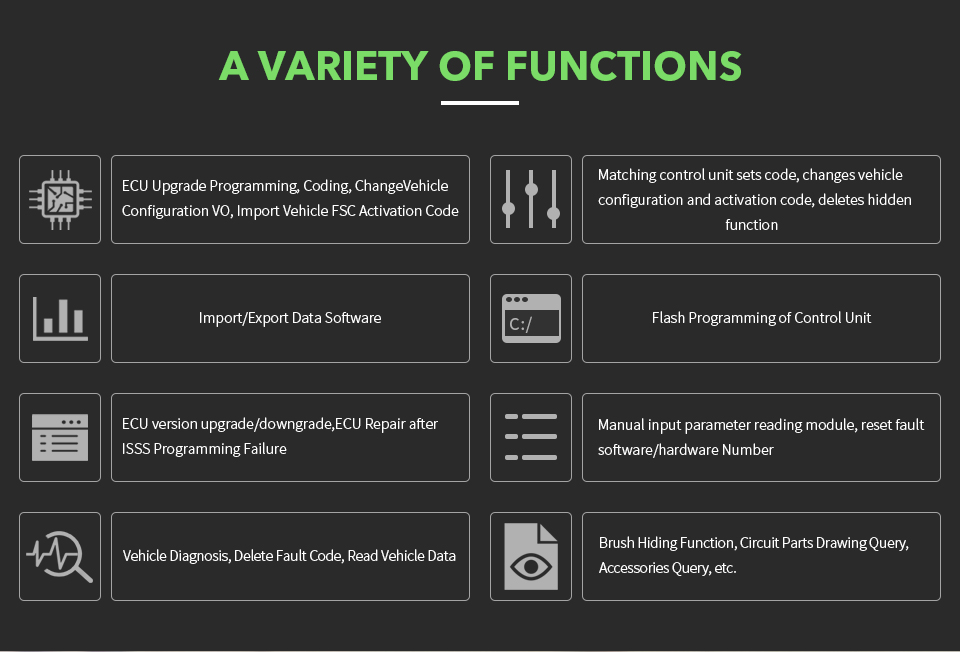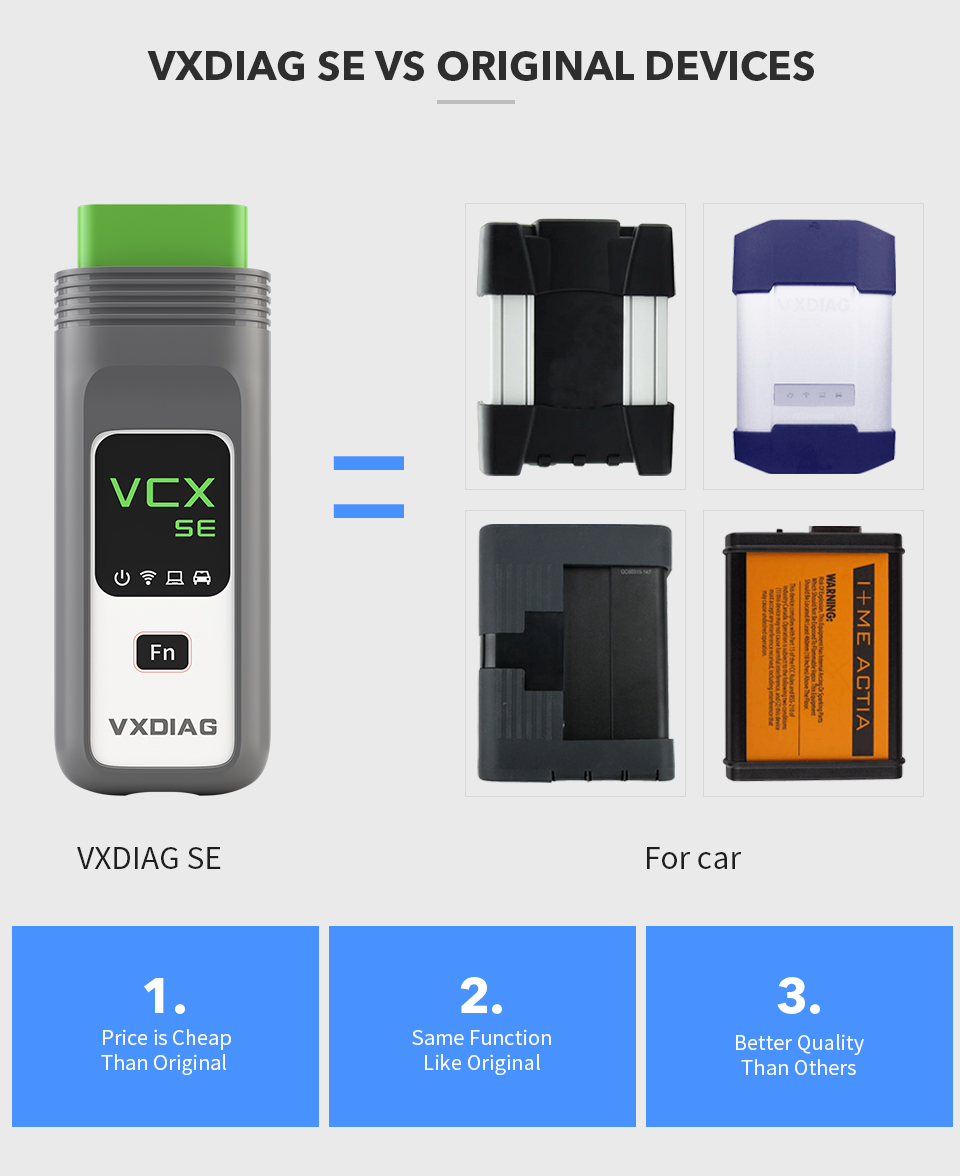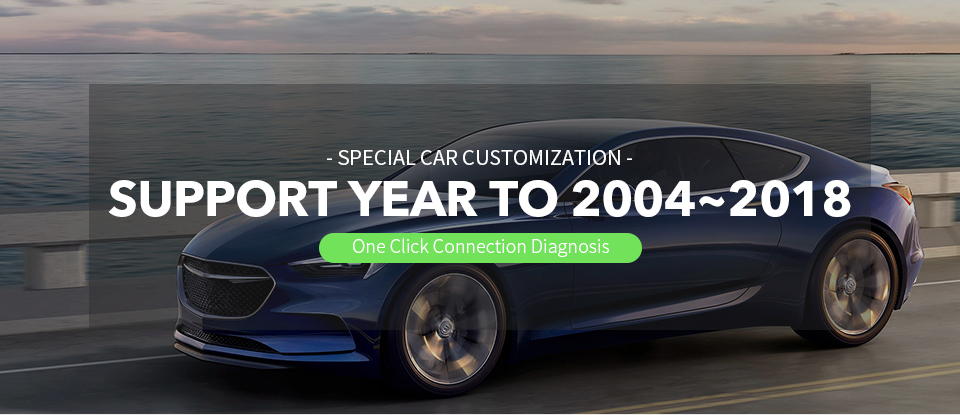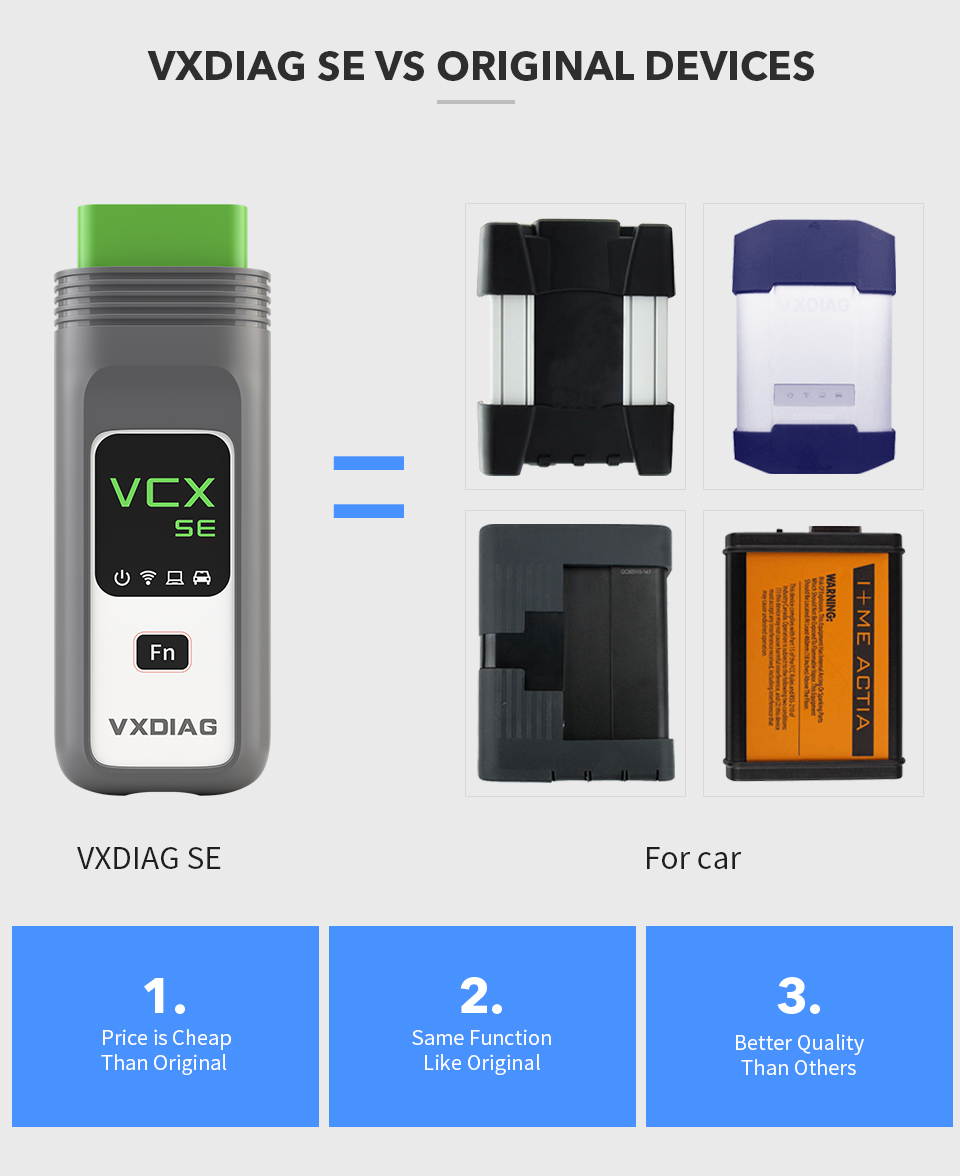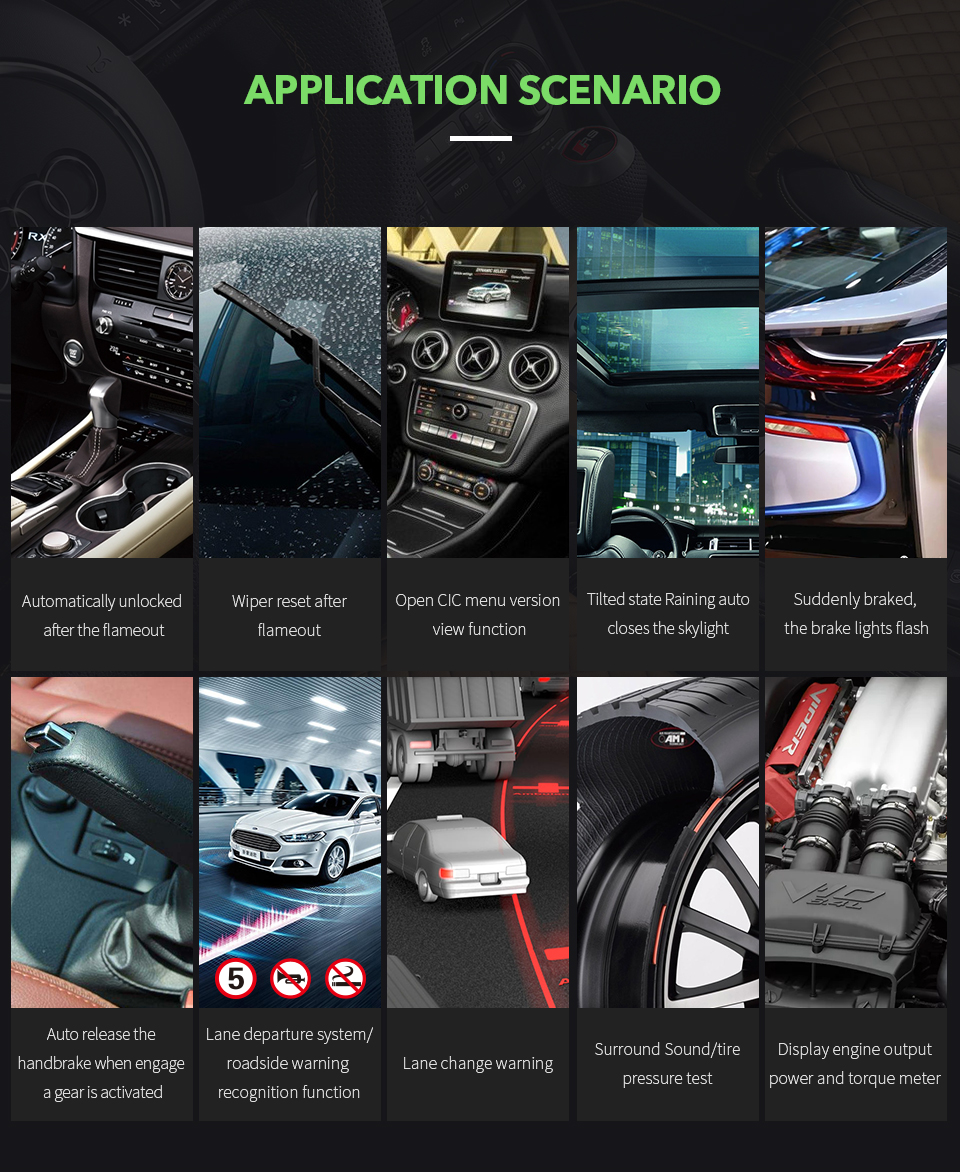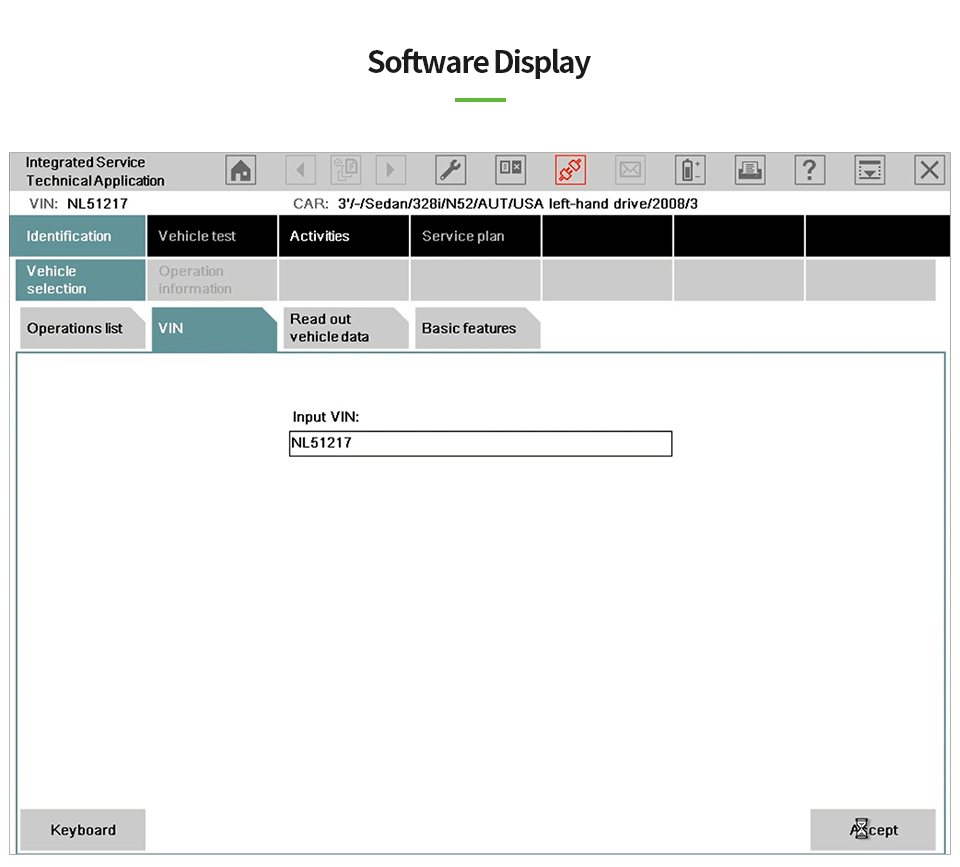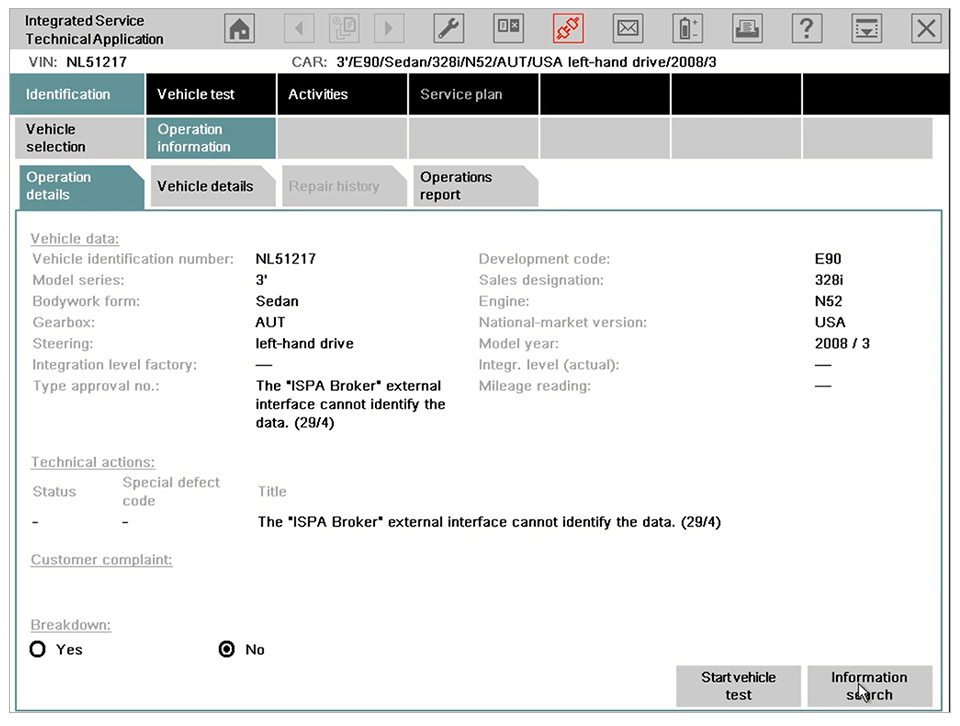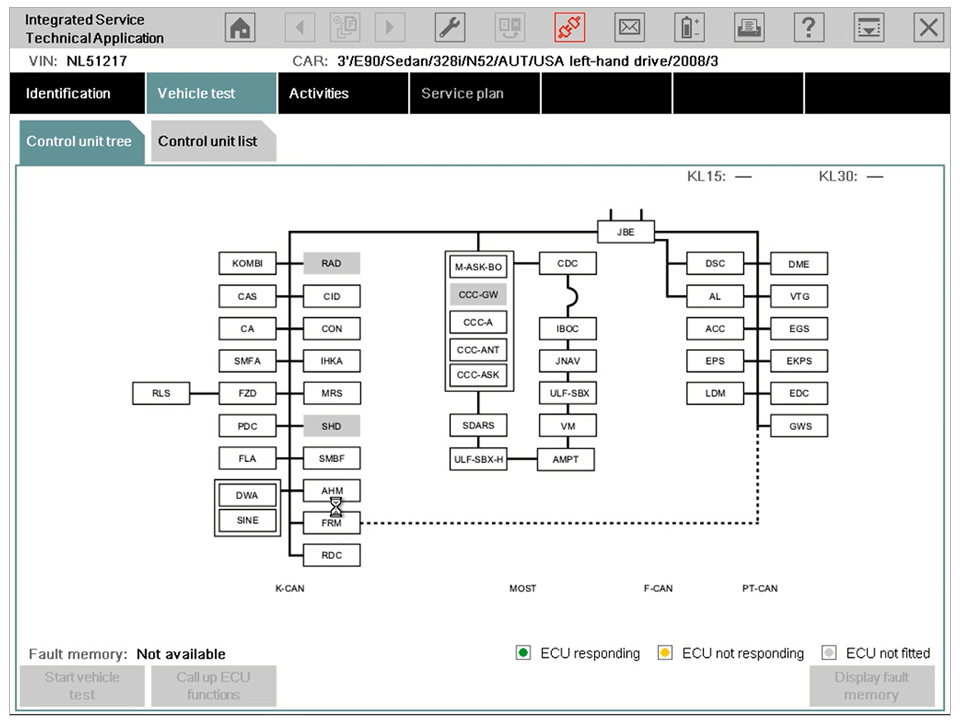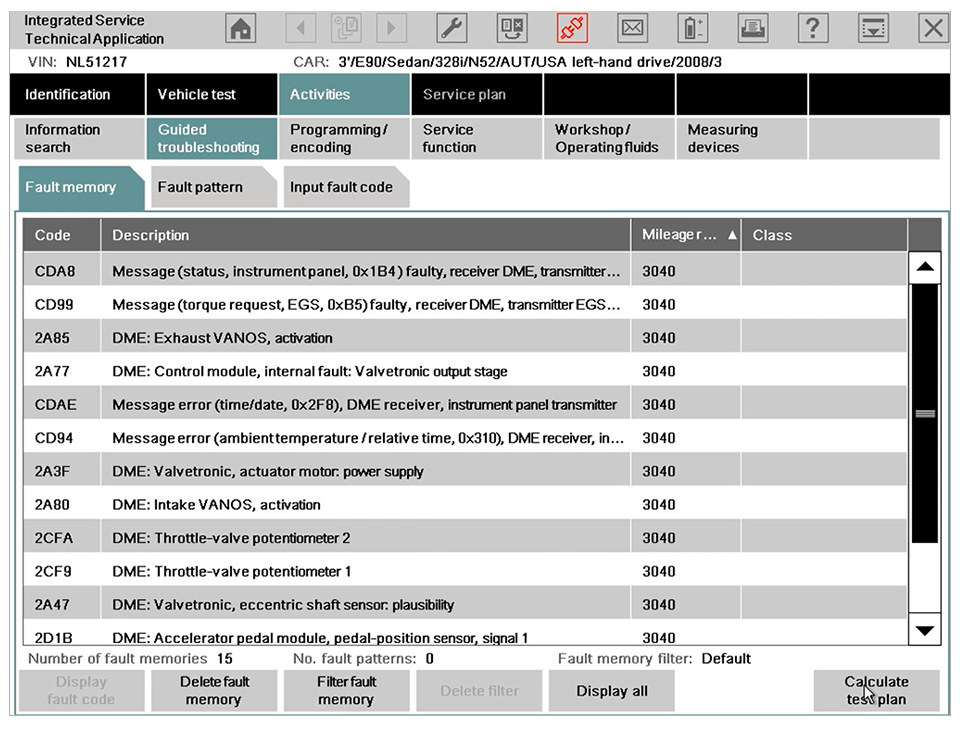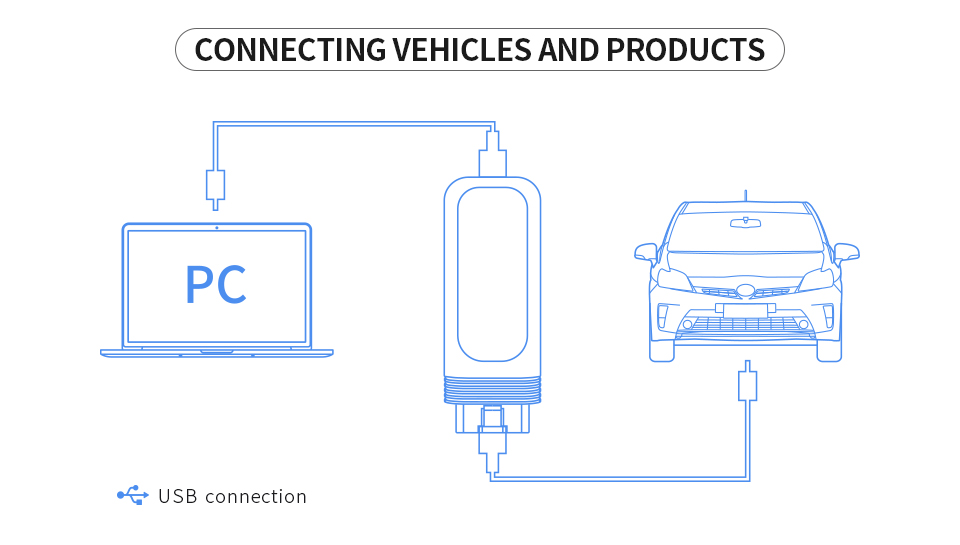 VXDIAG VCX SE Fit For BMW ICOM A2 A3 NEXT WIFI OBD2 Scanner Car Diagnostic Tool support Programming Coding 
 
Attention:
1) This link has 3 options:
"HDD only": only have hard disk,not include the device,the HDD include the software and win 7 system. 
"Basic package":Include the device,cable and CD(only the driver inside in CD,not include the software).
"Full set with HDD":Include the device,cable,HDD(software and win7 system)
Notice:if you do not have official software for BMW,you need to order the HDD,because we are not support
to provide the software link,thank you.
2) VXDIAG SE Fit For BMW introduction:
   The new For BMW software can perform programming and coding For BMW E/ F/ G series
The Software can read live Data stream,actuation test,monitoring,utility testing,reprogramming,diagnostic
3)

The device Support Wifi & USB connection
4)The main diagnostic software includes:(Maybe will update)
For BMW ISTA

 (software version:4.22.12--3.66.100);
For BMW Group ISPI 

(the fourth generation of For BMW diagnostic software client);
ESYS

 (Engineer Software for F series,available for programming,coding,Chinesization,realize hidden functio--ns,
Advanced features);
WINKFP

 (for E series: programming, upgrade and downgrade);
Tool32

 (enter key, import codes, delete certification, advanced features of For BMW series);
INPA

 (read vehicle information, diagnosis, read and clear trouble codes);
For BMW Coding

 (for E series: import data, change the code or realize hidden functions);
KSD2

 (offer full vehicle repairing information for diagnosis or programming);
NCS-Expert tool

 (for E series: set codes, realize hidden functions and change settings);
5)

For BMW software includes the engineer version,which is the quick and easy diagnostic programming and
c
oding system that German For BMW engineers are using.
The system is designed in English.The Engineer version is so practical and powerful that it can
achieve professional features which all the original professional computers can realize,can change the langu
age into Chinese through the OBD port for import cars (Europe regulation cars, the United States and the U
nited States, Africa, etc.).
6)

Features mainly include: diagnosis, programming (incl. programming one module only),coding,realize hid
de
n function,
new features activation,
the module system update.
7)Following functions can be activated based on the existing configuration model:
use the button in the cab to close the trunk (electric tailgate),to terminate the reverse operation at any time (available in cars with the electric tailgate)

 

activate the Bluetooth phone function,to automatically play the music inside the phone every time you start the car.(Available in models with a USB port in the armrest box or gear)

 

support audio and video playback via USB cable as well as via iPod.

 

connect to the phone through the Wi-Fi (mobile phones are required to install software)

 

open the voice recognition function (currently only available in English digital telephone dialing)

 

operate the navigation menu when driving, watch DVD (Even the original car is available with CD, you can also watch DVD)

 

Active internet applications (available in post 2012.09 models with professional navigation, but some unsupported with unclear reasons)

 

immediately fold the rear-view mirror with the remote control (for the original car, owners need to press the lock key for 1.5 seconds)

 

activate gearbox program on the sport cars, at a quicker response for speeding up. But it will cause fault codes in ECU test in the 4S shop. (NOT recommended)

 

effectively prevent rear-end collision because brake lights flash quickly when braking severely (for 3 Series 5 Series, testing)

 

use mobile phone traffic to surf the Internet on iDrive via the phone Bluetooth (not tested yet)

 

adjust the warning speed of changing a lane (available in high-end cars with the rearview mirror with the dead angle warning indicator) (not tested yet)

 

automatically released the handbrake (parking button) when the vehicle is started (testing)

 

add the lane departure system and roadside warning identification function (available in optional cars with front cameras) (not tested yet)

 
Personalized Customization:

1. Set Seat Belt Alarm time (second/sec)
2. Disable passenger Seat Belt Alarm
3. Disable driver Seat Belt Alarm
4. Set the engine on/off status the same as that before the ignition off or the default status off.
5. Set the central lock automatically unlock when ignition off
6. Set Fuel Economy Mode as default mode after ignition on
7. Enable roll up window when open car door
8. Enable the option of DRL (Day Running Lights) on or off.
9. Set Highlight auxiliary and intersection traffic light "Automatic"
10. Enable to adjust DRL brightness (the default factory setting is brightest)
11. Set fog light turn on while headlight is on
12. Enable to Lock/Unlock sound  and adjust the volume
13. Enable auto close sunroof when raining (May lead to initialize sunroof, it will work only after ignition on for 10 seconds, not very effective.)
14. Set windshield wiper Back in place when ignition off
15. Set sunroof automatically close in a tilted state (It needs to initialize sunroof)
16. Set the turn signal light on/off times (F30)
17. Enable CIC menu display CI version
18. Three Bluetooth phone rings available
19. Enlarge phone number and text storage (25 to 50)
A/C (Automatic Air Conditioning)
20. Set indoor internal circulation memory the same as that when the ignition off last time.
21. Set air conditioning memory the same as that when ignition off last time.
22. Display engine output power and torque on navigation screen
23. Cancel home screen boot delay confirm message
24.  Cancel rear view camera statement when reversing
25.  Display available gas station on navigation
26. Display speed limit info (Need hardware support)
27. Display engine torque menu
28. Auto headlight
29. TPMS
30. Display tire pressure and temperature (Need hardware support)
31. Adjust mile to kilometer
33. GPS time synchronization
34. Dashboard stimulate instant fuel consumption: change from 20 to 30
35. Enable dashboard light on always
36. Enable dashboard light always on at night (For For BMW 535, GT, 7 series and part of For BMW 530)
37. Enable dashboard light always on at daytime (For For BMW 535, GT, 7 series and part of For BMW 530)
38. Enable dashboard lights turn grey (For For BMW 535, GT, 7 series and part of For BMW 530)
39. Enable dashboard lights turn orange or grey (For For BMW 535, GT, 7 series and part of For BMW 530)
40. DS Mode display current shift from S1 to S7
41. Set Head-Up Display (Navigation map distance and turn signal, etc.) (Need hardware support)
42. PDC reversing radar is changed vertically and horizontally  
 
1. SAE J2534(ECU Reprogramming Vehicle Diagnostics)
2. ISO 22900(MVCI with D-PDU API)
Diagnostic programming system ISTA 4.19.12, SDP programming database 4.19.13, VIN August 1919 09 (multilingual support)
Programming system ISTA-P 3.66.2.002, support for BMW motorcycle and electric car programming
Accessories query ETK2019 August
Working hours inquiry KSD August 2019
INPA 5.00, winkfp 5.2.3, NCS 3.5.1
for BMWAi Brush Hidden 4.6
E-SYS version 3.27.1 and 3.30, database V66.2, add Chinese version software
DR.GINI B020
The latest FSC navigation algorithm software and IBAC coder
Join for BMW virtual machine old car DIS software, DISV57 and DISV44, diagnosis and programm
 for
BMW ICOM A2+B+C Functions:
A2 - OBD diagnostic supporting MOST, D-CAN and K-CAN protocols
B - diagnostic via most bus, and have connection to A-interface via USB connection.
C - 20-pin cable for old models.
for BMW ICOM A2+B+C Special Features Compared with for BMW ICOM:
The modified for BMW ICOM A2 for vehicles with OBD access receives a significantly more powerful processor and more storage capacity.Robust aluminium case will help to avoid damage when using in harsh environments.
To protect the most connector, the for BMW ICOM B for vehicles with optical most access will be equipped with a soft cover made of rubber instead of the former plastic cap.
The for BMW ICOM C for old series with a diagnostics socket will be additionally equipped with an approx. 20 cm long cable, which facilitates the connection of the for BMW ICOM A2 and makes storage in the engine compartment easier.
Requirement for External HDD:



Professional Win7 with 64bit
CPU I3 I5 I7 or above Processor
Memory 8GB
for BMW ICOM A2+B+C Package List:
1pc x for BMW ICOM A2 Interface
1pc x for  BMW ICOM B Most 
1pc x  for BMW 20pin Cable
1pc x LAN Cable



FAQ:


 
Q1: 

Is there any diagnostic equipment can do for BMW530 DA 2003 ? It is better in French
A1: 

Try to use the for BMW ICOM A2
Q2:

 Does the for BMW ICOM A2 have the installation manual?
A2:

 Inset the hard disk into the computer and input password for BMW, you'll find the installation manual.
Q3:

 for BMW ICOM A2 (SP168-B) can do the for BMW old car before 2000? 
A3: 

You can do the old for BMW car, if the car can not be done, then try for a few more cars 
Q4:

 2013 New for BMW ICOM A2 + B + C Diagnostic & Programming Tool (SP168-B) can be programmed to control template EGS? 
A4:

 Yes The entire vehicle control unit can be programmed