Welding machine welding needle:2 pair
soldering pen:HB-70B
Soldering pen max welding thickness:0.2mm
Free by DHL 1pc S709AD 1.9KW High Power Spot Welder & Soldering
Station with welding pen (71A)+50 pc 0.1*4*100mm Nickel sheet
pricture showing:
Notice : if your place is remote ,then need to pay 35usd .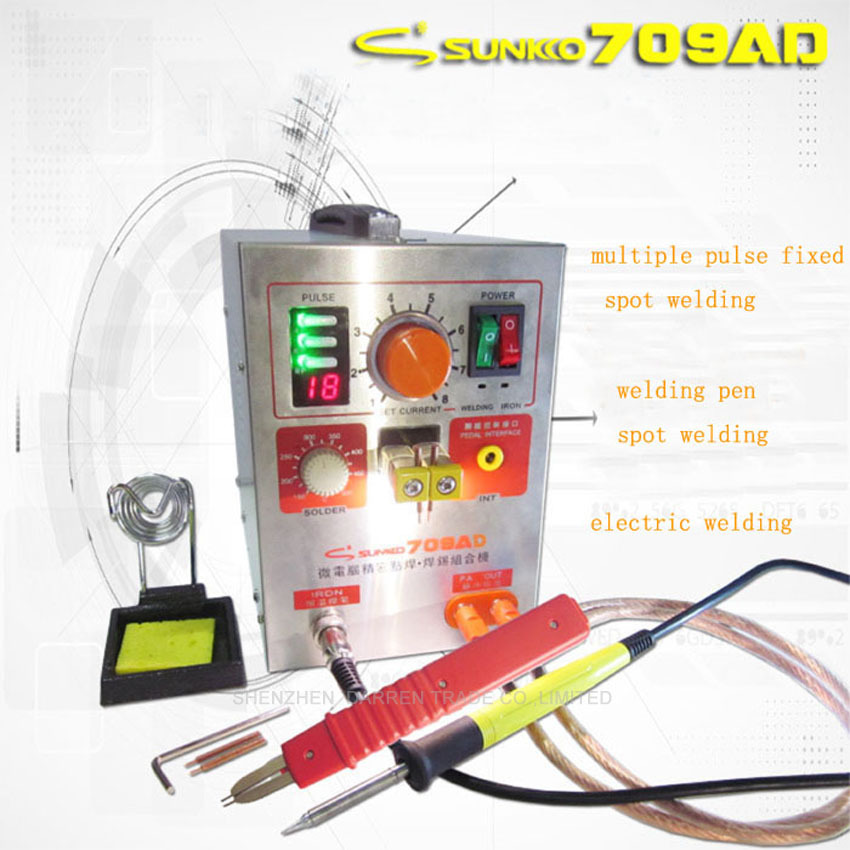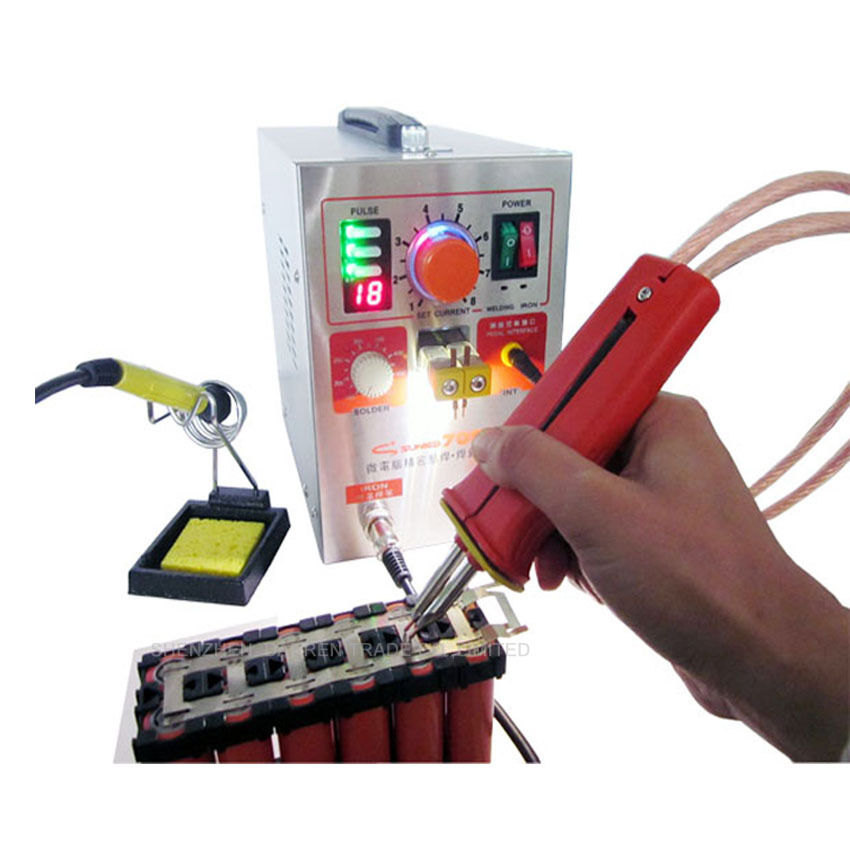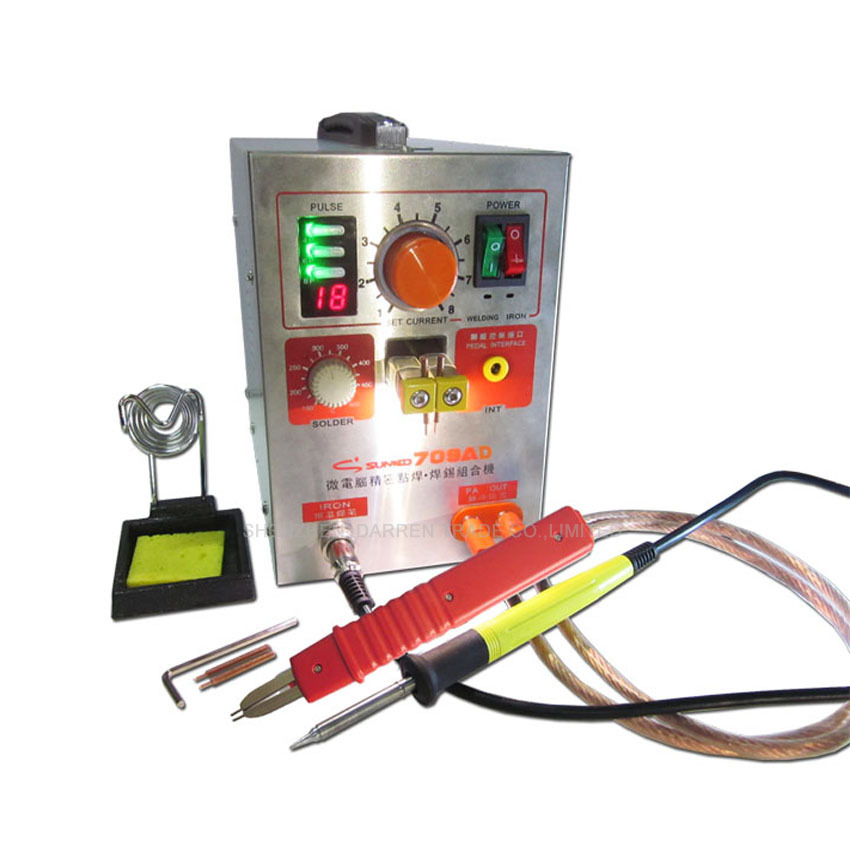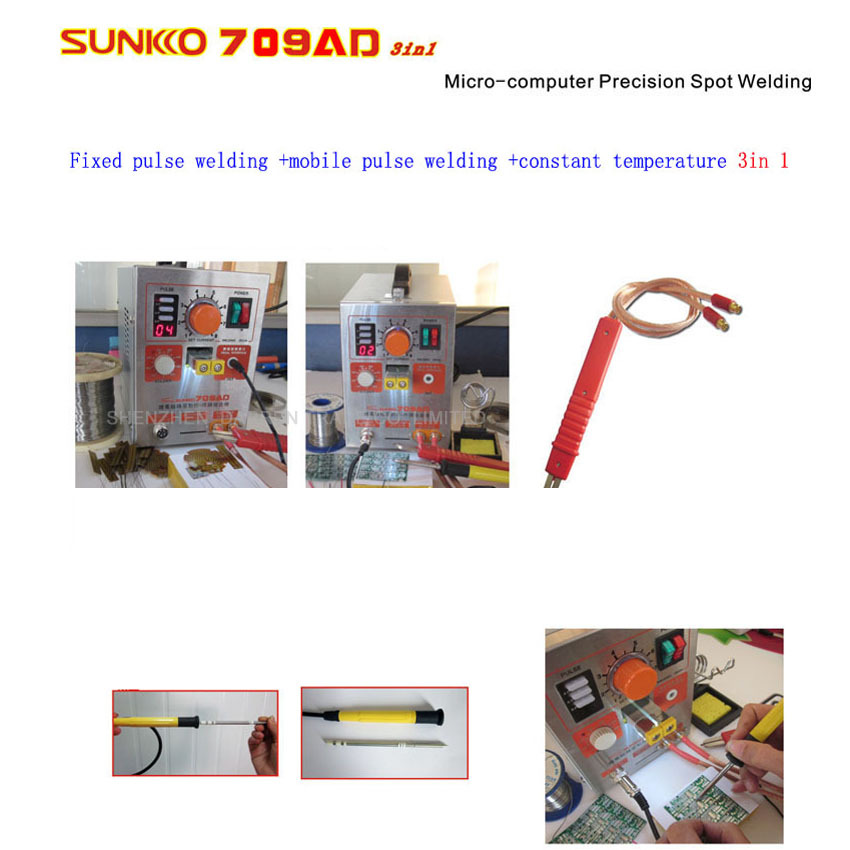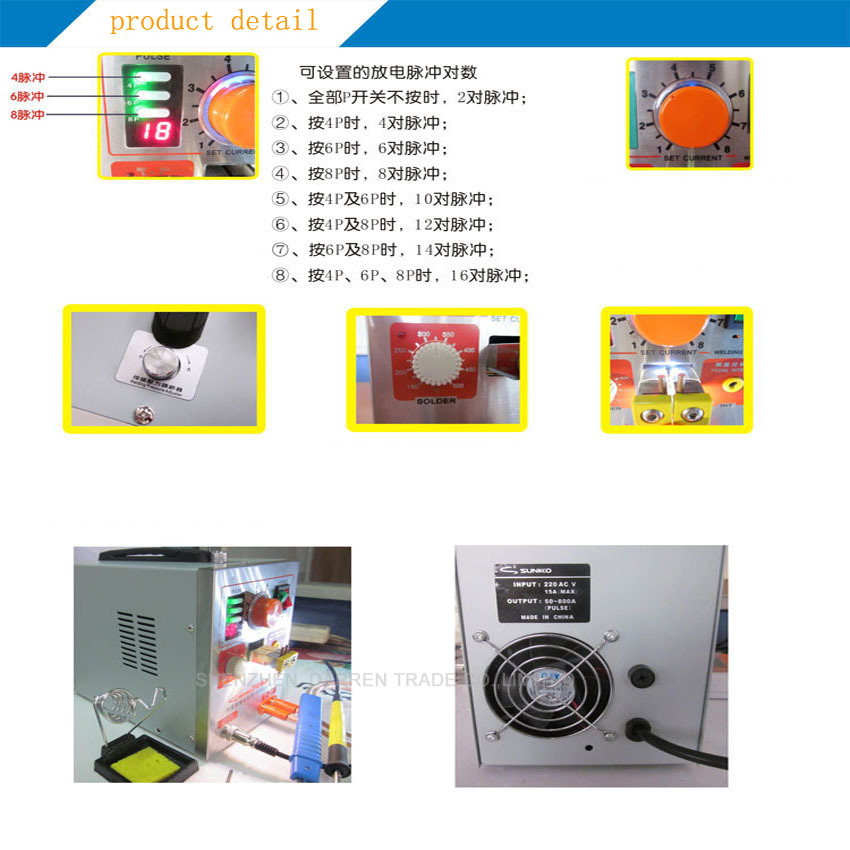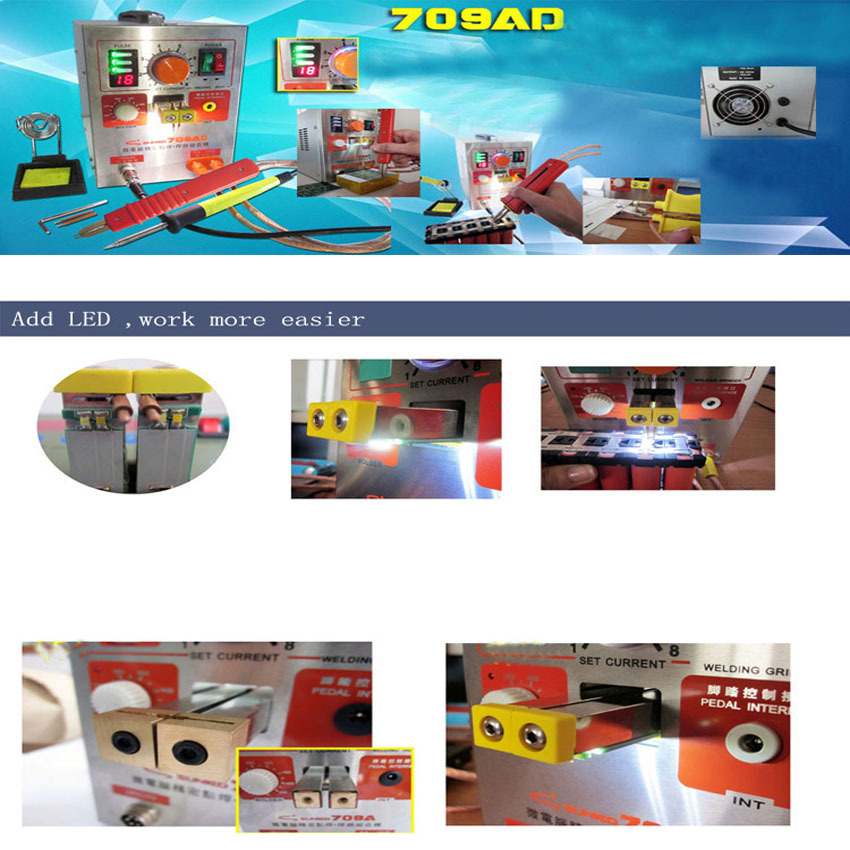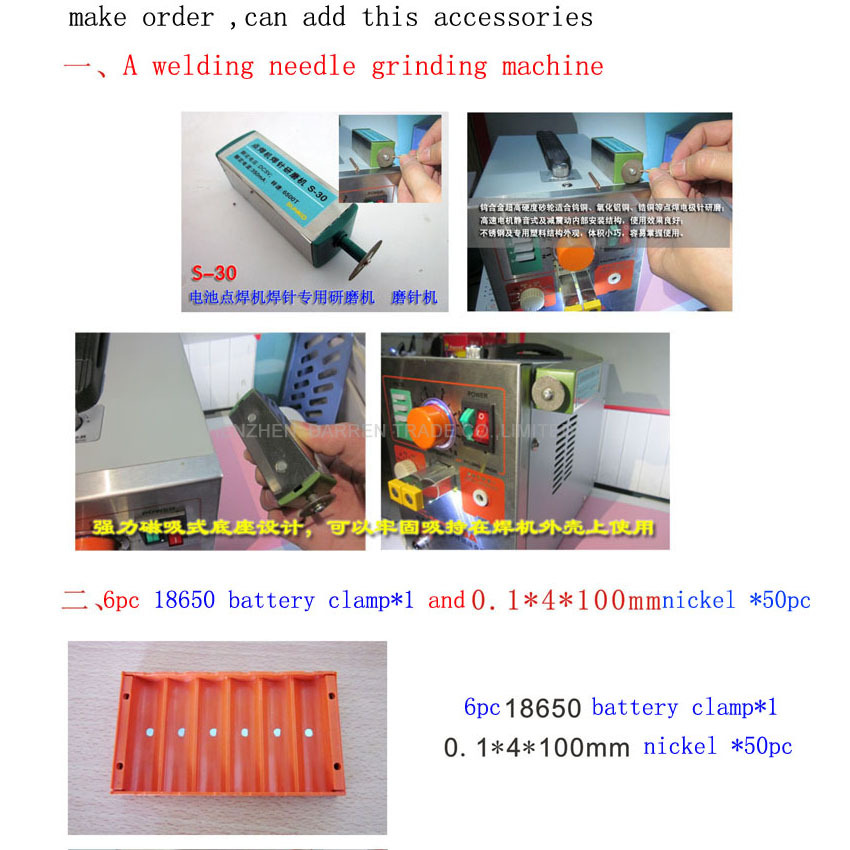 Describtion:
Technical Parameter
pulse mobile soldering part:
Temperatur: 150 degree to 450degree
soldering pen and cable length:630mm*2
cable sectional area :18mm2
welding needle size :1.5mm*7mm
the largest welding pulse current :600A
thermostat soldering station part:
Temperatur: 150 degree to 450degree
constant temperature precision :+-5 degree
Power:50W
soldering station ouput Output voltage:20VDC
heating up time :6-8s to 300 degree
Spot-welder part:
Supply voltage: AC220V±20V
Power: 1.5KW (Instantaneous)
Current: 50-600A
Time of double pulse: 1~10ms (adjustable)
Time of four pulses: 2~20ms (adjustable)
Time of eight pulses: 8~80ms (adjustable)
Scope of application
Lead sheets of rechargeable battery can be welding rapidly.
The production,installation,welding of lithium battery or mobile power.
The welding of lead sheets and wires from metal parts.
the difference between the S709A
1.S709AD with pulse display ,but S709A without
2.S709AD fixed spot welding distance ,but S709A can adjust spot welding distance
Random gift:50 pc 0.1*4*100mm Nickel sheet
Notice ,for this price with the standard soldering pen of HB-70BA ,if you want the HB-71A
or HB-71B ,please contact us ,i will give you the best price .
Sunkko709AD precision battery spot welder microcomputer fixed pulse welding + mobile pulse welding + thermostat soldering triad

Suitable for electronics, electrical appliances industry for electronic components production welding, electric stainless steel (iron) wire welding, all kinds of wire (sheet material)
Welding, electronic circuit boards fast welding, electronic components and circuit board of the constant temperature welding, etc.

Microcomputer chip control precision management and pulse welding energy manager, improve the consistency of welding.
Sanhe unibody design, regardless of the pulse welding or soldering tin, one machine can complete electronic process.
Fixed spot welding and the dual mode mobile spot welding, from small parts to adapt the big welding accessories, space is infinite.
2 ~ 16 chooses to discharge pulse energy, wide range of welding energy, suitable welding sex is stronger, is welding materials range is wider.
Equipped with professional self balancing pressure of slender mobile soldering pen, convenient control, weldable everywhere, at any point.
Foot line control triggering discharge, precise registration without the difficulty of manual trigger.
Rapid adjustment knob design of discharge pulse current, convenient for the user at any time change the pulse current.
Double LED digital display, pulse number to each spot welding monitoring test, loud and clear.
White light T12 antistatic high temperature soldering pen, super fast temperature, longer service life.
Precision constant temperature controller, constant temperature range is wide, suitable for all kinds of plastic copper wire, tin and other materials welding processing.
Humanized welding needle LED lighting, operation is bright, suitable for any environment brightness.
packaging include :
Spot welding pen * 2 piece
Spot welding pen needle * 2 pair (one pair had installed on the spot welding pen )
Soldering iron * 1 piece
Foot switch * 1 piece
Welding machine needle * 2 pair
Insurance tube * 2 piece
Wrench * 1 piece
Battery clamp * 1 piece
Nickel * 50 piece