Breast Enlargement Cream Elasticity Chest Care For Women Breast Enhancement Cream Full Fast Growth Bust Cream Firming Lifting Big Bust Breast Cream 40g Breast Care
▶ Product Name: Breast Enlargement Cream ▶ Net Content: 40g ▶ Effects: Pure plant extracts are not irritating to the skin.Increase breast skin elasticity and tension, help you enhance and uplift the breast. Firm up the breasts, beautify the chest curve, make the double peaks round and full, and make your bodyline even more attractive.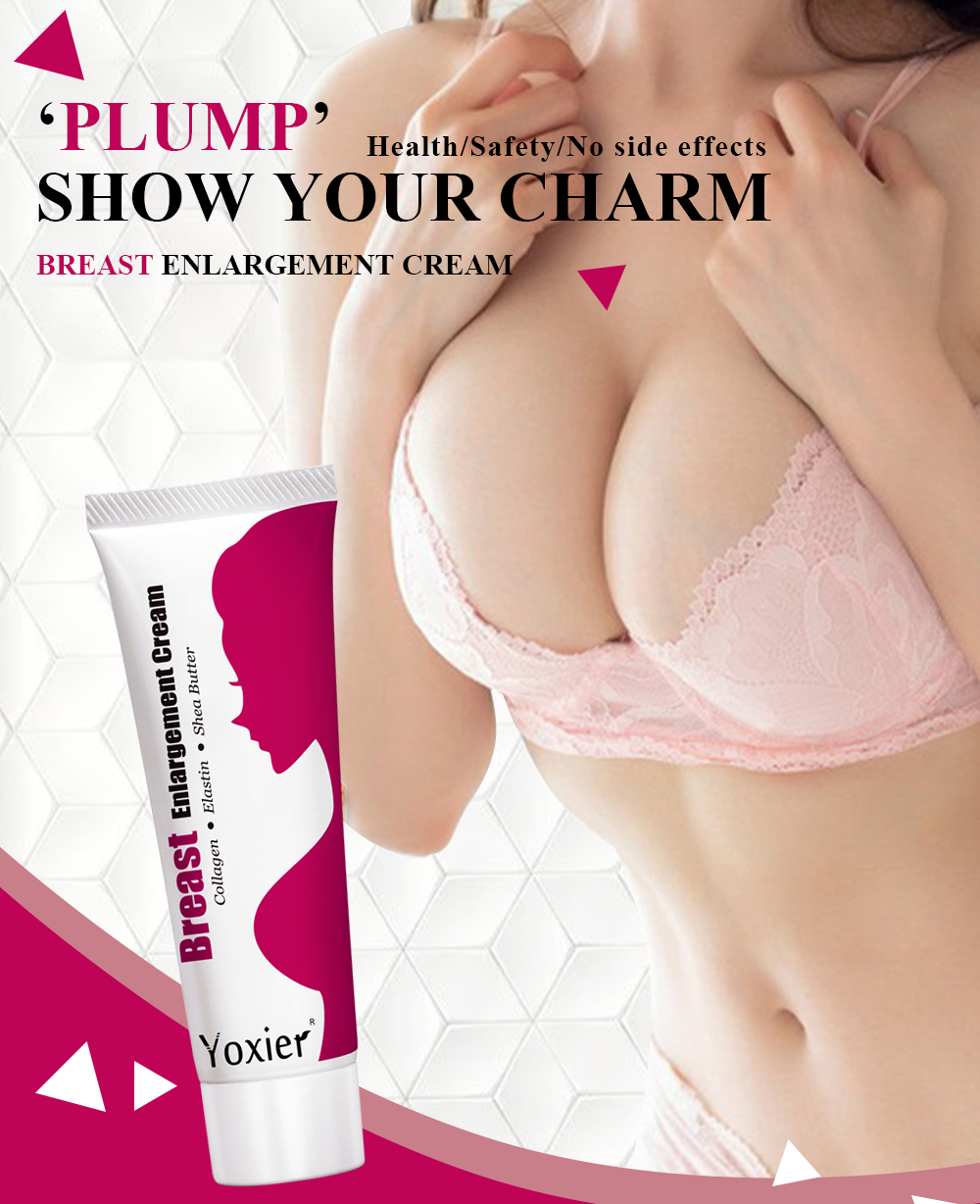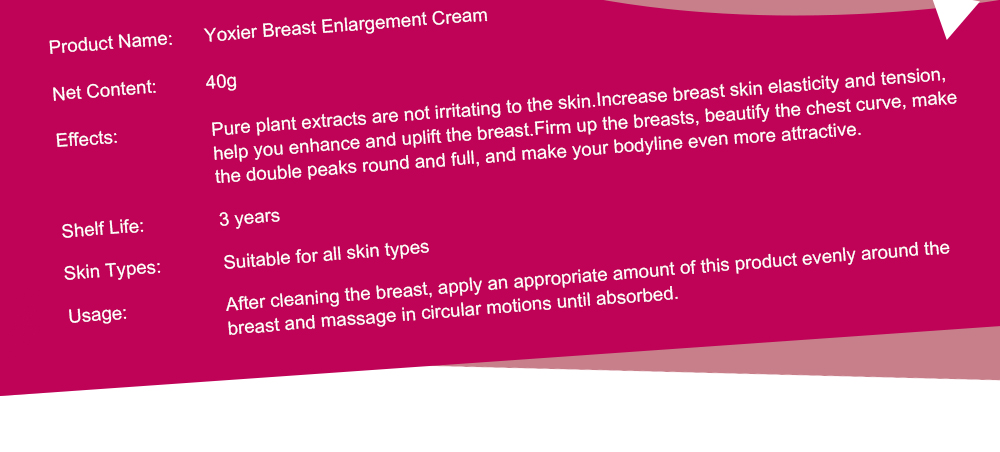 ★ Health / Safety / No side effects
▶ 'Plump' show your charm Product Name: Breast Enlargement Cream Net Content: 40g Shelf Life: 3 years Skin Types: Suitable for all skin types Usage: After cleaning the breast, apply an appropriate amount of this product evenly around the breast and massage in circular motions until absorbed.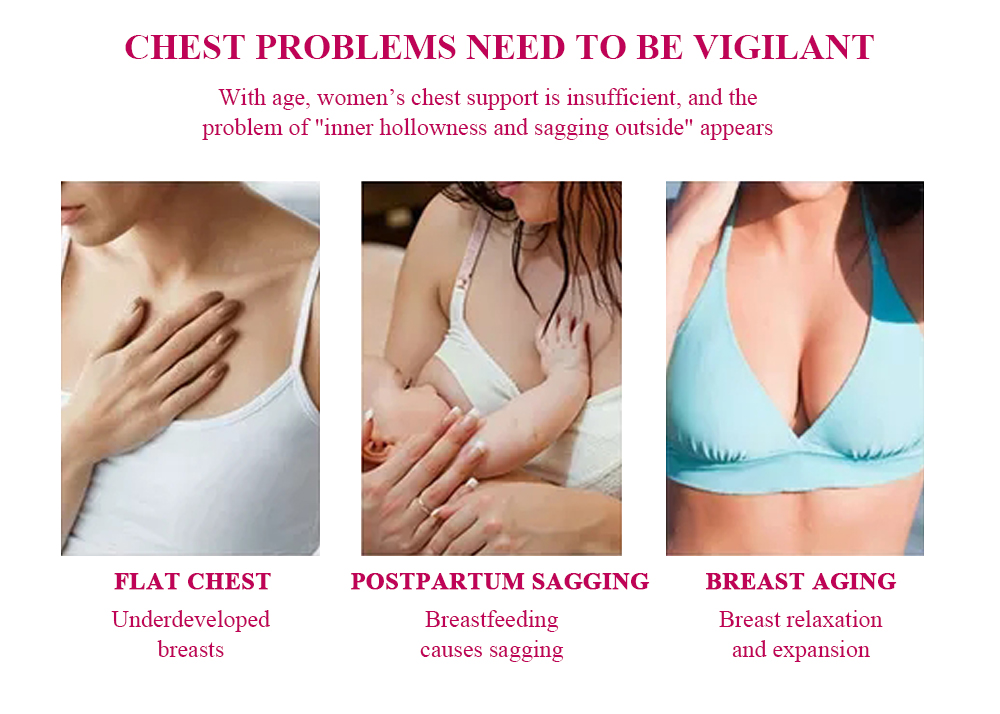 ★ Chest problems need to be vigilant
▶ With age, women's chest support is insufficient, and the problem of "inner hollowness and sagging outside" appears. 1. Flat chest - Underdeveloped breasts 2. Postpartum sagging - Breastfeeding causes sagging 3. Breast aging - Breast relaxation and expansion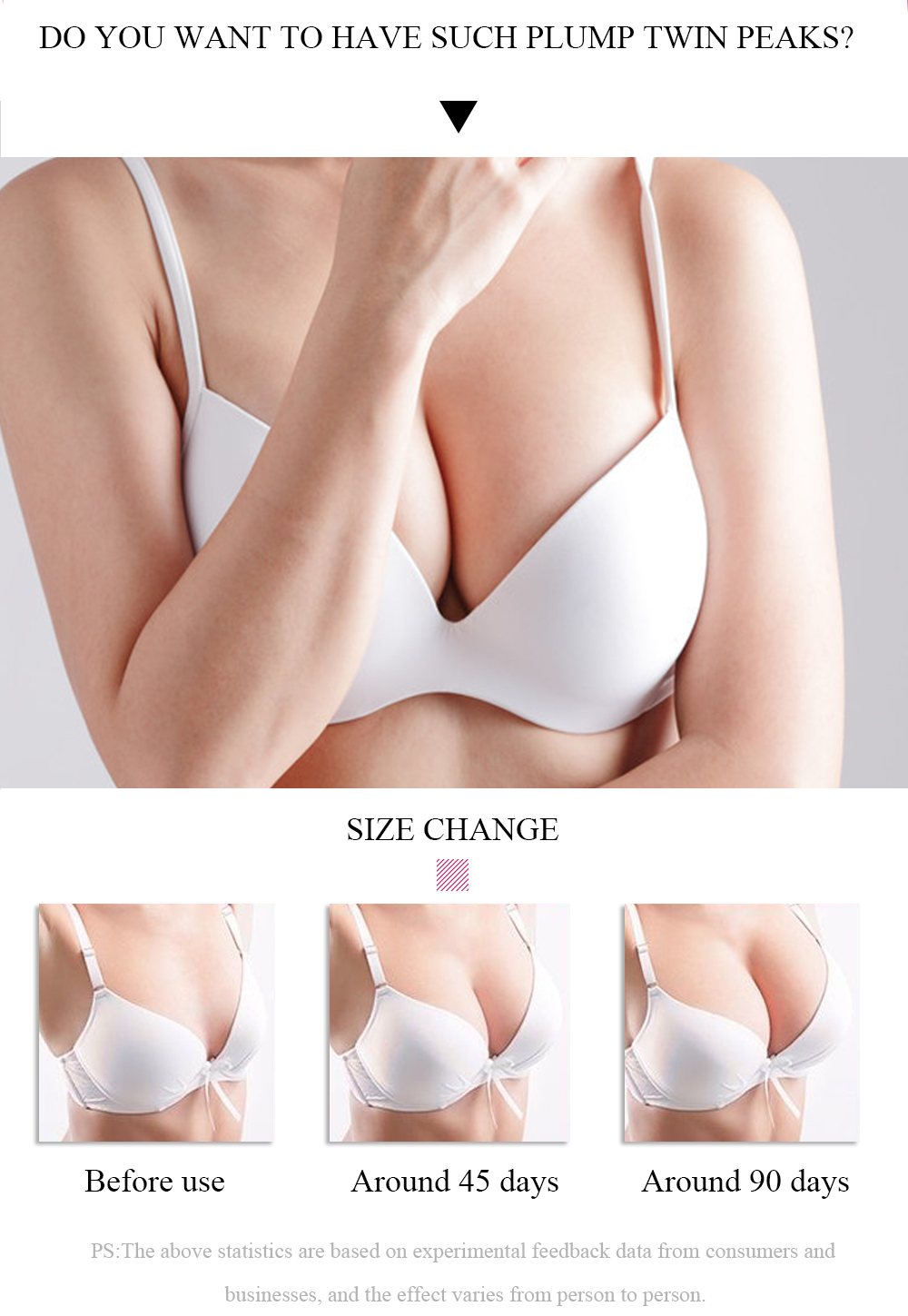 ★ Do you want to have such plump twin peaks?
▶ Size change PS: The above statistics are based on experimental feedback data from consumers and businesses, and the effect varies from person to person.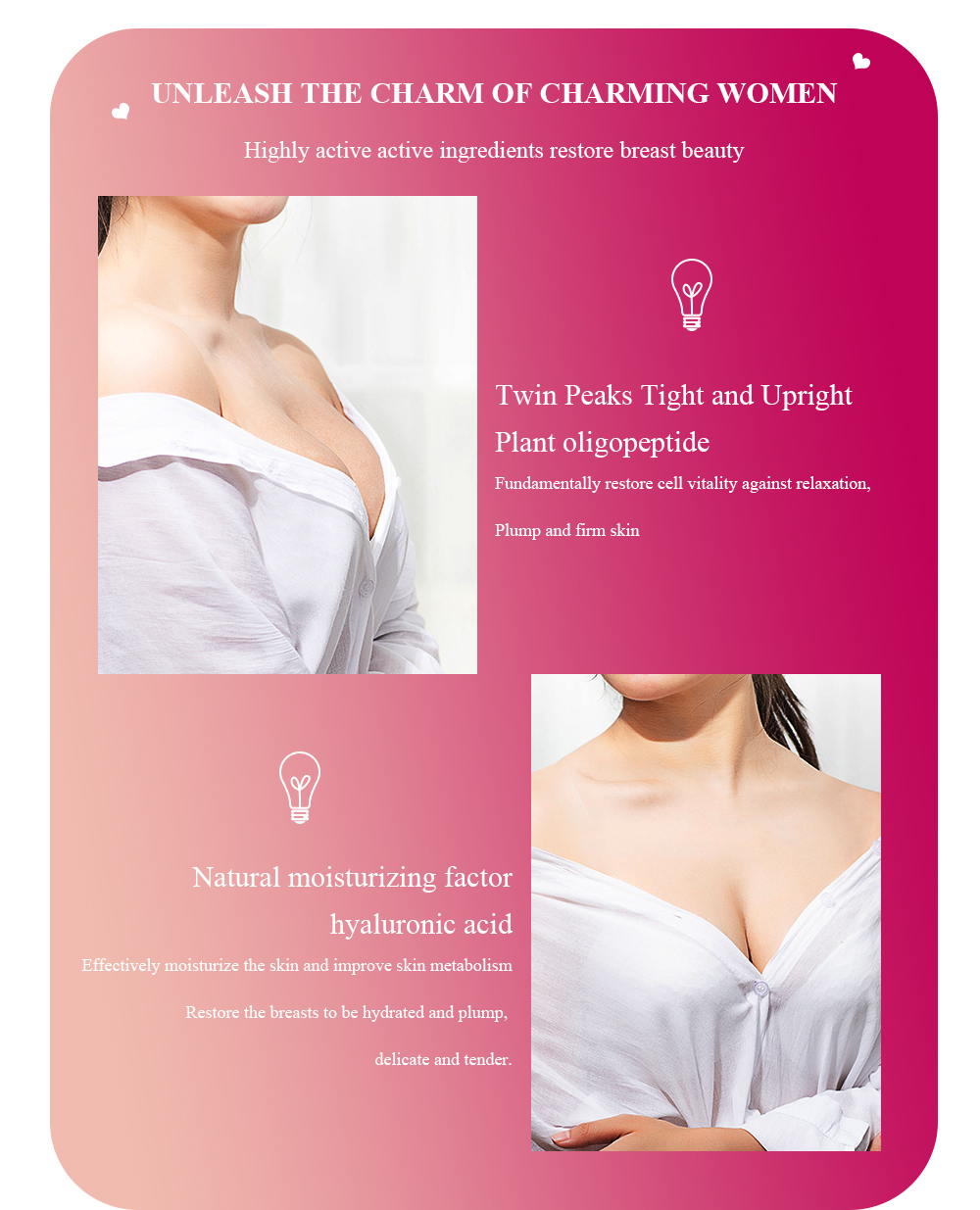 ★ Highly active ingredients restore breast beauty
▶ Unleash the charm of charming women 1. Twin Peaks Tight and Upright - Plant oligopeptide Fundamentally restore cell vitality against relaxation,Plump and firm skin. 2. Natural moisturizing factor - Hyaluronic acid Effectively moisturize the skin and improve skin metabolism, Restore the breasts to be hydrated and plump, delicate and tender.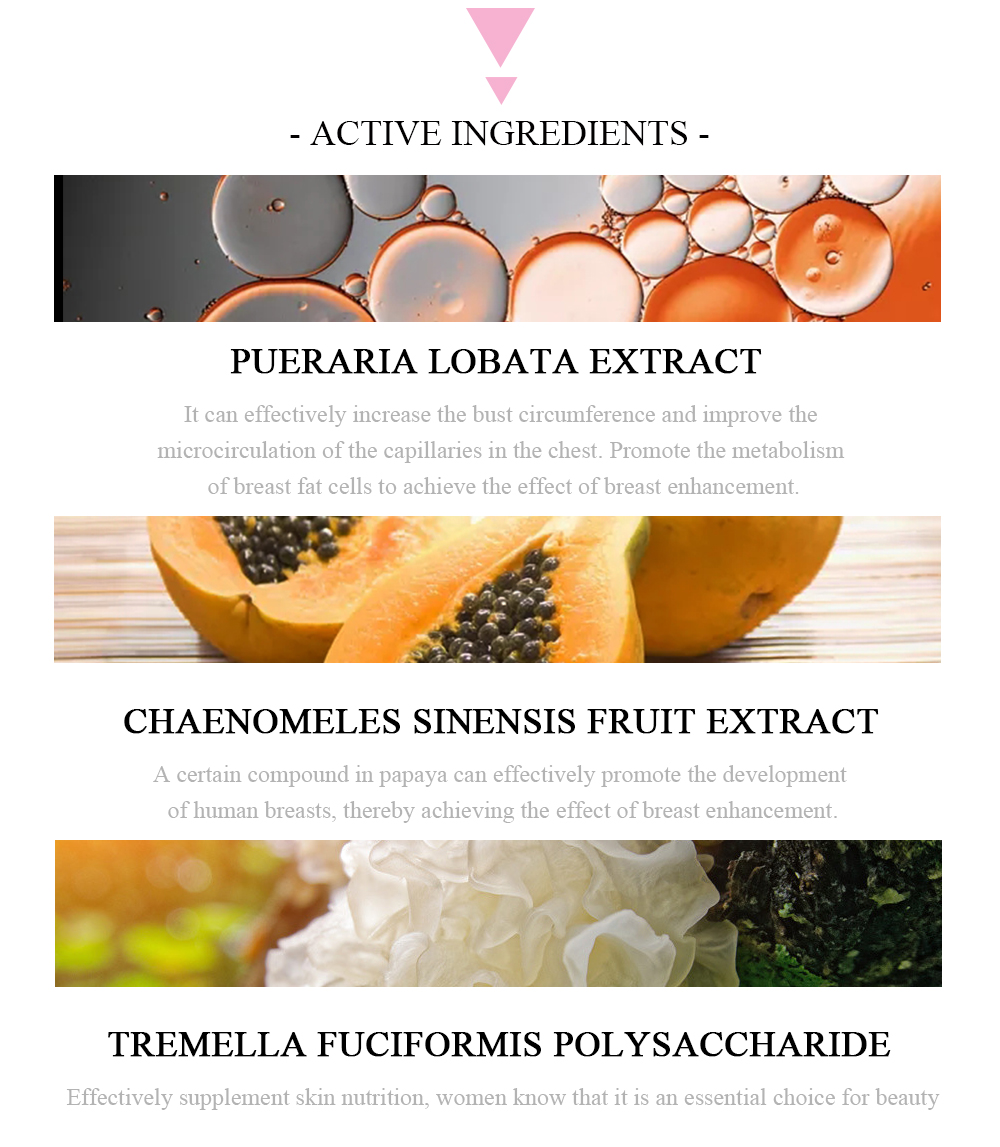 ★ ACTIVE INGREDIENTS
1. PUERARIA LOBATA EXTRACT It can effectively increase the bust circumference and improve the microcirculation of the capillaries in the chest. Promote the metabolism of breast fat cells to achieve the effect of breast enhancement. 2. CHAENOMELES SINENSIS FRUIT EXTRACT A certain compound in papaya can effectively promote the development of human breasts, thereby achieving the effect of breast enhancement. 3. TREMELLA FUCIFORMIS POLYSACCHARIDE Effectively supplement skin nutrition, women know that it is an essential choice for beauty.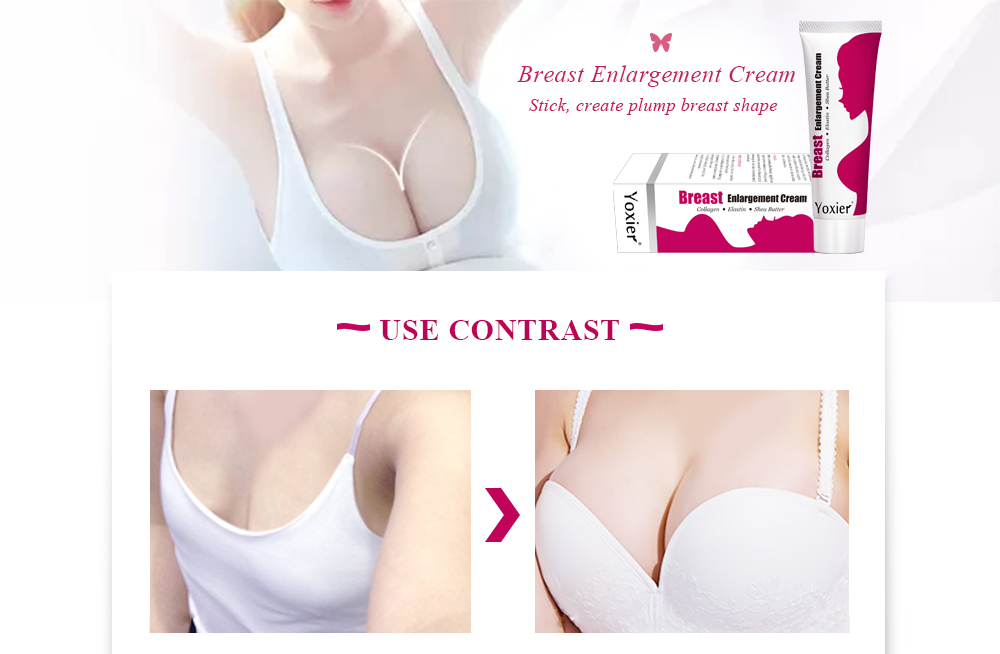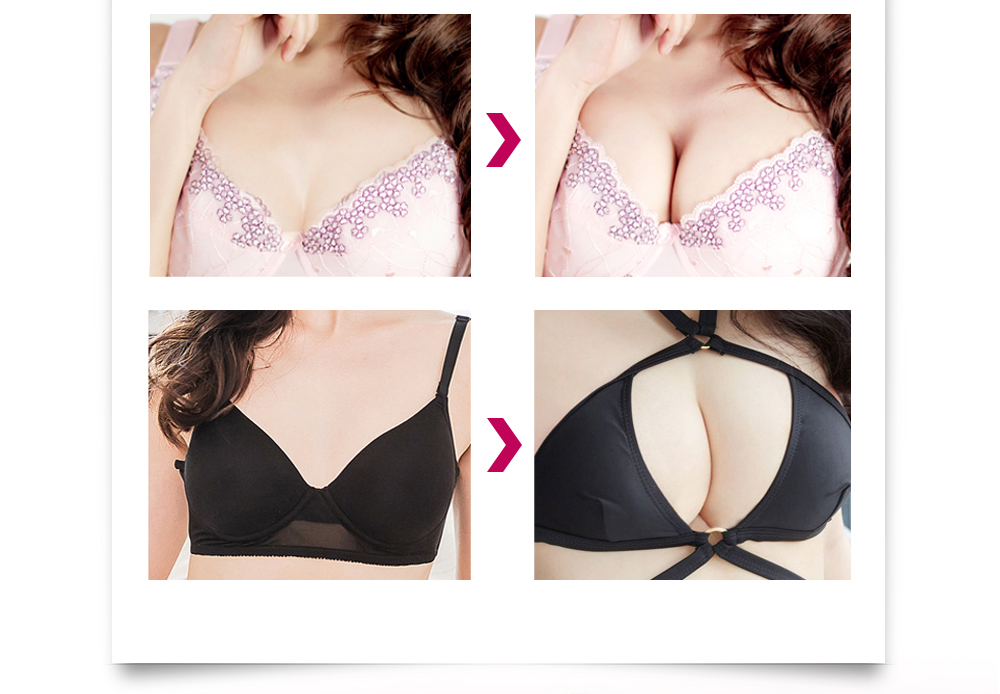 ★ Use contrast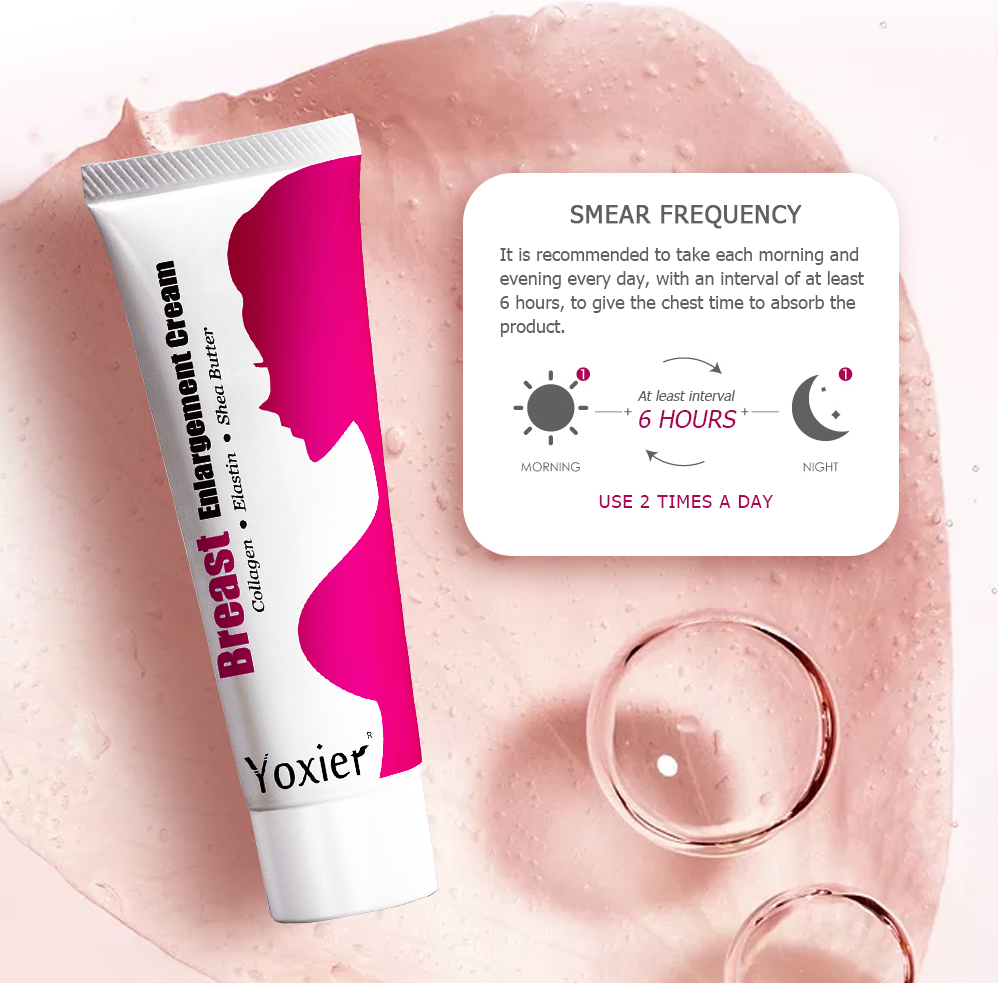 ★ Smear frequency
▶ It is recommended to take each morning and evening every day, with an interval of at least 6 hours, to give the chest time to absorb the product. ▶ Use 2 times a day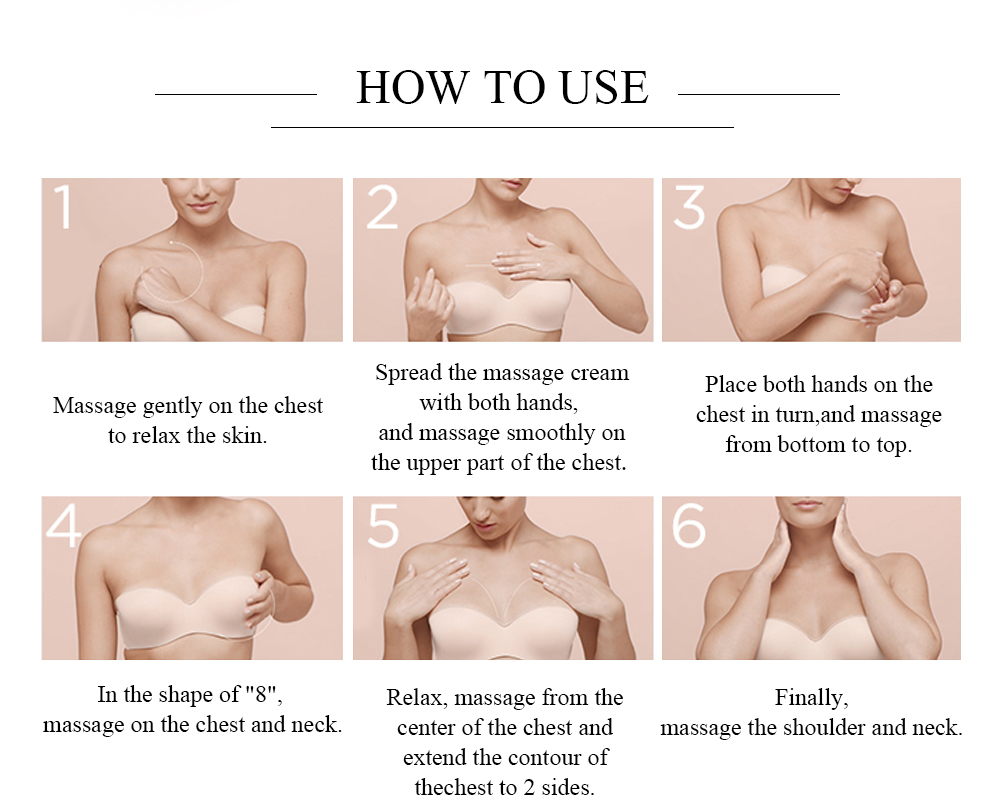 ▶ How to use 1. Massage gently on the chest to relax the skin. 2. Spread the massage cream with both hands, and massage smoothly on the upper part of the chest. 3. Place both hands on the chest in turn,and massage from bottom t 4. In the shape of "8", massage on the chest and neck. 5. Relax, massage from the center of the chest and extend the contour of thechest to 2 sides. 6. Finally,massage the shoulder and neck.